About the Center
Center History
Life Is An Art (view video)
The history of the Beatrice Wood Center for the Arts is largely the story of Happy Valley. When Annie Besant, a supporter of progressive movements, from female suffrage to Indian independence, first saw the land which is now called Happy Valley, she envisioned that it would be a center for people who would usher in a new world. Besantís vision contributed to Ojaiís development during the 20th century as a spiritual center and art community, and Beatrice Wood moving to Ojai in 1947 was central to this growth. Her history as part of the NY DADA movement, alongside Marcel Duchamp, and her later involvement in ceramics, led to her being an important figure in art history.
In 1926, Dr. Besant wrote that future plans included an art center and a school. The Beatrice Wood Center for the Arts exists as part of this original vision - a place where arts and education are paramount. It is closely affiliated to the Besant Hill School (formerly the Happy Valley School) and students often exhibit at the Center or participate in workshops.
Aside from the permanent collection and a regular exhibition schedule, there are art workshops and performances. The Beatrice Wood Center for the Arts presents a continuum joining the artists, writers and others who shaped Happy Valley and those who are working today, as well as a bridge between the International art world and the local community.
Beatrice Wood is both the heart and inspiration for the Center. To read her biography, click here.
The Beatrice Wood Center for the Arts is Open to the Public
Fri, Sat, & Sun 11:00 am - 5:00 pm.
8585 Ojai-Santa Paula Road, Ojai, CA 93024
805.646.3381
Driving Directions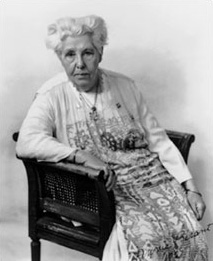 Annie Besant, 1927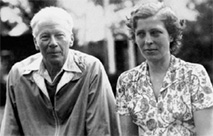 Robert Logan
and Rosalind Rajagopal, 1940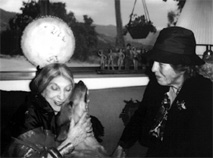 Beatrice Wood
and Rosalind Rajagopal, 1982