Eliam Byle
"Working in wood for the past 20 years in Ojai, I have seen my work shift from being very focused to very raw. I love this fine line and balancing these two different energies and hope to display work that possesses this delicate duality whether it's in furniture or a hollow form. I splurge with colors and other element such as glass and metal, where it's appropriate."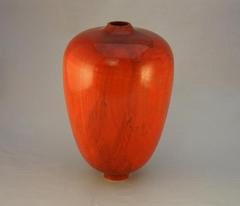 Redwood Hollow Vessel
Redwood with stain | 6.75" h x 4" dia
2400.
Featured in "Ojai Visions" exhibition, October 7 - November 20, 2011.