Michael Hosaluk
(Canada, born 1954)
"My work tells stories from my life, places I've been. people I've met, architecture, our environment. These stories are interwoven into the objects I create. Craft goes beyond the pleasure of our senses and deals not only with aesthetics, but social and ideological lives."
Michael Hosaluk lives and has his studio in Saskatchewan, Canada. His work covers a wide range of objects and materials including functional vessels, furniture and sculptural pieces and is humorous and elegant, possesses character and gesture and is full of reference to architecture, nature and culture. His work can be found in the permanent collections of Her Majesty Queen Elizabeth II, Buckingham Palace, Zhao Xiu, Governor of Jilin Province, Republic of China, and museums including the Los Angeles County Art Museum, the Detroit Institute of Arts, Yale University Art Gallery, the Minneapolis Museum of Art, and the Royal Ontario Museum.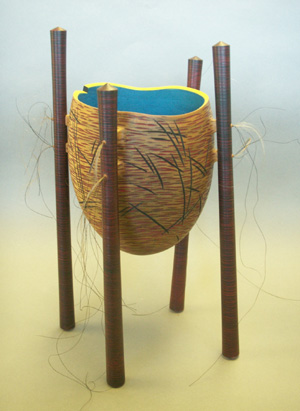 Patterns of Growth
Elm, maple, brass, acrylic paint and hair
13" h x 6" w x 6" dia | c. 1990
4200.
Provenance: The Lipton Collection
Featured in "The Cutting Edge: Contemporary Wood Art and The Lipton Collection" exhibition, August 13 - September 18, 2011.