Exhibition in the Beato Gallery:
Donald E. Frith

Donald E. Frith
"Teapot #680"


Donald E. Frith
"Teapot #709"
In the Beato Gallery we will be presenting teapots by Donald E. Frith, a retired professor of ceramics who has been working in ceramics for more than sixty years. Look at each of Donald Frith's works with a careful eye, and enjoy the combination of technical expertise he uses in porcelain, precious wood, and acrylic, to create a small teapot. Then, go back and look again. And remember, they're not only incredible works of art, they pour very well!
Exhibition in the Logan Gallery:
"Beyond the Teapot"

Richard Flores
"Stormin' Norman Teapot"

In the Logan Gallery will be "Beyond the Teapot," an exhibition of sculptural teapots by artists including Richard Flores,
Allison Newsome, Cate Shelley,
Charles Sherman, Linda Smith,
Myra Toth, Kathy Waggoner,
Nina deCreeft Ward, and Fred Yokel.

At the Opening Reception was a Special Exhibition
of Jewelry by Sooz Glazebrook
| | |
| --- | --- |
| Necklace by Sooz Glazebrook | Earrings by Sooz Glazebrook |
Educated at the Ilam School of Fine Arts, Canterbury University, Christchurch, New Zealand, and exhibited internationally, Sooz Glazebrook lives and works in Ojai. She is a ceramist and painter who creates earrings and necklaces using ceramic techniques, including raku and lusters, combined with fine silver PMC. Each of her jewelry pieces have been fired multiple times to create unique wearable art.
The Opening Reception took place on
Saturday, November 1st, 2008
_______________________________________________________
Opening reception was held on Saturday, September 6th
Beato Gallery:
Alternate Realities: Recent Works by Sharon Doughtie
and Pat Kramer
Logan Gallery:
Recent Works by
Joseph Shuldiner
A native of Austria, raised in Germany, Beatrix Rohlsen now lives in the mountains above Santa Barbara. An abstract painter, her "atmospheric landscapes" reflect nature's ever-changing and diverse landscapes through an abstract array of color, light and design. "My greatest teacher as a child was the natural world around me," Rohlsen says. "Therefore, as an adult, I found myself incorporating the essence of nature throughout most of my paintings."


Rohlsen's paintings will be presented as part of an ongoing
"Foyer Focus" series, at the entry to the Center.
| | |
| --- | --- |
| | |
San Francisco artist Kirsten Muenster creates wearable landscapes inspired by nature and its signals of growth, rebirth and change. The Japanese refer to the observation and appreciation for the cycle of life as wabi-sabi. This simple aesthetic, embracing the beauty in imperfection and the elimination of the non-essential, is a guiding principle in the artist's work. Similarly, the artist is guided by a love of the natural world. "I am drawn to the rich diversity of colors and patterns in the stones I use," Muenster explains. "I love exploring rock formations, fossils, tree rings, fractals and nature's simplicity expressed in its irregular lines and shapes."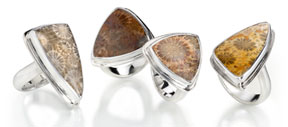 Kirsten Muenster
| | |
| --- | --- |
| His "Blues Fusion" sound is no doubt a reflection of his early years spent in Memphis, Tennessee writing songs and playing with local musicians. An interesting blend of acoustic guitar, blues rhythms and lyrical interpretations of current events, his original music is soulful and poetic as well as lively and upbeat. Barnhill has written and recorded the sound score for the feature-length, environmental, animated screenplay Children of the Morning Sun. His current album project, Better Late Than Never, shows his maturity as a songwriter and musician. His melodies and lyrics elicit feelings from deep reflection to exuberance as heard in his new single Happy Times. | |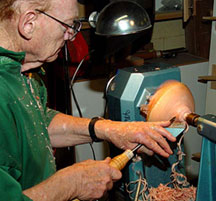 The Channel Islands Woodturners are the Ventura County Chapter of the American Association of Woodturners. Members will be on hand demonstrating woodturning and carving techniques during the Saturday event, as well as exhibiting their work.
_______________________
Al Geller, Member of the
Channel Islands Woodturners
_________________________________________________________________
_______________________________________________________
Currents: Contemporary
California Clay

Opening reception was held Saturday, July 12
The exhibition features leading California ceramic artists, including:
_______________________________________________________
May 10 - June 29, 2008
Opening Reception was held Saturday, May 10th
_______________________________________________________
New Work Exhibiting Artists:


"el mirage", by Dianne Bennett

_______________________________________________________
A showcase for the finest contemporary ceramic art celebrating Beatrice Wood's spirit of experimentation, self-expression, and originality.

Opening Reception:
Saturday, January 12th, 2008, 2:00-6:00 pm
Public invited - Come and meet the artists!


Joanne Jaffe


Harry Poliak