November 14 –
December 27, 2009
Beato Gallery

The opening reception was held Saturday, November 14, 2009

_____________________________________________________________________
Works by Ben Wilson, Evelyn Wilson, and Joanne Jaffe
The opening reception was held Saturday, November 14, 2009
_____________________________________________________________________
SPECIAL EXHIBITION
Chi Birmingham was raised in California and attended the

Besant Hill School

(then the Happy Valley School) from 1998-2001. He earned a BFA in Painting and Drawing in 2005 from the California College of the Arts in San Francisco and is currently pursuing a MFA in Illustration from the School of Visual Arts.

"I tend to work from a mental image of my subject matter, rather than from direct observation. I find that this tends to focus my attention on those details that best represent my subjective experience of a place or moment. Cataloguing the small tricks the mind plays as it tries to recall the way a room looked is one of the pleasures of my studio practice."
_______________________________________________________

Featuring members of Ojai Studio Artists,
in conjunction with their annual studio tour.


Carol Clarke - "Sespe at Dawn"
Bernadette DiPietro
"Underwater Chumash"
| | |
| --- | --- |
| | On Saturday, May 16th, "Standardized Stupidification," a collaborative installation by Besant Hill School students, under the direction of Lucia Vinograd, and artist Robbie Conal will open at the Center. The student installation will be presented alongside Conal's guerilla art and posters. |
As many of you are not able to attend our exhibitions, we always present them online with photographs and videos. We are creating a short documentary film of the students working with Robbie Conal and the resulting exhibition.

Watch Video!



Click here to view an excerpt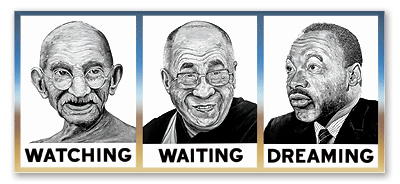 Robbie Conal
_____________________________________________________________________
New Book!
Every Exit is an Entry: The Life and Work of Liam O'Gallagher

Order on-line!
and
A Group Exhibition

Featuring recent works by Ojai artists including Richard Amend, Dianne Bennett, Elisse Pogofsky-Harris, and David Reeser.


David Reeser Composition
_______________________________________________________

The Opening Reception was held on Saturday,
January 17, 2009.
| | |
| --- | --- |
| Artists featured in the Beatrice Wood Ceramic Annual include Julie Bagish, Patrick Crabb, Angela de Mott, Diana Farrell, Lindsay Feuer, Richard Flores, Joanne Jaffe, Marsha Judd, Shane Keena, Youngshin Kim, Laura Langley, Tom McMillin, Kevin Myers, Allison Newsome, Ricky Maldanado, Frank Matranga, Jennifer McCurdy, Dora Savignac, Cate Shelley, Vincent Suez, and Karl Yost. | |
Click Here for Driving Directions to the Beatrice Wood Center for the Arts!