Luis Bermudez: "Myth, Place & Identity"
November 20, 2010 - January 30, 2011
in the Logan Gallery

Luis Bermudez is known for large-scale abstract architectonic ceramic sculptures that explore and communicate elemental phenomena and forces as metaphors for life. He uses the medium of ceramics for its innate earthly qualities, which resonate with his own optimism in communicating the power of the natural world in relation to the human experience.

For this exhibition he makes reference to sacred or special places, the symbolic power of the serpent, and issues of identity.
"I come to my work, impelled to give tangible presence to the episodes in my life of peculiar intensity -- the ones that announce their transcendence, and touch the common core of human experience. In this exhibition I have created several new works that reflect recent travels, as well as time spent in the presence of Topa Topa, which was sacred to the Chumash."
- Luis Bermudez
____________________________________________________
The Association of Clay and Glass Artists of California (ACGA) is dedicated to establishing and maintaining high standards of craftsmanship and design in clay and glass. The ACGA sponsors and promotes programs that benefit their members and the community, while also working with the Clay and Glass Arts Foundation, Craft Emergency Relief Fund, and Potters for Peace.


The ACGA exhibition will include smaller works which would make unique gifts for the holiday season. It is our way of assisting you in making your friends and relatives happy, and the world a more beautiful place, while supporting the arts.
____________________________________________________
____________________________________________________
Lucy Madeline: "Body of Time"
Extended through April 14, 2010
| | |
| --- | --- |
| Lucy Madeline "Time" | Lucy Madeline: Body of Time will feature works created by the artist during her residency at the Center in April, as well as works informed by the experience. We have created a video featuring an interview to offer more insight into her work and time in Happy Valley. |
"I hang on to the statement of scientists that there is no time…Choosing to live in the timeless, I am now at the easiest and happiest time of my life." ~ Beatrice Wood
In her current residency at the Beatrice Wood Center for the Arts, Lucy Madeline will make work that is both inspired by and a response to the intentions and lives of Beatrice Wood and Annie Besant. Leaving all preconceived notions about art, life, and making behind in her Los Angeles studio, she approaches this experience as an out-of-time and place happening – an experiment in receptivity of inspiration from outside sources. So far in her stay at Happy Valley, she is confronted with notions of time. Through a series of personal revelations, she will make work that discusses the relationship to and the recording of the passage of time. Her visceral vocabulary consists of themes of waiting, absorbing, and counting, in the body, in the mind, and in life.

Lucy Madeline
You can follow her chronicle of her experiences in Happy Valley at her blog, which she keeps in the spirit of documentation and preservation of that ever fleeting substance – time. www.lucysartposts.blogspot.com
Lucy Madeline is a multidisciplinary artist working primarily in video and sculptural installation, performance, photography, and painting. Her work is characterized by a fundamental search for understanding, redefining the relationship to body, self, sexuality, personal history and transformation. By utilizing form, the passage of time and repetition of ritualistic actions, she connects with archaic imagery and tradition, communicating themes of voyage, separation, and the sacralization of the mundane. She presently lives and works in Los Angeles, California.
____________________________________________________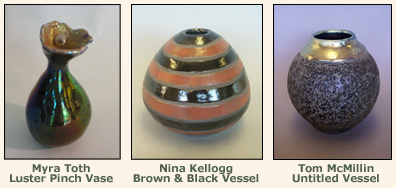 The Earth in Our Hands is a group exhibition of small-scale works by artists working in clay. The title makes reference to the medium and scale of the work, as well as the environmental, social and educational concerns of the Happy Valley Foundation.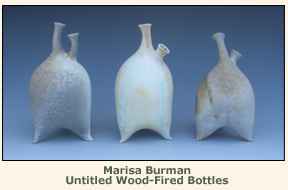 The artists include Julie Bagish, Ed Bellinger, Marisa Burman, Keke Cribbs, Julia Feld, Richard Flores, Otto Heino, Shane M. Keena, Nina Kellogg, Laura Langley, Tom McMillin, Kevin Myers, Mark Piercy, Vincent Suez, Myra Toth, Nina de Creeft Ward, and Fred Yokel.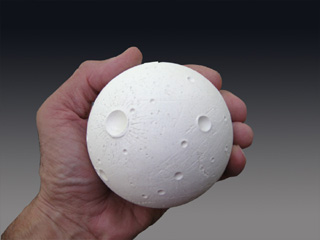 Fred Yokel - Moon Sphere

________________________________________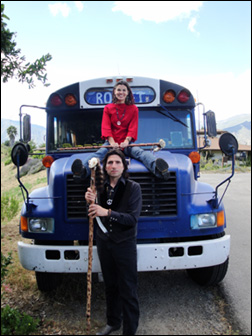 Suburbanoid Fatties
Jim and Bettie Sqi, aka The Suburbanoid Fatties, have been our artists in residence for the month of May. They have been recording a new CD and working on videos documenting their travels while at the Center and will be performing during the Opening Reception. We created a video featuring a past performance at the Center.

Watch Suburbanoid Fatties Video

Also at the Opening Reception:
We have involved a number of local growers, including our neighbors at New Oak Ranch (www.newoakranch.com) to provide a wonderful array of vegetarian foods for those in attendance.
____________________________________________________
May 8 - June 30, 2010
"Chaos, Change & Uncertainty:
Experimentation in the Creative Process"

Featuring students from the Besant Hill School under the direction of Lucia Vinograd, Director of Visual Art.
In the Logan Gallery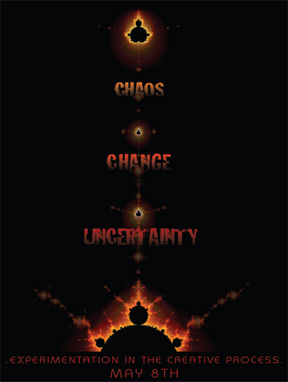 Chaos Change & Uncertainty
Experimentation in the Creative Process
What might appear at the beginning as chaos, contains a myriad of possibilities percolating coherence. "Chaologists" from Besant Hill School's advanced Visual Art class exhibit the Art-ifacts of their explorations into planned reckless abandon. Students began by creating situations where they had minimal control over the application of the first layer of paint. These chaotic beginnings inspired bold expeditions into the uncertain world of intuitive creativity, opening new pathways in their imaginations. This exhibition highlights the work of Griffin Davis, Julie Yu, Yue Yu, Pil-Jae Choi, Isabell Hong, Ashley (Chih-Jo) Lui, and Madeline Mikkelson, under the guidance of Lucia Vinograd.
The exhibition was documented in a two-part video,
which shares the art and ideas of these young artists.
"Uncertainty and mystery are energies of life. Don't let them scare you, for they keep boredom at bay and spark creativity." -R.I. Fitzhenry
____________________________________________________
Among the artists presented in this exhibition are: Dianne Bennett, Luis Bermudez, Christina Carroll, Magie Smith-Fleisher, Richard Flores,
Pam Guhrs-Carr, Lucy Madeline, Terry Martin, Dena Palser, Robert Rheem, Xavier Montes,
Marilyn Richeda, Joan Rosenberg-Dent, Francis Scorzelli, Carroll Simpson, and Nina de Creeft Ward.

The Opening Reception was held March 13th.
______________________________________________________________________
An exhibition of paintings by Tamarind Rossetti
April 17 - May 1, 2010
to benefit the Besant Hill School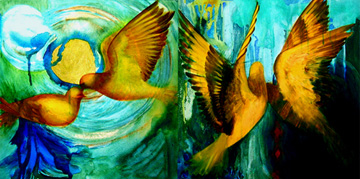 Tamarind Rossetti
"Have you ever stood on a cliff above the ocean, or floated in a boat in the middle of a lake and felt that you were undeniably part of the vital breath of the water? This is what painting does for me. I begin a piece by choosing intense colors and mixing them to abstract attraction. Then images appear and I bring them into focus, often animals. My recent work is an exploration of vibrant turquoises, blues, ochres, and birds flying and floating through these."
_______________________________________________________________________
An exhibition of photographs by Kim Faust
Logan Gallery
April 3 - 11, 2010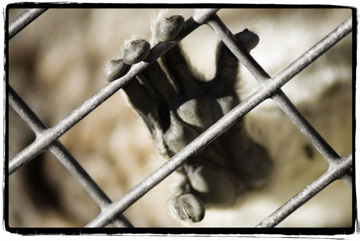 Kim Faust
"I have always had 'a certain affinity' to nature and to animals. Over the last few years I have been lucky to work with the Channel Islands Docent groups and with local wildlife rescue and rehabilitation organizations. This has allowed me to not only rehabilitate and release, but to work with and train animals for educational outreach programs into the community. These animals who will now spend their lives as education ambassadors for their species are the subject of my current work. For various reasons, they cannot be released into the wild and graciously, sometimes stoically, and occasionally with humor spend their days tolerating our attention while they bring the "idea" of wildlife to a population who has forgotten them. I hope that my images of these animals that I have come to know very intimately will portray some of their majesty as images captured of truly wild animals are able to do. I hope to also give them the sense of timelessness they so richly deserve through my approach and traditional technique."
Presented in conjunction with the MFA Defense for Brooks Institute's MFA in Photography Program for Kim Faust.
______________________________________________________________________
The Opening Reception was held on Saturday, January 9th
and featured a performance by Xavier Montes.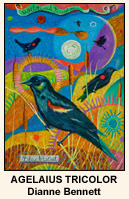 We are starting the New Year off with exhibitions that challenge us to view the world with a renewed sense of wonder.
before our very eyes, features new work by Dianne Bennett, an Ojai artist who has created art her entire life as a process of expressing, understanding and communicating her experience.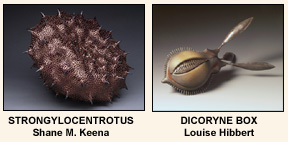 Phyla features recent sculptural work by Louise Hibbert and Shane M. Keena. While the two work in different media – Hibbert in wood and paint and Keena in ceramics, they share a similar aesthetic approach and love for the natural world.
The Outsiders features work by Reverend Howard Finster, Jimmy Lee Sudduth, Mose Tolliver and others. Outsider artists are known to be visionary and eccentric, with extreme mental states, religious visions, unconventional ideas, or elaborate fantasy worlds.
Click Here for More Information!