The Center operates as an activity of the Happy Valley Foundation, a 501 (c)(3),
therefore all donations are fully tax deductible.
Suggested levels of support: $10, $25, $50, $100, $250, $500...
Checks should be made out to:
Beatrice Wood Center for the Arts with "For BWCA Windgate Grant" written in the memo.
Our Mailing Address:
PO Box 804
Ojai, CA 93024

You can also donate on-line, in the donation amount of your choice,
by clicking the button below.
We've created a video about the Center to share our mission and programming. Click below to view the video, which I hope you might share with your friends by e-mail or social media to assist in sharing the life and work of Beatrice Wood, as well as the Center's activities.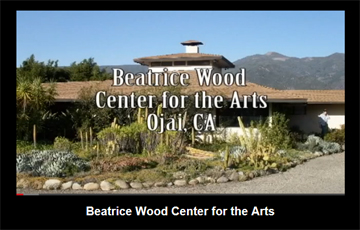 Please contact me with any questions at KevinW3306@gmail.com or 805-646-3381.
Thank you for your continued interest and support of the Beatrice Wood Center for the Arts.
Kevin Wallace, Director
Beatrice Wood Center for the Arts
& Happy Valley Cultural Center
Our Physical Address:
8585 Ojai-Santa Paula Road
Ojai, CA 93023
(Open Friday, Saturday & Sunday 11-5)
Mailing Address:
PO Box 804
Ojai, CA 93024
Tel: 805.646.3381
E-mail: BeatriceWoodCenter@gmail.com