Artists

Shane M. Keena

"Shane Keena's aggressive abstracted biomorphic sculptures remind us that clay is fluid, hard, and dangerous. Upon closer inspection, Keena's attention to glazing detail gives the viewer a delightful treat, while his at times threatening surfaces place his work in a contemporary art context where nature is revered and threatened."

- Joan Takayama-Ogawa, Craft Arts Int'l


Nodusa Marmoratus
Multi-fired earthenware, marbled luster, and mixed media
5" h x 11" w x 10.5" d

Featured in "Biota" exhibition, June 11 - August 6, 2011
(An exhibition of ceramics and photographs relating to the artist's residency at the Center)
This exhibition focuses on the details of the natural world - whether intertidal, botanical, or microscopic. His ceramic sculpture and photography explores that which could be easily missed by those concerned with the entirety and not the details. Having grown up near the ocean, the artist spent a considerable portion of his childhood exploring the shallow tide pools of the Pacific Ocean. His recollection of discovering various life-forms occupying these shallow tidal regions, as well as being an avid scuba diver for over twenty years, remains a direct influence. While diverse marine forms are sources of visual and formal influence, he also draws inspiration from sources ranging from microscopic images of pollen to the exotic durian and jackfruits of Southeast Asia.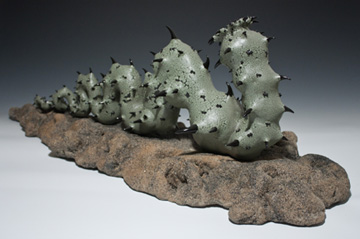 Crawl | Multi-fired earthenware, stoneware base, mixed media
10.5" h x 32" w x 11" d
"The body of work created for Biota is the culmination of time spent at the Beatrice Wood Center for the Arts in Happy Valley, as artist-in-residence during the month of May, as well as the cycles of nature that I have observed over the last few years visiting this unique place," Keena says. "For me, Happy Valley is one of the few places where I lose myself and can slip away from the hustle and bustle of life in Southern California. It is a place where my concern for time and schedule is only about sunrise and sunset and selecting the best vantage point to photograph it. Happy Valley is a place where the honking of car horns on the freeway is replaced by the soul piercing screams of red tailed hawks patrolling the valley from the above. It is a place where my type-A personality is forced to slow down, to breath, to observe... to actually exist in the moment."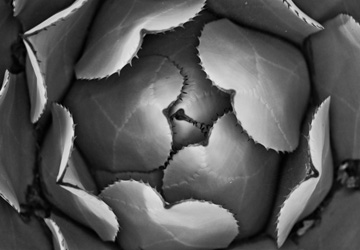 Agave Neomexicana | Resin Coated Silver Print, 20" h x 13" w
With his ceramic work, Shane M. Keena creates enigmatic and uncategorized art-forms. Rather than recreating what already exists in the world, he creates objects that are hybrids; the result of a blending of ideas begging the question; "is it animal, mineral, or vegetable?" In explaining the works inspired by life in Happy Valley, Keena says: "Here the lifecycles are the lure. It's the way new shoots of plant life begin to emerge and flower, the way spines envelop and protect the many succulent plants scattered throughout the valley, the beauty in the death and breakdown of the resident cacti whose decay creates amazing lattice-like structures. It's this macro world within worlds that lures me, and has always been influential in my artwork."