Brilliance:

Recent Work by Gerri, Russ, and Tom McMillin
The Opening Reception was held Saturday, September 1, 2012

"Josine Ianco-Starrels once referred to me as a visual poet.

The cosmos that we live in, and we our selves, are in a constant state of flux, nothing is permanent. It is this never ending change that touches me. This is the real beauty. In my art I try to capture a micro second of this transitory dance. I only hope my art reflects this lofty goal and is visual poetry."

- Tom McMillin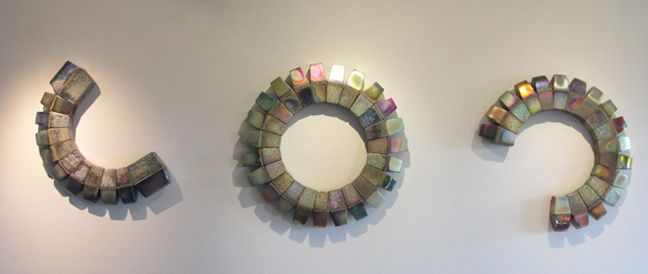 Tom McMillin, Circle Mitosis
Luster glazed ceramic
Group of 3: 7500. | Full circle: 3500. | 3/4 circle: 2500. | 1/2 circle: 2000.



Tom McMillin, Mitosis Wall Series
Luster glazed ceramic
Individual prices range from 350. - 1200.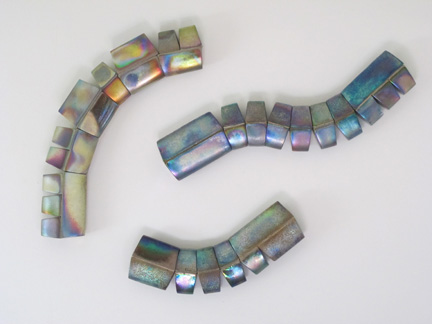 Tom McMillin, Mitosis 3 Series
Luster glazed ceramic
Group of 3: 5000. | Larger individual works: 2200. each | Smaller work: 1200.


"Gerri had a dream while exploring the Sea of Cortez with her husband, Tom. What if she could create space where her ethereal fishbone vessels would metamorphosize into sea creatures. For several years Gerri played with the idea, until one day she knew what her underwater world would look like. Gerri created an alternate universe where she could swim peacefully amongst the jellies."

– Melissa Brown Bidermann

"Come in for a swim. I promise you won't get stung or wet."

- Gerri McMillin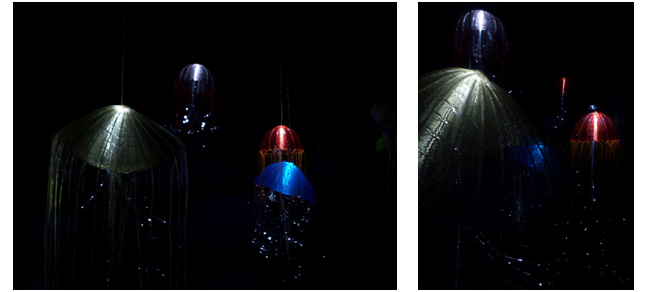 Gerri McMillin, Medusae Series - The Jellies
125. - 1500. each
This wonderful installation must be experienced in person.
If planning on being in the Ojai area, don't miss it!


"Power, Culture, Icons is about humanity, and our relationship with power. This work is a reflection of humanities search for self awareness and our relationship to the issues of nature, god and society. The work relates to the acquisition of power, cultural development and ultimately societies creation of iconic images.

These sculptures incorporate influences and elements from pre-history, history, and contemporary society. The icons used are drawn from universal themes found in stories handed down for millenniums. Those are incorporated with more contemporary images, reflecting the continually evolving values of our society."

- Russ McMillin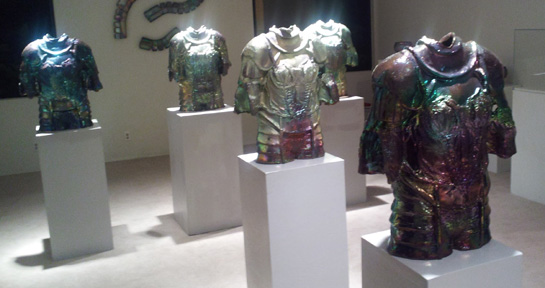 Russ McMillin
Soldiers on Two Fronts
From the Spectrum Series
Luster glazed ceramic

3500. each