In the Beato and Logan Galleries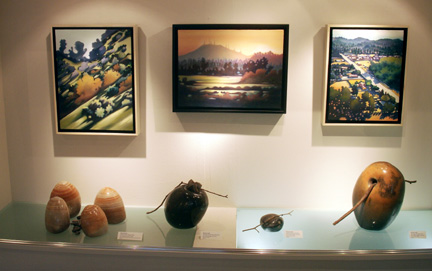 New Work Exhibition - Installation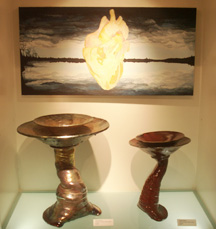 New Work features Bobbi Bennett, Lynda Brothers, Christina Carroll, Robbie Conal, John Diehl, Sharon Doughtie, Mike Jackofsky, Shane M. Keena, Susan Lasch Krevitt, Pat Kramer, Lucy Madeline, Jennifer McChristian, Gerri Johnson-McMillin, Dena Palser, Robert Rheem, Michael F. Rohde, Lucia Vinograd, Nina de Creeft Ward, Molly Zenobia, and others.
The Opening Reception was held Saturday, July 25th at 6:00 pm,
which included a performance by singer-songwriter Suzanne Paris.
| | |
| --- | --- |
| | "....A voice that touches the inner soul", Suzanne Paris has been a vital force in many genres of music, writing, recording and performing with some of the finest, including Bo Diddley, Richie Havens, John Denver and Dave Mason, who produced her new EP Off Like a Prom Dress. Suzanne will perform songs from this collection and will offer the new CD, each a hand silk-screened, one-of-a-kind limited edition created by Camarillo artist Derek Franz and signed by the singer. Joining Suzanne on guitar and vocals will be Teddy Jack, a singer/ songwriter who started producing albums in the record industry as a teenager. |


Watch video of Suzanne Paris performing "Dear Prudence" at the New Work exhibition opening reception (with Teddy Jack on guitar).
_______________________________________________________________________
Click on images below for a larger view.
Mud People

C-print, 8/10

20" w x 24" h

$1,550.00

Bobbi Bennett

Mud People is based on a Michelangelo Relief and is from the Antiquity Series. Everything is shot on the set using mud and paint with a medium format camera. There is no computer enhancement.
Into the Grove

Wool, bamboo, yarn, cotton, turned

avocado and maple, watercolors,

bamboo

24" w x 18" h x 12" d

$2,200.00

Lynda Brothers

When I walk through a bamboo grove, I feel connected to the warp and weft of history.


East Meets West
in the Bamboo Garden
Wool, cotton, bamboo yarn,
bamboo, gourd, pine
23" w x 27" h x 11" d
$1800.00


East Meets West
in the Bamboo Garden
(alternate view)
Christina Carroll


Desert Watch
Monotype, pastel
19.75" w x 27.5" h
$450.00

My process is largely guided by feel, instinct and intuition. Monotype printmaking appeals directly to my experimental nature. The process gives back to the artist a reminder: To bring patience to the effort; To soften rigid expectation; To honor the process, planned or unplanned, respecting all of the properties involved, without the passing of judgement.


Dusk Arrival
27.5" w x 19.75 h
Monotype, pastel
$450.00

Dark Pods

Monotype, gouache

10" w x 10" h

$90.00

Night Fruits

Monotype, gouache

10" w x 10" h

$90.00

Citrus Dream

Monotype, gouache

10" w x 10" h

$90.00

Flora

Monotype, gouache

10" w x 10" h

$90.00
Waiting

Limited edition silk screen

with variegated gold leaf

17.5" w x 23" h

$1,500.00

Robbie Conal

If I can make a surprise one-liner for people on their way to work in the morning--provide them with a little "infotainment"-- and get them to think along with me about issues I think are important, I'm happy.
"A painting is the same thing as a prayer: an innocence that is finally grasped, a moment torn from the disaster of passing time. It is immortality captured." --Balthus


Bucket of Mud
Dirt, sand, Elmer's glue, plywood,
plastic baby torso, clay & acrylic
paint
22" h x 5' w x 18" d
$1,800.00
Working with wood gets me up in the morning. It enters my dreams.
Wood can be both rough and silky smooth; but it always has a warmth.
I love the partnership between planning and discovery during the process of making a piece.

Nurture

Norfolk Island pine

2.25" h x 6.75" dia

$1,000.00


Whorl
Koa
2.25" h x 5" dia
$800.00
Vessel M-12

Maple burl

6.5" h x 8" dia

$900.00

Mike Jackofsky

My work involves creating hollow vessels from unique burls, and this presents me with the constant challenge of combining form with the natural beauty of the material. There is a balance I seek to achieve with each piece I create, in allowing the character of the burl to effect the final result, without letting it dictate the nature of the form.


Vessel M-42
Maple burl
5" h x 5.5" dia
$400.00


Untitled Vessel
Maple burl
4" h x 4.5" dia
$250.00
Rebirth of creation is what I feel at sea. Spiritual presence. One with nature.
No land in sight. Fragility of ones existence


Luster Green Anenome
Monofilament, jelly yarn, tubing,
and glass beads
4" h x 20" l x 12" d (approx.)
$1,500.00
I am aware of a continuous dialogue between myself, the wood, and the pieces I work on. The work is constantly reinventing itself and only remains constant as the context for containing form, mood, color, and texture. A close relationship develops while working on pieces, where the maker cannot ignore the qualities of the medium. It takes a little time, and some inspiration to have this collaboration become the dance that it should be.


Untitled Bowl
Hau
7" h x 9.5" dia
$600.00


Untitled Bowl
Milo
7.5" h x 12" wide dia
$800.00

Seven Sands
Encaustic, cotton
16" h x 16" w
$1,200.00


River Roots
Encaustic, cotton
16" h x 16" w
$1,200.00

Susan Lasch Krevitt

My work transforms the deconstruction of discarded garments and explores the visual discovery and intuitive revelation of cloth.

The current series utilizes the translucent and rigid qualities of the encaustic medium to push the boundaries of fiber. Working with repurposed wool, silk, and cotton I create dense and highly textured surfaces.

By saturating fabric in hot molten wax, I am able to manipulate, capture and retain the uniquely fluid qualities of fiber. The rigidity of the medium when cool transforms the nature of the fabric and provides a process within which I can create something at once familiar and at the same time, new.
Lucy Madeline

Lucy Madeline is a multidisciplinary artist working primarily in video and sculptural installation, performance, photography, and painting. Her work is characterized by a fundamental search for understanding, redefining the relationship to body, self, sexuality, personal history and spiritual transformation. By utilizing the passage of time and repetition of ritualistic actions, she connects with archaic imagery and tradition, communicating themes of loss, excavation, and the sacralization of the mundane.

LEXICON – Dictionary of Sacred Terms Chapter 1.

"The best things cannot be told." – Joseph Campbell

"Lexicon" is defined as the vocabulary of a particular language, or an inventory or record. Here, it is the vocabulary of the artists' most inborn self, and the special documentation of her experience. By using image, sound and word as the nexus between the conscious and the unconscious, LEXICON aims at articulating the unspeakable through metaphor. Visually stimulating, at times overwhelming, it bypasses the intellect and ego, forcing the viewer into the intuitive mind. One is asked to surrender to the rhythm of the installation, enabling a spontaneous and individual experience.

Beginning at "A" with "Atman," LEXICON continues through the alphabet and ends at "E" for "Ekstasis." Chronicling the inner journey through loss, personal and cultural identity, desire, and expectation, LEXICON – Chapter 1, speaks to the collective human experience, touching on the most primeval and recognized aspects of self.

Almost Paradise
Oil on canvas panel
6" w x 8" h
$700.00


Green Trailer
Oil on canvas panel
9" w x 7" h
$750.00


Red Bucket
Oil on canvas panel
7" w x 9" h
$750.00

Jennifer McChristian

My works focus on plein-air and studio paintings, encompassing both urban and rural environments. I attempt to pull order from chaos, direction from aimlessness and reveal what I hope is a new perspective on nature. A metropolitan setting tends to erase any sense of wilderness, while paintings of nature tend to tame it.

The picture of the world I attempt to illuminate and capture through my paintings exists in this realm: yet defy expectations. The architecture of decay and venerableness conjures a reverence I honor. I try to immortalize them before they vanish to encroaching development or simply fall apart from disuse and neglect.

I want my paintings to evoke a sense of isolation, abandonment and hidden mystery yet suggest a sense of levity. My paintings don't so much come from the tangible, exterior elements of nature, as they do from my perception of them. My goal is to communicate my internal, emotional experience with what I am observing, echoing my own evolution, process and growth as an artist. Through my paintings I attempt to embrace the past, present and future.
Redlands

Oil on canvas

16" w x 12" h

$400.00

Natural settings allow the artist to express the notion of beauty through perfectly groomed landscapes. Each painting is a glimpse of a Los Angeles background, focusing on moments of whimsy only seen during late afternoon light and movement. By simplifying design and exaggerating color, the most clarifying aspects of nature are left before us.


Stoney Point View I
Oil on canvas
11" w x 14" h
$380.00


Griffith Hillside
Oil on canvas
12" w x 16" h
$400.00
Painting for me is an exercise where moving around in the void I eventually find a sequence in shapes and in that awareness I see that nothing can be added and nothing taken away.

Dervish

$1,600.00


Fireflow
$800.00
Indra's Net

Tapestry: wool, resist dyed with indigo

44" h x 39.5" w

$3000.00

Michael F. Rohde

I choose to work in fiber, attracted to this less than common medium, drawn to the possibilities of relationships between subliminal texture and the interaction of light and color. Pure color and specific color combinations have the power to speak to each of us, often producing differing responses in each person. By limiting the vocabulary to color and woven texture, the works are better able to stimulate reactions and emotions on the viewer.

Arterial

6.75" h x 3.25" dia

Silk, dyes; knotting

$475.00

Monet's Garden

Silk, dyes; knotting

7.5" h x 2.25" dia

$350.00

Gray Mosaic

Tapestry; wool, alpaca, silk, mohair, camel, natural dyes

27.5" h x 19" w

$1200.00

Red Mosaic

Tapestry; wool, alpaca, silk, mohair, camel, natural dyes

27.5" h x 19" w

$1200.00

Vessel 102

Silk, dyes; knotting

5.5" h x 2" dia

$300.00

With Hope for Abundance

Silk, natural dyes; knotting

5.5" h x 2.5" dia

$500.00
Lucia Vinograd

I have been, in the last chapter of my autobiography as an artist, a portrait painter, a hard sell in the current art market. "Landscapes, still-lifes, abstracts, conceptual" cry the voices of the galleries. "Uncle" I cry. So, here is the first of a new genre in my painting.


Oak
Oil and mixed media on canvas
15" w x 30" h
$2,800.00

This too is a portrait of sorts, of an oak tree that grows in Sisar canyon. When viewing my subject I listen and watch. I notice that there is a conversation that is taking place between the sunlight, the breezes, and the leaves, which I seek to capture in the upper half of the painting. But the power of the oak is also deeply rooted in the mother. Beneath what is visible, there is another conversation taking place. It is quietly held in an ancestral language common among creatures, yet difficult to access, and charged with the magnificence of life and death. As humans we are privileged to be part of both of these conversations.
Three Markhor Heads

Monoprint; oil based inks

on Arches 88 paper

30" w x 22.5" h

$850.00

Nina de Creeft Ward

I like to go to a zoo and draw hoofed and horned animals, sometimes by myself, so I can stay with an animal for longer periods, especially if he's resting in the shade. These monotypes come from many small zoo sketches of varied animal views and attitudes. They are unique prints from inked plastic plates. Lines and areas are wiped out, other colors and impressed patterns added back in.

Two Nubian Ibex and Moons

Monoprint; oil based inks

on Arches 88 paper

30" w x 22.5" h

$850.00

Nubian Ibex Facing Away / Stars

Monoprint; oil based inks

on Arches 88 paper

30" w x 22.5" h

$850.00

Organ Series #1, Heart
Acrylic on canvas
30" w x 15" h
$750.00

Molly Zenobia

I am a painter and a musician. This is the first in a series of floating organs. I am obsessed with anatomy. My music has been described as being in the shape of one's heart. I have a heart for a head. It seems to be what I'm constantly expressing through my art, so it seemed like an apt place to start. Thank you for looking.

If you wish to listen, I'd like to give you a free song, just send me a message at mollyzen@mollyzenobia.com.