Greetings from Happy Valley!
I'm writing to make you aware of upcoming exhibitions, performances, and a workshop at the Beatrice Wood Center for the Arts.
Please Join Us
Saturday, February 26, 2011
1:00 - 4:00 pm
Opening Reception for the Beatrice Wood Ceramic Annual
and Nina de Creeft Ward Exhibition
Musical Performance at 2 pm by Xavier Montes
and Conjunto Callejon (The Alley Band)
featuring children from "Big X's" neighborhood!
We will be presenting two exhibitions from February 26th through April 10th. In the Beato Gallery we will present the Beatrice Wood Ceramic Annual, and in the Logan Gallery we will present an exhibition of ceramics and prints by Nina de Creeft Ward.

The Beatrice Wood Ceramic Annual
February 26 - April 10, 2011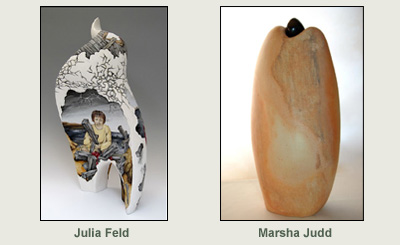 The Beatrice Wood Ceramic Annual is a showcase of the finest contemporary ceramic art, celebrating Beatrice Wood's spirit of experimentation, self-expression, and originality. This year's presentation will include Scott Chatenever, Angela de Mott, Julia Feld, Mark Goudy, Marsha Judd, Shane M. Keena, Nina Kellogg, Laura Langley, James Lovera, Jeff Margolin, Lee Middleman, Masou Ojima, Vincent Suez, Kathy Waggoner, and Fred Yokel.
Nina de Creeft Ward Exhibition
February 26 - April 10, 2011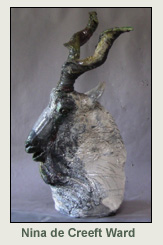 The central body of work featured in the Nina de Creeft Ward exhibition will be her Oryx wood-fired series, along with experiments with low salt firing of Bighorn sheep, and raku-fired and sawdust-smoked creatures. Along with these ceramic explorations will be solar print matrix monoprints.
"My mother raised goats and I have a basic, loving familiarity with that animal," the artist says. "When I see an antelope, I see a pretty fancy sort of goat, and my heart reaches out to him. When I take my bag of drawing things under my arm and set out with a high heart to draw at a zoo, a magnetic force pulls me toward the hoofed stock. There is something compelling about familiar shapes and attitudes made strange and exotic. Drawing, for me, is an effort to capture the animal, and the living images of the animals I fix in my mind through drawing are there with me when I work with clay."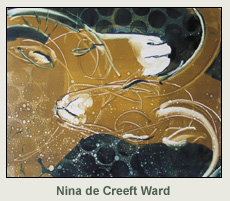 The Opening Reception for these exhibitions will be on
Saturday, February 26, 2011
1 - 4 pm
Please Join Us!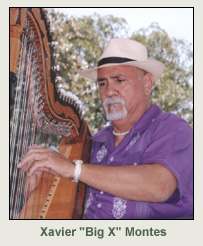 Musical Performance at the Opening Reception:
At 2 pm, there will be a musical performance by Xavier Montes and Conjunto Callejon (The Alley Band) - which consists of children from "Big X's" neighborhood. Xavier "Big X" Montes was born and raised in Santa Paula, and over the past thirty years, Xavier's professional career concentration has been as a visual artist, educator, and musician. In 2007, Santa Paula Rotary honored Xavier with the prestigious Paul Harris Fellow, calling him 'an area cultural treasure.' He has also received the Cultural Arts Leadership award from El Concilio del Condado de Ventura, the Cultural Arts Award from Santa Paula Latino Town Hall, and was the 2004 Citizen of the Year in Santa Paula. Xavier is also recognized for his community-wide volunteerism and his commitment to art and culture, primarily for his founding the renowned De Colores Art Show & Festival, which is celebrated annually in honor of Cesar Chavez and Dolores Huerta. This art show and celebration brings the community together to celebrate the diversity of the Latino experience with art, music, and dance.
Xavier recently brought a number of children from his neighborhood, including his young Conjunto Callejon bandmates, to the Center to take part in a children's mask making workshop.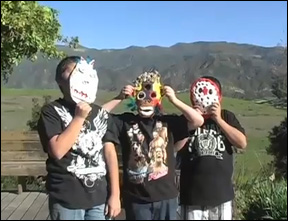 View a video documenting the children's Mask Making Workshop!
I hope that you can attend the Opening Reception, view these wonderful works of art, enjoy refreshments, and spend some time in Happy Valley!
***************************************************
Upcoming Mask Making Workshop
March 18 - 20, 2011
We will be presenting a Mask Making Workshop (for adults this time!) March 18th - 20th, led by Richard Flores.
Multi-talented artist and educator Richard Flores is the 3-D Fine Arts Professor at the College of the Sequoias, instructing courses in all levels of ceramics, sculpture, glass, and 3-D design. He has worked with Beatrice Wood in her studio, in glass with William Davis and Richard Marquis, and continues to be a major factor in the education and development of Earth Art and Ceramic Architecture with internationally renowned architect and author Nader Khalili. As an artist, Flores utilizes wide-ranging media to create work that concerns, "the connectedness of one thing to another, the resulting balance between differences, and the passionate exploration of life's textures expressed through art."
This is a wonderful opportunity to come to learn and work in Beatrice Wood's studio. The cost of the workshop is $200 and includes materials, as well as a light breakfast and lunch. Please contact us for more information about participating in this workshop.
Last year, Richard Flores gave an inspiring and insightful Dream Box workshop at the Center.

View a video documenting the Dream Box Workshop
***************************************************
An Evening with Gwyneth + Monko
March 4, 2011 at 7 pm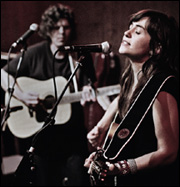 Last year, we presented Gwyneth + Monko, a duo comprised of Gwyneth Moreland and Michael Monko, as the opening act for Laura Meyer. This year, we've asked them to come and perform their brand of Indie Folk with a style rooted deep in old-time, blues, and true American country music as part of a special evening of music at the Center.
They will be performing on Friday, March 4th at 7 pm.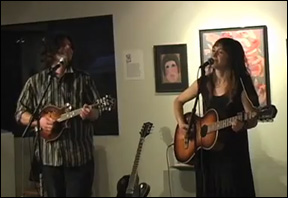 View a video of them performing at the Center last year
***************************************************
Please put these dates on your calendar:
Opening Reception for The Beatrice Wood Ceramic Annual
and Nina de Creeft Ward
with performance by Xavier Montes and Conjunto Callejon (The Alley Band)
Saturday, February 26th, from 1 - 4 pm
An evening with Gwyneth + Monko
Friday, March 4th, 7 pm
The Richard Flores Mask Making Workshop
March 18th - 20th