Greetings from Happy Valley!
I'm writing to invite you to attend a special event at the Center on Saturday, March 16th from 3 – 6 pm. Two exhibitions will be opening, featuring recent artists-in-residence Wyatt Amend and Christina Carroll. Both artists will present gallery talks.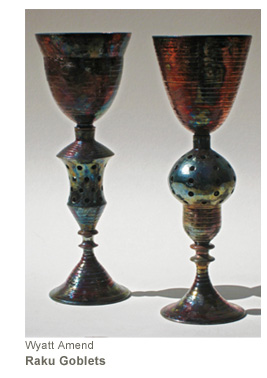 Wyatt Amend, a recent graduate of Sonoma State University in Northern California, was introduced to art at a young age, winning four Ojai Studio Artists' scholarships (sponsored by Beatrice Wood and Otto and Vivika Heino) as a high school student. Over the last few years he has explored myriad approaches to creating art, including drawing, installation, sculpture and utilitarian ware. Introduced to the ancient art of glassblowing during a summer spent at Pilchuck Glass School in Washington State, Amend was inspired by the thin and dramatic shapes found in Venetian goblets. He set out to recreate these glass forms in ceramic, developing a unique approach to working on the wheel that has more in common with the woodturning process than traditional wheel throwing.
As an artist-in-residence at the Center, Amend has worked on Beatrice Wood's wheel deep into the night, expanding upon the sculptural potential of the goblet. He says of the experience: "Working at the Beatrice Wood Center for the Arts has given me the opportunity to grow from her loving and creative mind, be inspired by the beauty of her home and surroundings, and to learn from her compassionate, curious and always truthful spirit."
While exploring the myriad possibilities in form, color and and texture the goblet form offers, Amend has continued his sculptural pursuits. The exhibition will include work from his recent Propulsion Drone Series. Inspired by a childhood obsession with science fiction, the works create a sense of motion and energy by utilizing multiple components, layers and negative space to explore pattern and form. These works have, in turn, inspired a more sculptural approach to the goblet and a new body of work that will debut in the exhibition.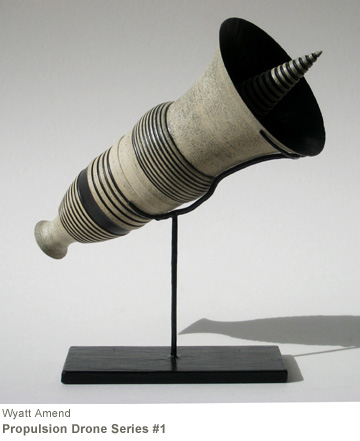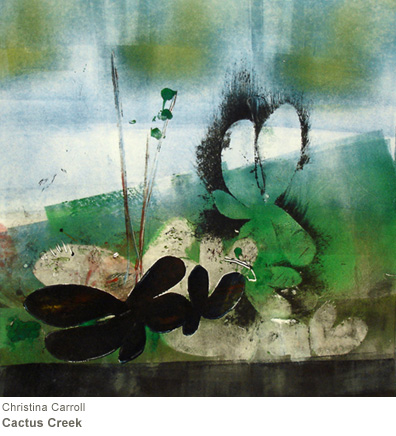 Christina Carroll grew up in one of Southern California's rustic canyons, finding a companion and teacher in the natural world that surrounded her. Observing the natural world closely, she found peace, inspiration and the knowledge that through nature's behavior and rhythms, there was a wisdom suggested – that in a sometimes chaotic world, logic and peace might be found by looking closely and openly at things. Carroll's creative expression in response to nature presented itself in both image and words, strengthening an intuition that art, and looking closely, was her intense interest.

Following a B.A. in Studio Art/Design and Art History from Connecticut College, she was introduced to monotype printmaking at the Museum of Fine Arts Boston's Museum School. The monotype process triggered a delightful synthesis of the artist's intrinsic qualities and temperament. Over the years, Carroll pursued coursework in book arts, drawing and graphic design from Massachusetts College of Art, DeCordova Museum School in Boston and Sir John Cass School of Art in London. She is currently affiliated with the American Print Alliance, Sebastopol Center for the Arts and the Cambridge Art Association. The monotype's printed image continues to be a foundation in her work as she explores three-dimensional forms, artist books, and cut paper collage.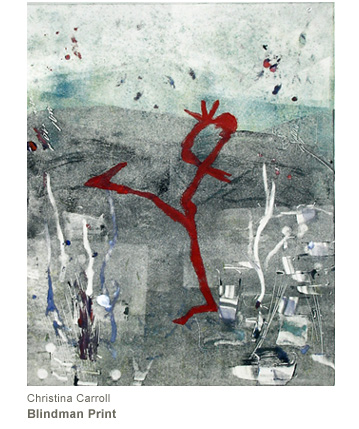 Work in the exhibition will reflect Carroll's influence and impression of the natural world including 'hot off the press' pieces being displayed as she draws specifically from the light, color, and textures found in Happy Valley, including prints that share the spirit of Beatrice Wood utilizing the artist's iconic "Blindman" image.

The Wyatt Amend and Christina Carroll exhibitions will be presented through April 21st.
If you're unable to attend the reception or visit the Center over the next six weeks,
we'll be presenting these wonderful exhibitions online.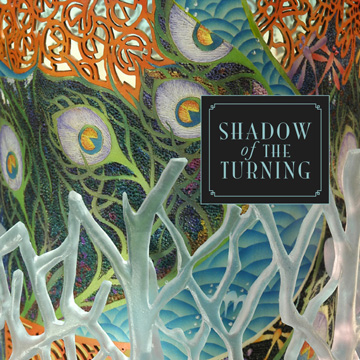 The Saturday, March 16 event will also celebrate the release of my new book, Shadow of The Turning,
created in collaboration with artist Binh Pho.
Shadow of The Turning is an exploration of art, myth, and philosophy, drawing upon diverse genres and media to bring the viewer into a fascinating literary adventure. Please click here to read an excerpt.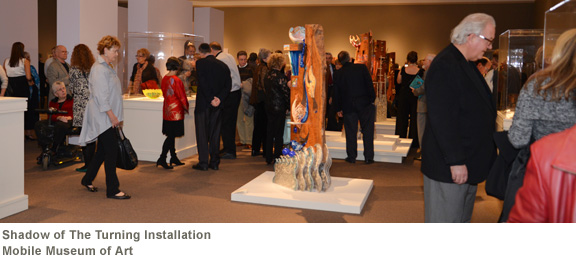 The book debuted in January at the Mobile Museum of Art in conjunction with an exhibition of the same name that features the works that illustrate the book. When the exhibition at the Mobile Museum of Art closes on April 7th, the exhibition will begin a tour of East Coast museums and art centers.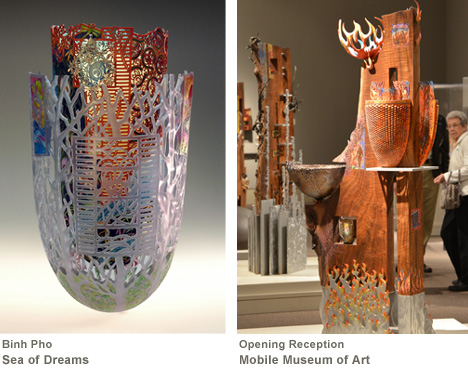 To learn more about the book and exhibition, click here: www.shadowoftheturning.com
At 1 pm, Binh Pho and I will give a talk on the book at the Ojai Public Library, followed by a booksigning at the Center. Richard Flores, an Ojai-based artist and former studio assistant to Beatrice Wood, collaborated with Binh on work featured in the book and exhibition, and will also be on hand to sign the book.

From its inception, the Happy Valley Foundation has been committed to education and in this spirit the Center is presenting a number of exciting workshops in a variety of media. Please take a look at the list and consider coming to Happy Valley for a hands-on experience of the arts.
Upcoming 2013 Workshops

This afternoon workshop is being presented in conjunction with the artist's residency and exhibition of the same title at the Center. Participants will learn to create their own unique prints while learning image-making using a hand-turned press.

Join award winning artist Jennifer McChristian in this fun and invigorating 5-day plein air painting workshop. Learn how to interpret the landscape in terms of paint, using light and color to create form. The aim of this workshop is to teach you to think, see and express light and form. Color relationships, design/composition, simplifying and the benefits of painting outdoors will be discussed, as well as how to design and build a painting that carries an emotional impact.

These workshops, led by Seda Sevada, introduce children to a wide range of media and processes. In many cases the workshops will involve artists-in-residence at the Center, or special guests, providing unique opportunities for expansive experience with the arts.

The Beatrice Wood Center for the Arts also presents Children's Art Workshops at venues in Southern California throughout the month. For more information, contact: seda@beatricewood.com.

This three-day workshop is based upon Thought Forms, the 1901 book by Annie Besant and Charles Leadbeater that inspired Wassily Kandinsky, Piet Mondrian, Paul Klee and countless other artists. Participants will explore the ideas that pre-date and inspired abstract painting through insights into the processes of seeing and recording impressions in form and color.

Four days of study and investigation of the materials and processes that create the signature Luster Glazes of Beatrice Wood and others will be presented by Myra Toth, ceramic artist and teacher of Ceramics and Glaze Theory for 37 years.

This four-day workshop will share information gleaned from a recent twelve-week workshop presented at Harvard by Allison Newsome. The workshop at the Center will share Newsome's experience with this project and explore Neolithic pre-pottery figurines (5,000.00-3,000.00 BC) as a metaphor and point of departure for clay sculpture.

WHERE:
Beatrice Wood Center for the Arts, 8560 Ojai-Santa Paula Road in Upper Ojai.
WHAT:
Opening Reception for Two Exhibitions:
Wyatt Amend: Technologia Glorifien
and Christina Carroll: Influence & Impression

and Book Release Party for Shadow of The Turning
WHEN:
Saturday, March 16th, 3 – 6 pm
If you're unable to attend, we hope to see you soon. Thanks for your continued interest and support of the Beatrice Wood Center for the Arts.
Hope to see you soon!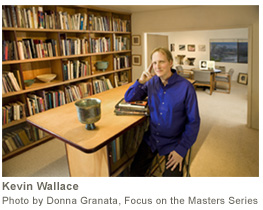 Kevin Wallace
Director, Beatrice Wood Center for the Arts
& the Happy Valley Cultural Center
The Center is open Friday, Saturday and Sunday, 11 - 5 pm. Please call 805-646-3381 or email BeatriceWoodCenter@gmail.com for more information.
Join Our Email List
Stay informed on upcoming events at the Beatrice Wood Center for the Arts!
To receive news and event accouncements, please email BeatriceWoodCenter@gmail.com
and ask to be added to our email list.
Thank you!
"The importance of art is that it is an experience beyond the physical."
~ Beatrice Wood