Greetings from Happy Valley!
I'm writing to bring you up to date on our work at the Center and upcoming exhibitions, workshops, and events.

Wheel-Throwing Demonstrations April 7, 14, and 21, 11 am - 5 pm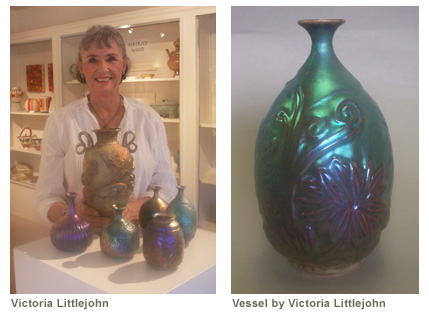 The Center will present a solo exhibition featuring work by Victoria Littlejohn March 30 - April 30, 2012. Littlejohn will be the Center's artist-in-residence during the month of April and will be offering wheel-throwing demonstrations on three consecutive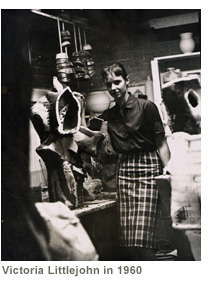 Saturdays - April 7, 14 and 21 from 11 am - 5 pm. The public is invited to visit the Center and learn more about the artist's work and the art and craft of working in clay.
Victoria Littlejohn is a California native, who received her BFA and MFA from USC, where she studied with F. Carleton Ball and Susan H. Petersen. She went on to study with Marguerite Wildenhain and Peter Volkous, before working from 1962 - 1964 as a studio assistant for Tom McMillin. For over 35 years she worked as an independent artist with studios in El Segundo, Laguna Beach, and Big Bear, California, before establishing a production pottery studio in Oregon where she spent 25 years supplying galleries and stores internationally. In connection with her residency at the Center, she is creating a production line to be produced in Beatrice Wood's studio.

From April 21 - 29 we will be presenting a Special Exhibition in the Logan Gallery to support the Besant Hill School, in association with their Spring Arts Festival featuring Jane Everett, Kaffe Fassett, Arthur Hughes, Gerd Koch, Liam O'Gallagher, Robert Rheem, Kate Rinzler, and Nina de Creeft Ward.

Mark your calendars, so that you don't miss these exhibitions and artist receptions!
James Lovera and Dianne Bennett
May 12 - June 29, 2012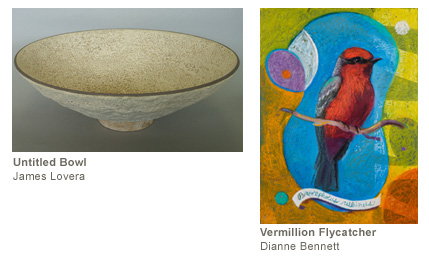 James Lovera: Beato Gallery
Dianne Bennett: Logan Gallery
Opening Reception:
Saturday, May 12, 2012 | 2:00 - 5:00 pm
Terry Martin and Richard Flores
June 30 - August 12, 2012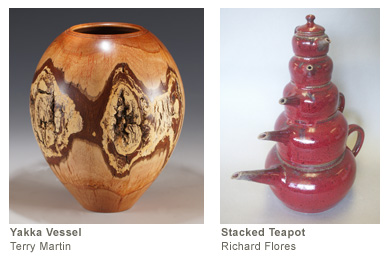 Terry Martin: Beato Gallery
Richard Flores: Logan Gallery
Opening Reception:
Saturday, June 30, 2012 | 2:00 - 5:00 pm
Vessels That Dance
and Brilliance
September 1 - October 27, 2012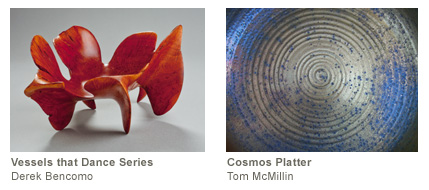 Vessels That Dance - Recent Work by Derek Bencomo: Beato Gallery
Brilliance - Recent Work by Gerri, Russell, and Tom McMillin: Logan Gallery
Opening Reception:
Saturday, September 1, 2012 | 2:00 - 5:00 pm
Wellness With Sound and Voice
Join Grammy-winner Darlene Koldenhoven for an informative, entertaining and rejuvenating adventure with sound, utilizing the many newly researched and proven benefits of music and sound-making for the brain, body and all around health.

Create your own unique print while learning image-making using a hand-turned press.

Join us on a creative safari into the jungles of human fears, nightmares, and internal disturbances.

Learn to use basketry techniques to make your own traditional Adirondack backpack. This extremely functional and beautiful alternative to the modern backpack resembles what the Woodland and Appalachian Native Americans used to gather their food or carry their belongings. You will use different reeds to create this backpack - which can be used to gather materials for future basketry workshops.

Four days of study and investigation of the materials and processes that create the signature Luster Glazes of Beatrice Wood and others will be presented by Myra Toth, ceramic artist and teacher of Ceramics and Glaze Theory for 36 years.

These workshops, led by Seda Sevada, introduce children to a wide range of media and processes. In many cases the workshops will involve artists-in-residence at the Center, or special guests, providing unique opportunities for expansive experience with the arts.
Infinite Voice Mini-Concert: Join us for an intimate, half-hour concert with Grammy-winning vocalist Darlene Koldenhoven, singing from her Two #1 Best Vocal Albums voted by Broadcasters Worldwide of inspiring original pieces and timeless arrangements blending Classical, Positive Pop, Vocal New Age & World Romantica. Darlene's angelic, soul-stirring voice has mesmerized audiences of over 1.5 Billion worldwide as featured in the 6x platinum DVD Yanni, Live at the Acropolis. Darlene's concert is music to uplift, awaken and transform that touches a universal note in all. Following the concert is Darlene's workshop, Wellness With Sound and Voice.

We are pleased to announce that we will be presenting a reading of "8," the new play by Academy-award winning screenwriter Dustin Lance Black (Milk, J. Edgar) at the Zalk Theater November 3rd. The play chronicles the landmark federal trial of California's Prop. 8 using the actual court transcripts and first-hand interviews at the Zalk Theater. It will be followed by a Talk Back Panel with marriage equality advocates to discuss the history and future of equality in California.
You can now order books, DVDs, and other items from our store online!
Visit Our Online Store

Please call 805-646-3381 or email BeatriceWoodCenter@gmail.com for more information on our exhibitions, workshops, and performances.
Hope to see you soon!

Kevin Wallace
Director, Beatrice Wood Center for the Arts
& the Happy Valley Cultural Center
Join Our Email List
Stay informed on upcoming events at the Beatrice Wood Center for the Arts!
To receive news and event accouncements, please email BeatriceWoodCenter@gmail.com
and ask to be added to our email list.
Thank you!
"We all have various gifts and discipline has been one of mine... possibly because I recognized early that I had a dreamy, unworldly way of looking at the world. Having a glimpse of actuality, I recognized the importance of discipline - discipline from the inner self, not imposed from the outside. Few things get accomplished without this willingness to be meticulous in work."
~ Beatrice Wood