March 24, 2010
Greetings from the Beatrice Wood Center for the Arts
and the Happy Valley Cultural Center!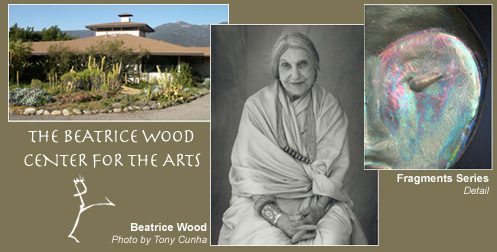 CONCERT THIS WEEKEND!
Laura Meyer in Concert
with Special Guests Gwyneth Moreland
& Michael Monko
Saturday,March 27, 2010
7:00 pm
Beatrice Wood Center for the Arts
in the Logan Gallery
Admission is only $10.
Come to the Center to support live music!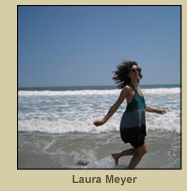 On Saturday, March 27th at 7 pm, we will be presenting a solo performance by Laura Meyer, a NYC-based folk-rock artist who has performed at hundreds of venues ranging from a tiny spirit store nestled amid medieval ruins north of Dublin to the main stage at the renowned Telluride Bluegrass Festival. Her new CD, Miles From Nowhere, is a collection of twenty songs inspired by 40,000 miles of touring that explores a driving, electric sound in addition to the standout finger-style playing for which she has become known.
"Delicious, gritty guitars."
- David Byrne, Pop Making Sense

"Elegant singing and playing... a brilliant guitarist... a poetic lyricism that not many new people have."
- Steve Traina, WSCB Cleveland, OH

"...Tough-minded vocals, insightful lyrics and gritty guitar."- Michael Swanger, Des Moines Cityview

"These songs are country roads, rich with story and movement."
- Dan D'Ippolito, Jezebel Music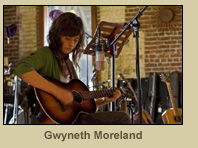 The amalgam of Gwyneth Moreland's "tangible gentleness" and Michael Monko's old-timey grunge creates a captivating performance that is sure to rouse the weary. Gwyneth Moreland's passionate vocals and lyrics are soulful and steadfast. Michael Monko, having mastered the nuances of "edgy" in his previous career as heavy rock bassist, has seamlessly woven the fervency of grunge-rock into the more folk-based tunes of Gwyneth Moreland. Michael accompanies Gwyneth's voice and rhythm guitar with a variety of instruments including mandolin, acoustic and electric guitar and fiddle.
Watch video of Gwyneth Moreland and Michael Monko performing "Hole in My Sky"
____________________________
UPCOMING CONCERT THE FOLLOWING FRIDAY!
Tabla Ecstasy & Won Joung Jin
Friday, April 2, 2010
Zalk Theater
7:30 pm
Tickets: $15 in advance, $20 at the door
To purchase advance tickets, call the Center at 805-646-3381
or e-mail artcenter@beatricewood.com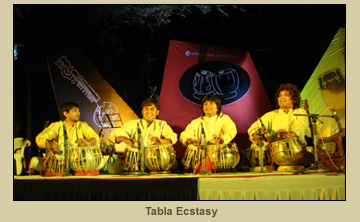 On April 2, we are pleased to present Tabla Ecstasy & Won Joung Jin at the Zalk Theater. A soulful and mature ensemble, Tabla Ecstasy is an enthralling display of Indian drumming, created by Tabla Guru Pandit Divyang Vakil. This unique tabla anekbandhi (group) showcases the power of classical tabla in a form that can be appreciated by all listeners. Pleasing to the ear and technically rich, Tabla Ecstasy is highly intricate composition performed by four artists of Pandit Divyang Vakil - Rushi Vakil, Nishant Mehta, Kaumil Shah and Sahil Pael, with accompaniment on harmonium by Loren Oppenheimer. The artists have performed as soloists and members of Pandit Divyang Vakil's tabla ensembles all over India, as well as in Belgium, France, Canada, Singapore and Hong Kong.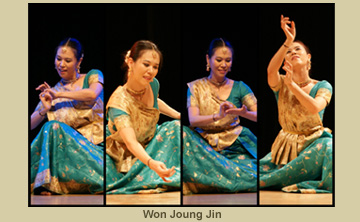 A native of South Korea, Won Joung Jin has spent over 10 years in India undertaking training in not one, but two of India's classical art forms - Kathak as a student of Shreemati Shubha Desai, and tabla as a disciple of Tabla Guru Pandit Divyang Vakil. Working with leading Kathak choreographers, including Shreemati Kumudini Lakhia, Shreemati Saswati Sen and Maulik Shah, Jin has performed all over India in festivals such as the Delhi Shrinagar Dance Festival, the Jaipur Udayshankar Festival and the Kolkata Dance Festival amongst others. As a soloist, she has performed in major cities of Canada, Europe and Korea.
Infusing her own creativity into her performance, Jin is a strong, yet graceful dancer. With her deep understanding of dance and rhythm, she presents the various shades of Kathak and effectively communicates the beauty of the dance form even to those who are new to the art.
____________________________
OUR CURRENT EXHIBITION
While at the concerts, please take some time to enjoy our current exhibition:
"New Work"
March 13 - April 24, 2010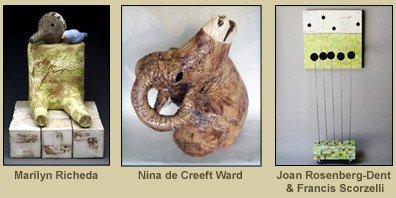 We will be presenting New Work, a group exhibition March 13 - April 24. Among the artists presented in this exhibition are: Dianne Bennett, Luis Bermudez, Christina Carroll, Magie Smith-Fleisher, Richard Flores, Pam Guhrs-Carr, Lucy Madeline, Terry Martin, Dena Palser, Robert Rheem, Xavier Montes, Marilyn Richeda, Joan Rosenberg-Dent, Francis Scorzelli, Carroll Simpson, and Nina de Creeft Ward.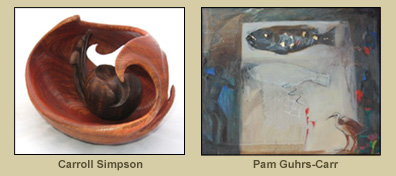 Thanks for your continued interest in and support of the Beatrice Wood Center for the Arts and Happy Valley Cultural Center!
Kevin Wallace
Director, Beatrice Wood Center for the Arts
and The Happy Valley Cultural Center
Visit the Center!

The Beatrice Wood Center for the Arts is open to the public
Saturday & Sunday
11:00 am - 5:00 pm

Please call (805) 646-3381
for information.
Click for driving directions to the Beatrice Wood Center for the Arts
"We have this energy, which is life, and it needs to come out, and probably touch what is the beauty of the universe in which we're all caught."

~ Beatrice Wood