____________________________
WATCH CONCERT VIDEOS
We create videos of the performances and events at the Center, to share with those who are unable to attend, as well as those who want to experience it all again. Please enjoy these excerpts of last weekend's concert, featuring Laura Meyer and Gwyneth Moreland & Michael Monko.
View Laura Meyer performing "The Ocean"
View Gwyneth Moreland & Michael Monko performing "Chess"
____________________________
OPENING RECEPTION THIS SATURDAY!
Please join us on
Saturday, April 3, 2010
2:00 - 5:00 pm
An exhibition of photographs by Kim Faust
Logan Gallery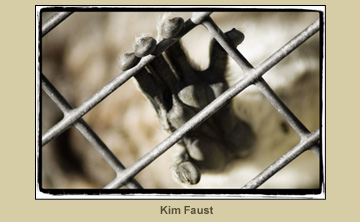 "I have always had 'a certain affinity' to nature and to animals. Over the last few years I have been lucky to work with the Channel Islands Docent groups and with local wildlife rescue and rehabilitation organizations. This has allowed me to not only rehabilitate and release, but to work with and train animals for educational outreach programs into the community. These animals who will now spend their lives as education ambassadors for their species are the subject of my current work. For various reasons, they cannot be released into the wild and graciously, sometimes stoically, and occasionally with humor spend their days tolerating our attention while they bring the "idea" of wildlife to a population who has forgotten them. I hope that my images of these animals that I have come to know very intimately will portray some of their majesty as images captured of truly wild animals are able to do. I hope to also give them the sense of timelessness they so richly deserve through my approach and traditional technique."
Presented in conjunction with the MFA Defense for Brooks Institute's MFA in Photography Program for Kim Faust.
The exhibition will be on display
April 3 - 11, 2010