Greetings from Happy Valley!
I'm writing to invite you to attend the Opening Reception for our upcoming exhibitions. In the Logan Gallery, we will be presenting here + now, an exhibition of new work by Dianne Bennett. In the Beato Gallery we will have new work by James Lovera. The exhibitions will be presented May 12 - June 29, and there will be an Opening Reception on Saturday, May 12, 2 - 5 pm. If you are unable to view these exhibitions in person, you will be able to view them online, along with other information about our activities, at www.beatricewood.com.

Ojai artist Dianne Bennett is well-known in the art community for creating distinctive works with a strong symbolic voice. Folk-like images of birds, insects, trees, and other iconographic subjects inhabit her art, which is intuitively narrated with layers of random scribbles, sampled text, handwritten musings, and archetypal graphics. Using oil paints on salvaged metal, wood, and other collected materials she creates retablo or altarpiece art inspired by the painted laminas and shrines of Latin America, as well as the folk and spiritual art of India and Asia. The result is work that crosses cultural traditions referencing both decorative and popular art forms, as well as devotional objects with the purpose of venerating and commemorating the endangered wild and natural world. Her mixed media assemblages are painted, collaged, and constructed using salvaged building materials, old metal signs, household objects, forgotten children's toys, and other discarded and recycled items to explore themes of faith, superstition, and gender roles using iconic/ironic imagery, symbols, and words.
"My work is created in hopes of illuminating the ephemeral beauty of life in this world while raising questions about what we value, what we hold sacred and what is disappearing before our very eyes," Bennett says.

The masterfully thrown bowls and bottles of James Lovera first came to the attention of curators, collectors, and fellow ceramists in the 1950s, when they were regularly featured in Arts and Architecture, a publication edited by Ray and Charles Eames and Isamu Noguchi. Today, the color and texture of Lovera's vessels make them immediately distinctive-earthy and raw in some instances, exploding supernovas of lustrous color in others. He seeks perfection in both technique and glazing, but also welcomes the chance effects created in the kiln. As he puts it, "I'm playing with fire every time."
By concentrating on perfecting form, James Lovera unleashes upon the "canvas" of his chargers and bowls interpretations of the textures and hues that surround him in nature. His vessels exemplify mid-century Modernist concerns for the clarity of form and function, yet Lovera has also been influenced by Song Dynasty (960-1279 c.e.) ceramics, which are among the highest achievements in Chinese porcelain. Lovera was moved by the regard during that historical period for simplicity and the distillation of form to its essence. He has also pushed the chemistry of his glazes to fit to porcelain like a skin.
Where:
Beatrice Wood Center for the Arts
8560 Ojai-Santa Paula Road in Upper Ojai
What:
Dianne Bennett and James Lovera Exhibitions
When:
Exhibitions will be presented May 12 - June 29, 2012
Opening Reception:
Saturday, May 12, from 2:00 - 5:00 pm


Visitors to the Center also have the opportunity to enjoy a permanent installation sharing Beatrice Wood's life story with memorabilia, her collection of folk art and wonderful examples of her ceramic art. The Happy Valley Foundation, which oversees the Center, is dedicated to creating and sustaining an environment of compassion where all forms of life are nurtured, with the understanding that constructive change in the human condition and the planet begins with the individual. Whether you are a regular visitor or coming to visit for the first time, The Beatrice Wood Center for the Arts and Happy Valley Cultural Center, is a wonderful place to come and spend some time communing with nature and the arts.
Please call 805-646-3381 or email BeatriceWoodCenter@gmail.com for more information on our exhibitions, workshops, and performances.
Hope to see you soon!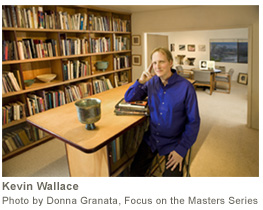 Kevin Wallace
Director, Beatrice Wood Center for the Arts
& the Happy Valley Cultural Center
Join Our Email List
Stay informed on upcoming events at the Beatrice Wood Center for the Arts!
To receive news and event accouncements, please email BeatriceWoodCenter@gmail.com
and ask to be added to our email list.
Thank you!
"Because we are becoming one world, we should tear down the walls of color and the artificial boundaries between nations."
~ Beatrice Wood