Featuring students from the Besant Hill School under the direction of Lucia Vinograd, Director of Visual Art.
What might appear at the beginning as chaos, contains a myriad of possibilities percolating coherence. "Chaologists" from Besant Hill School's advanced Visual Art class exhibit the Art-ifacts of their explorations into planned reckless abandon. Students began by creating situations where they had minimal control over the application of the first layer of paint. These chaotic beginnings inspired bold expeditions into the uncertain world of intuitive creativity, opening new pathways in their imaginations. This exhibition highlights the work of Griffin Davis, Julie Yu, Yue Yu, Pil-Jae Choi, Isabell Hong, Ashley (Chih-Jo) Lui, and Madeline Mikkelson, under the guidance of Lucia Vinograd.
"Uncertainty and mystery are energies of life. Don't let them scare you, for they keep boredom at bay and spark creativity." -R.I. Fitzhenry

************************************
SAVE THE DATE FOR THESE
UPCOMING EXHIBITIONS!
June 5 – July 25, 2010
"The Earth in Our Hands"
A group exhibition of small-scale ceramic works.
In the Beato Gallery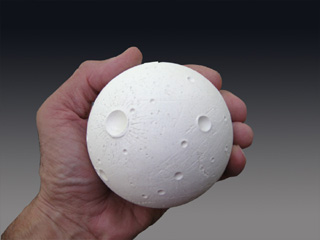 Fred Yokel - Moon Sphere
***************************************************************************
Featuring works created during the artist's current residency at the Center.
In the Logan Gallery

Lucy Madeline
"I hang on to the statement of scientists that there is no time…Choosing to live in the timeless, I am now at the easiest and happiest time of my life." ~ Beatrice Wood
In her current residency at the Beatrice Wood Center for the Arts, Lucy Madeline will make work that is both inspired by and a response to the intentions and lives of Beatrice Wood and Annie Besant. Leaving all preconceived notions about art, life, and making behind in her Los Angeles studio, she approaches this experience as an out-of-time and place happening – an experiment in receptivity of inspiration from outside sources. So far in her stay at Happy Valley, she is confronted with notions of time. Through a series of personal revelations, she will make work that discusses the relationship to and the recording of the passage of time. Her visceral vocabulary consists of themes of waiting, absorbing, and counting, in the body, in the mind, and in life.
You can follow her chronicle of her experiences in Happy Valley at her blog, which she keeps in the spirit of documentation and preservation of that ever fleeting substance – time. www.lucysartposts.blogspot.com
Lucy Madeline is a multidisciplinary artist working primarily in video and sculptural installation, performance, photography, and painting. Her work is characterized by a fundamental search for understanding, redefining the relationship to body, self, sexuality, personal history and transformation. By utilizing form, the passage of time and repetition of ritualistic actions, she connects with archaic imagery and tradition, communicating themes of voyage, separation, and the sacralization of the mundane. She presently lives and works in Los Angeles, California.