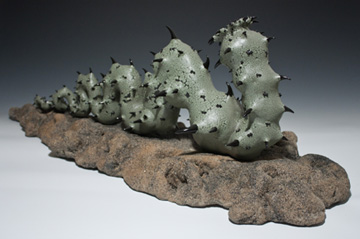 This exhibition focuses on the details of the natural world - whether intertidal, botanical, or microscopic. His ceramic sculpture and photography explores that which could be easily missed by those concerned with the entirety and not the details. Having grown up near the ocean, the artist spent a considerable portion of his childhood exploring the shallow tide pools of the Pacific Ocean. His recollection of discovering various life-forms occupying these shallow tidal regions, as well as being an avid scuba diver for over twenty years, remains a direct influence. While diverse marine forms are sources of visual and formal influence, he also draws inspiration from sources ranging from microscopic images of pollen to the exotic durian and jackfruits of Southeast Asia.
"The body of work created for Biota is the culmination of time spent at the Beatrice Wood Center for the Arts in Happy Valley, as artist-in-residence during the month of May, as well as the cycles of nature that I have observed over the last few years visiting this unique place," Keena says. "For me, Happy Valley is one of the few places where I lose myself and can slip away from the hustle and bustle of life in Southern California. It is a place where my concern for time and schedule is only about sunrise and sunset and selecting the best vantage point to photograph it. Happy Valley is a place where the honking of car horns on the freeway is replaced by the soul piercing screams of red tailed hawks patrolling the valley from the above. It is a place where my type-A personality is forced to slow down, to breath, to observe... to actually exist in the moment."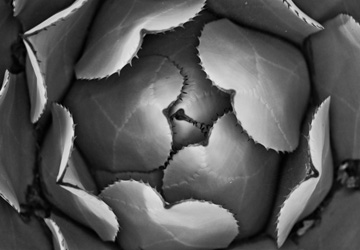 With his ceramic work, Shane M. Keena creates enigmatic and uncategorized art-forms. Rather than recreating what already exists in the world, he creates objects that are hybrids; the result of a blending of ideas begging the question; "is it animal, mineral, or vegetable?" In explaining the works inspired by life in Happy Valley, Keena says: "Here the lifecycles are the lure. It's the way new shoots of plant life begin to emerge and flower, the way spines envelop and protect the many succulent plants scattered throughout the valley, the beauty in the death and breakdown of the resident cacti whose decay creates amazing lattice-like structures. It's this macro world within worlds that lures me, and has always been influential in my artwork."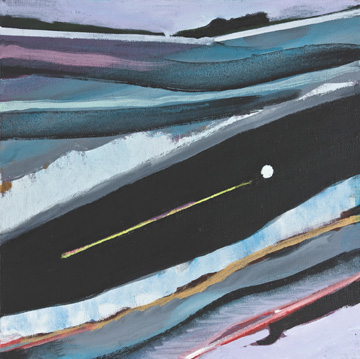 This exhibition will feature paintings by an artist known for an expansive approach to art and human interaction. O'Gallagher created paintings, poetry, graphic works, short stories, performance pieces, and experiments with sound, as well as being integral to the creation of foundations and centers for creativity and human growth, including Feathered Pipe Ranch in Montana, the Ojai Foundation, and the Beatrice Wood Center for the Arts. His relationship with Rosalind Rajagopal, Beatrice Wood and other individuals involved in the Happy Valley Foundation began when he taught art at the Happy Valley School (now the Besant Hill School of Happy Valley) in 1948.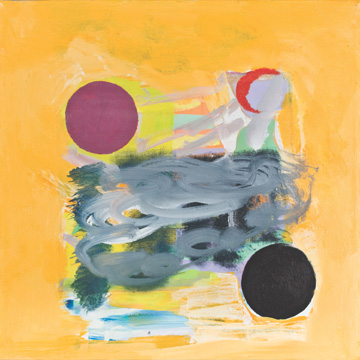 Liam O'Gallagher was closely associated with leading figures of 20th century culture, and he acted as creative catalyst, while journeying through the world of Abstract Expressionism, Beat poetry, conceptual work, performance art, Eastern philosophy, and social change. For a number of individuals, Liam was a guiding spirit, quietly offering guidance and inspiration, while creating work that pushed past the known boundaries of contemporary expression and experience.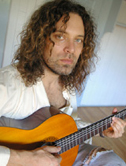 The Opening Reception for the exhibitions will be on Saturday, June 11th from 3 - 6 pm, and will feature a performance by Francisco de Leon. The public is invited to attend.
Born in Buenos Aires, Francisco de Leon moved to the Ojai Valley in 2001. Here he crafted a new musical persona taking influences from two main sources: the Argentine tango and the Brazilian bossa nova, giving birth to a unique blend of Latin musical flavors. Francisco sings in quiet whisper and accompanies himself on an acoustic guitar with nylon strings, playing haunting harmonies with unusual accents.


Beatrice Wood Center for the Arts, 8560 Ojai-Santa Paula Road in Upper Ojai

Shane M. Keena: Biota and Liam O'Gallagher: A Solitary Mirror
Opening Receptions with a performance by Francisco de Leon

Opening Reception on Saturday, June 11, 3 - 6 pm
The exhibitions will be presented June 11 - July 24, 2011

Thanks for your continued interest and support!

Kevin Wallace, Director
Beatrice Wood Center for the Arts
& the Happy Valley Cultural Center
Join Our Email List
Stay informed on upcoming events at the Beatrice Wood Center for the Arts!
To receive news and event accouncements, please email BeatriceWoodCenter@gmail.com
and ask to be added to our email list.
Thank you!
"Pottery makes for self-discipline. If one errs, a bowl is out of line. It takes patience to follow the road of life which leads in the right direction."
~ Beatrice Wood