REMINDER: PERFORMANCE THIS SATURDAY!
'Gods & Goddesses'
presented by the Rangoli Dance Company
Saturday, July 31, 2010
7:00 pm
Zalk Theatre in Ojai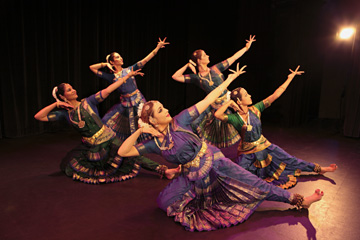 Greetings from Happy Valley!
I'm writing to remind you about a very special event taking place this Saturday. The Beatrice Wood Center for the Arts & Happy Valley Foundation will present the Rangoli Dance Company and artists from India, performing 'Gods & Goddesses' at the Zalk Theatre in Ojai on Saturday, July 31st, at 7 pm.
Founded by award-winning dancer and choreographer Malathi Iyengar, the Rangoli Dance Company is a celebrated group of artists committed to preserving and promoting India's rich heritage of classical dance & music. On July 31st they will perform in the Bharatanatyam and Folk dance styles, depicting enthralling stories of the gods and goddesses of India. The numerous deities in the Hindu Pantheon are considered manifestations of the Supreme Spirit that can take any form any time.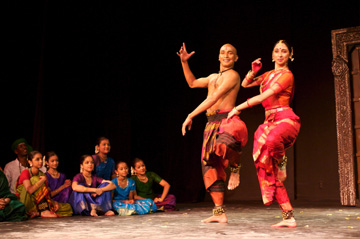 India is a storehouse of myths and legends and these dances reveal stories that depict HIM as the infant and then the lover Krishna, the handsome king Rama, the learned Goddess Saraswati, the loyal but independent Parvati, the majestic Shiva, or the benevolent Lakshmi. The presentation is part of the Happy Valley Cultural Center's mission to support and encourage international and intercultural understanding. The Cultural Center provides a venue for all the arts as well as for dialogues on social and scientific issues of interest to the community at large, while introducing students to diversity in both traditional and non-traditional spheres of human endeavor.
Tickets on Sale Now!
$15.00 advance purchase, $20.00 at the door.
Please call 805-646-3381 or email artcenter@beatricewood.com for more information.

********************************************
Please join us!

'Gods & Goddesses'
presented by Rangoli Dance Company
at the Zalk Theatre, on the campus of the Besant Hill School in Upper Ojai
on Saturday, July 31, 2010 at 7:00 p.m.

********************************************
Hope to see you there!