Greetings from Happy Valley!
I'm writing to invite you to attend the Opening Reception for two exhibitions on:
Saturday, November 17, 2012
2 - 5 pm
The exhibitions will be presented through January 13, 2013. If you're unable to attend the reception or visit the Center over the next six weeks, we'll be presenting these wonderful exhibitions online.

We are pleased to be presenting a retrospective exhibition of works
by Gui Ignon in conjunction with an exhibition of work by one of his students, Arthur Hughes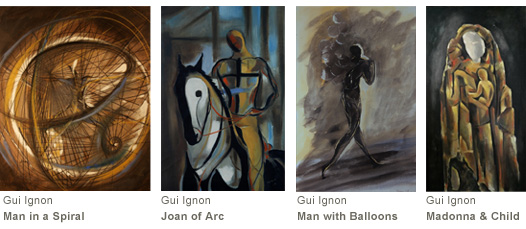 Gui Ignon (1897-1963) drew upon a vast array of influences from formal training in Paris during the heady days following WWI, to the struggling people he met hitchhiking across the U.S. during the Great Depression, from his friendships with leading philosophers and artists, to his time as a POW in a German prison camp - to create an enduring and vibrant body of work. His oil paintings and charcoal sketches are marked by his natural gift for color, carefully honed technique, and unblinking exploration of intellectually and spiritually challenging themes.
To learn more about Gui Ignon and view works in the exhibition online, click here.
Arthur Hughes was raised in Ojai, where he was exposed early in life to artists Gui Ignon, Beatrice Wood, Gerd and Irene Koch, Alice DeCreeft, and Liam O'Gallagher, as well as the art dealer James Vigeveno. Studying with Gui Ignon and Gerd Koch had an early impact on the artist, who today lives and exhibits his work in New York City.
To view work by Arthur Hughes, click here.

Our Small Works exhibition is designed to assist with your holiday shopping - allowing you to acquire unique gifts while supporting the arts. This year we will be featuring small-scale works by many of the artists we have exhibited over the last year, including Derek Bencomo, Mark Goudy, Victoria Littlejohn, James Lovera, Jeff Margolin, Gerri & Tom McMillin, Bill Metcalf, and Liza Riddle. We will also be showcasing new works created in Beatrice Wood's studio.
To view the Small Works Exhibition, click here.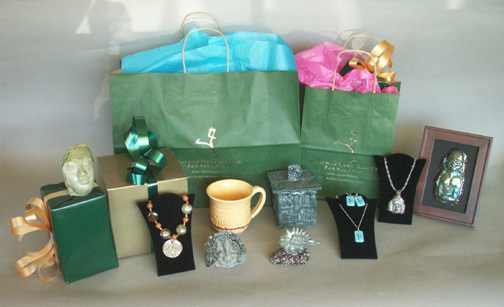 Please take a look at the updated Store section of our website while considering the individuals on your holiday shopping list. We gift wrap and ship anywhere in the country!

Next year we are proud to be presenting a number of exciting workshops in a variety of media. We recently presented our first glass workshop, A World of Glass with Professor Richard Flores. To view a short video documenting this workshop, click here: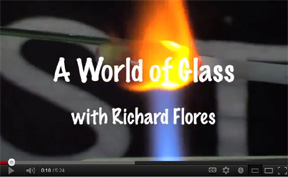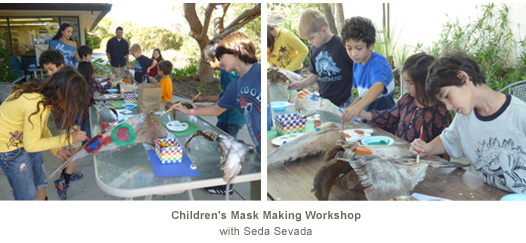 We are please to announce that we recently received a grant allowing us to expand the Children's Art Workshops with Seda Sevada in other Southern California communities. For more information, contact seda@beatricewood.com.


Beatrice Wood Center for the Arts
8560 Ojai-Santa Paula Road in Upper Ojai

Opening Reception for Painters: Gui Ignon & Arthur Hughes
and the Small Works Exhibitions

Saturday, November 17th, 2 - 5 pm
If you are unable to attend, we hope to see you soon. Thanks for your continued interest and support of the Beatrice Wood Center for the Arts.

The Center is open Friday, Saturday and Sunday, 11 - 5 pm.
Please call 805-646-3381 or email BeatriceWoodCenter@gmail.com for more information on our exhibitions, workshops, and performances.
Hope to see you soon!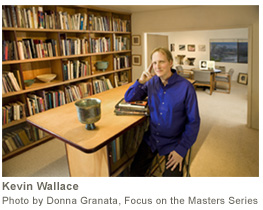 Kevin Wallace
Director, Beatrice Wood Center for the Arts
& the Happy Valley Cultural Center
Join Our Email List
Stay informed on upcoming events at the Beatrice Wood Center for the Arts!
To receive news and event accouncements, please email BeatriceWoodCenter@gmail.com
and ask to be added to our email list.
Thank you!
"We learn from handicaps. They awaken energy which is needed to overcome them, and thus wisdom is born."
~ Beatrice Wood