Greetings from the Beatrice Wood Center for the Arts and Happy Valley Cultural Center!
I'm writing to bring you up to date on our exhibitions and activities, as well as suggest some holiday gifts!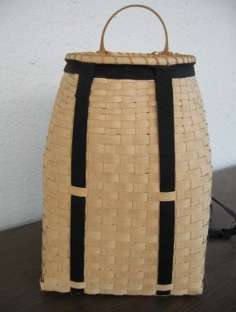 Learn to use basketry techniques to make your own traditional Adirondack backpack. This extremely functional and beautiful alternative to the modern backpack resembles what the Woodland and Appalachian Native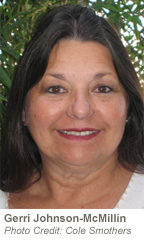 Americans used to gather their food or carry their belongings. You will use different reeds to create this backpack - which can be used to gather materials for future basketry workshops or as a creative holiday gift.
All levels are welcomed to participate, from beginners to advanced.
Cost: $175. Includes materials and lunch.
Born in Pittsburgh, Pennsylvania, Gerri Johnson-McMillin has been creating art since early childhood. She has always loved the fiber arts - crocheting, sewing, needlepoint and basketry, following her first class in 1972. While her main interest is basketry, she employs various fiber techniques, including weaving, spinning, and knotting. Gerri is an Internationally exhibiting artist and has her artwork in the permanent collections of the Long Beach Museum of Art and the Museum of Ventura County.

The Beatrice Wood Center for the Arts and Happy Valley Cultural Center is pleased to announce a series of workshops for children, to be held the first Saturday of every month. The workshops will be led by Seda Sevada and will introduce children to a wide range of media and processes. In many cases the workshops will involve artists-in-residence at the Center, or special guests, providing unique opportunities for expansive experience with the arts. The workshops are being offered free of charge and space is limited. For more information on this program, click here or contact the Center.

The Beatrice Wood Center for the Arts will be open Thanksgiving weekend and we can assist you with your holiday shopping. After all, Happy Valley is a much more wonderful place to visit than the mall!
Our Small Works exhibition presents the opportunity to support the arts
while giving unique holiday gifts.
Ceramics by Liza Riddle
I Shock Myself: The Autobiography of Beatrice Wood shares the intriguing details of the artist's unconventional life. With candor and insight, she recollects nearly ten decades of world-shaking events, heart breaking romances, and artistic achievement. The book features rare glimpses into the lives of significant individuals, from Annie Besant and J. Krishnamurti to Marcel Duchamp and Anais Nin. Above all, it is the mystery of love, sex and romance that intrigues Beatrice Wood and fires her imagination.
$24.95

Gilded Vessel: The Lustrous Life and Art of Beatrice Wood is a celebration of the artist's life and ceramic artistry. Glorious color pictures reveal the beauty of her pottery, while black-and-white photographs document the life, loves and luster, of a woman New York Times Magazine hailed as one of the great lives of the 20th century. This book is out-of-print, but we have hardcover copies at the original price of $35.00.

Beatrice Wood: Career Woman - Drawings, Paintings, Vessels, and Objects is the 144-page catalog created in conjunction with the current exhibition at the Santa Monica Museum of Art. The publication offers a scholarly assessment of Beatrice Wood, with 58 full-color plates, over 90 photographs, forward and acknowledgements by curators Elsa Longhauser and Lisa Melandri, original texts by Garth Clark, Kathleen Pyne and Jenni Sorkin, Wood's original diaries annotated and edited by Francis M. Naumann and Marie T. Keller, and a chronology by Lida M. Sunderland. The catalog's essays range from the examination of Wood's threshold position in early modernism, to her relationship with the Theosophical community in Ojai, as well as a technical evaluation of her work in clay and illuminate the evolution of her work and document the art historical trajectory that delineates her vibrant contribution to the canon of Twentieth Century art.
$45.00

The DVD Special People: Beatrice Wood features in-depth interviews of the artist, discussing her life and philosophy.
$24.95

Limited Edition Pins, created to commemorate Beatrice Wood's 105th birthday. All in sterling silver, some with 14 k gold overlay. Featuring the "Blind Man" image she originally created at Marcel Duchamp's request for the Dada group's "Blind Man's Ball" in 1917. In keeping with the theme of her 105th birthday, only 105 were created and they were offered for sale for $105.00 each. We still have a few available and we're offering them at the original price... while they last.

Folio of lithographs, produced in 1997 for the American Craft Museum, New York. Reproduced from a series of 12 drawings made by Beatrice Wood in 1932. This numbered edition, signed on the "Blind Man" print is limited to 100 impressions; printed on Fabrianno Tiepolo soft white paper, by Toby Michel, master printer Angeles Press, Santa Monica California.
Framed: $1,000.00
Unframed: $750.00

Fragment Series works are created and fired in Beatrice Wood's studio, using her original molds and glaze recipes. The sale of these posthumous works helps support programming at the Beatrice Wood Center for the Arts. We have created a limited edition series of several designs, which are offered at museum stores and design showrooms, as well as one-of-a-kind prototypes representing experiments with designs and glazes.
Limited Edition Fragment Series works: $350.00
Prototype Fragment Series works: $150.00

The Homage Series
These works were created and fired in Beatrice Wood's studio by Richard Flores, her close friend and studio assistant. They represent a celebration of her life's work and legacy. Proceeds benefit programming at the Beatrice Wood Center for the Arts.
$300.00 each

Beatrice Wood Studio Jewelry features imagery, textures and glazes utilized by Beatrice Wood.
Prices range from $75.00 - $500.00.
We will be closed Christmas and New Year's weekends and hope that you have a wonderful holiday season.

Kevin Wallace
Director, Beatrice Wood Center for the Arts
& the Happy Valley Cultural Center
Join Our Email List
Stay informed on upcoming events at the Beatrice Wood Center for the Arts!
To receive news and event accouncements, please email BeatriceWoodCenter@gmail.com
and ask to be added to our email list.
Thank you!
"Between men and women, it is fun playing chess with the heart."
~ Beatrice Wood