Greetings from Happy Valley!
We are currently presenting an exhibition by Luis Bermudez: "Myth, Place & Identity" in the Logan Gallery. You are invited to a reception for the artist this Saturday, December 4th. Please join us!
Reception for the Artist, Luis Bermudez
in Conjunction with his Exhibition
Luis Bermudez: Myth, Place & Identity
Saturday, December 4, 2010
1:00 - 4:00 pm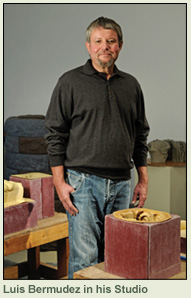 The Luis Bermudez: Myth, Place & Identity Exhibition continues through Jan. 16, 2011.
Luis Bermudez is known for large-scale abstract architectonic ceramic sculptures that explore and communicate elemental phenomena and forces as metaphors for life. He uses the medium of ceramics for its innate earthly qualities, which resonate with his own optimism in communicating the power of the natural world in relation to the human experience. For this exhibition he makes reference to sacred or special places, the symbolic power of the serpent, and issues of identity.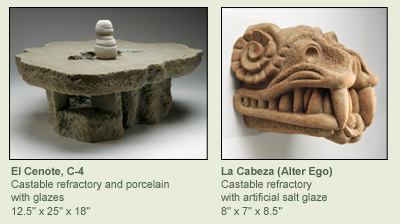 "I come to my work, impelled to give tangible presence to the episodes in my life of peculiar intensity -- the ones that announce their transcendence, and touch the common core of human experience," Bermudez says. "In this exhibition I have created several new works that reflect recent travels, as well as time spent in the presence of Topa Topa, which was sacred to the Chumash."