Happy New Year from the Beatrice Wood Center for the Arts
and the Happy Valley Cultural Center!
Thanks so much for your interest and support of our exhibitions and events in 2009. 2010 promises to be an exciting year. We are starting it off with exhibitions that challenge us to view the world with a renewed sense of wonder.
We will present three new exhibitions from
January 9 - February 28, 2010, with an Opening Reception on
Saturday, January 9th from 2 - 5 pm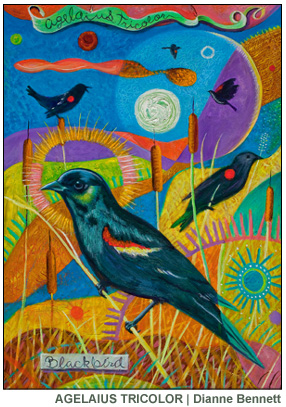 before our very eyes, features new work by Dianne Bennett, an Ojai artist who has created art her entire life as a process of expressing, understanding and communicating her experience. "Growing up in suburban Los Angeles in the 1960's when orange trees outnumbered the houses, I saw subdivisions spring up where beloved meadows once bloomed, and developed a passion for land conservation," Bennett says. "A 20 year career as a graphic illustrator and logo designer informed the visual language of iconic symbols that I now use in my mixed media art. A commitment to sustainability influenced my choice of materials and grounds. I use salvaged building materials, old metal signs, household objects, forgotten children's toys, along with other discarded items to create pictographs, rebuses and altars."
"My work is created in hopes of shining a light on the ephemeral beauty of nature while raising questions about what we value, what we hold sacred and what is disappearing before our very eyes. Using an intuitive language of symbols, iconic portraits of birds, trees, plants and wildlife combined with idiomatic phrases and random thoughts, my intention is to create hieroglyphic messages to the future or postcards from now."
This exhibition is featured in the new issue of Spirituality & Health Magazine, available at newsstands and bookstores now.

Phyla features recent sculptural work by Louise Hibbert and Shane M. Keena. While the two work in different media - Hibbert in wood and paint and Keena in ceramics, they share a similar aesthetic approach and love for the natural world. While form, pattern and color in nature have inspired artists and designers throughout history, they also inspired scientists, driven to develop new technology in a quest for discovering more of the wonder of nature's design in a microscopic exploration of marine life. At the end of the 19th Century this was superbly exemplified in the depiction of the microscopic forms of organisms, that until then had been invisible to those studying the waters of lakes, rivers and the oceans, by the zoologist and artist, Ernst Haeckel. The artist's illustrations of marine organisms influenced the Art Nouveau movement, as well as both Hibbert and Keena.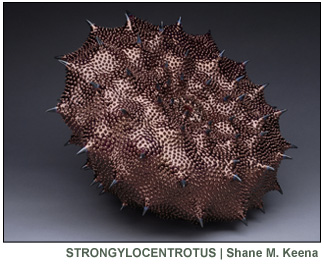 Shane M. Keena received his B.F.A in Fine Arts from the Otis College of Art and Design in Los Angeles and his M.F.A. in Ceramics from the Rochester Institute of Technology, School of American Crafts in New York State. He works as an independent studio artist and teaches regularly, most recently as an Adjunct Ceramics Professor at California State University, Los Angeles.
"Having grown up near the ocean, I spent a considerable portion of my later childhood exploring the shallow tide pools of the Pacific Ocean off the coast of Southern California," Keena says. "My recollection of discovering various life-forms occupying these shallow tidal regions, along with being an avid scuba diver for over twenty years has had a direct influence on my work. However, while many of the diverse marine forms are sources of visual and formal influence, I also draw inspiration from sources ranging from microscopic images of pollen to the exotic durian and jackfruits of Southeast Asia. My agenda is not to recreate what already exists in the world, but rather to create objects that are hybrids; the result of a blending of ideas begging the question; 'is it animal, mineral, or vegetable?' Through the fusion of these visual references, I aim for my work to come to life within arm's reach, where eyesight blurs into touch."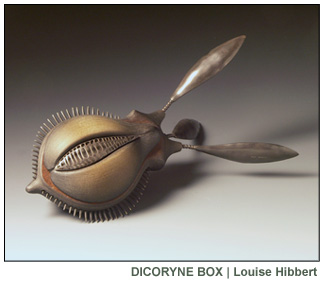 Louise Hibbert is a designer-maker who graduated from University of Brighton in 1994 with a BA in 3D design - specializing in Wood and Plastics. She makes a range of practical items as well as focusing on creating her whimsical one-of-a-kind boxes and vessels. Her ideas derive from an exploration of form, texture, color and symmetry. Inspiration has always been dominated by a fascination with the natural world, particularly marine life, and Louise uses wood to reproduce and emphasize certain decorative aspects that these creatures possess and combine them into single pieces. After careful planning on paper, each piece originates on the lathe and then carving, airbrushed inks, and applied resins are used to create the required effects.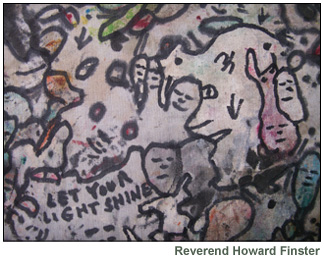 The Outsiders features work by leading practitioners, including Reverend Howard Finster, Jimmy Lee Sudduth, and Mose Tolliver. The term outsider art was coined by art critic Roger Cardinal in 1972 as an English synonym for art brut, a label created by French artist Jean Dubuffet to describe art created outside the boundaries of official culture. The English term "outsider art" is applied to self-taught or Naïve art makers with little or no contact with the mainstream art world or art institutions. Outsider artists are known to be visionary and eccentric, with extreme mental states, religious visions, unconventional ideas, or elaborate fantasy worlds.
The Opening Reception will be held Saturday, January 9th, from 2 - 5 pm and will also feature a musical performance by Xavier Montes. The Beatrice Wood Center for the Arts, from its inception, has presented musical artists alongside visual artists.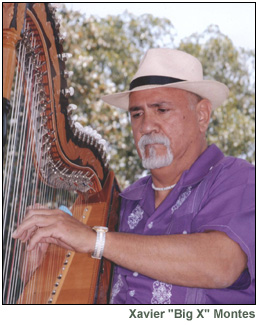 Xavier "Big X" Montes was born and raised in Santa Paula, and graduated from the University of California, Santa Barbara with a Bachelor of Arts degree in studio art and a teaching credential. Over the past thirty years, Xavier's professional career concentration has been as a visual artist, educator and musician. He has exhibited his art and performed his music throughout California and was also a recipient of an Artists-in-Residence grant from the Sacramento based, California Arts Council.
In 2007, Santa Paula Rotary honored Xavier with the prestigious Paul Harris Fellow calling him 'an area cultural treasure'. Among the other recognitions he has earned in his home town of Santa Paula and in Ventura County are: In 1998 the Cultural Arts Leadership award from El Concilio del Condado de Ventura; the 2004 Cultural Arts Award from Santa Paula Latino Town Hall, and the 2004 Citizen of the Year in Santa Paula. Xavier is also recognized for his community-wide volunteerism and his commitment to art and culture, primarily for his founding the renowned De Colores Art Show & Festival, which is celebrated annually in honor of Cesar Chavez and Dolores Huerta. This art show & celebration brings the community together to celebrate the diversity of the Latino experience with art, music, and dance.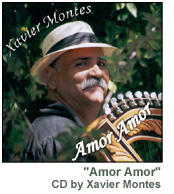 Xavier is well-known for his harp music that he has performed for the past 30 years. He has appeared with a variety of local musicians throughout California and has recorded four CDs, three harp instrumentals, and one featuring vocals with his trio, Trio de Colores. The most recent CD, released in October 2008 is titled "Amor Amor" and features several boleros (Mexican ballads) and original songs composed by Xavier.
"My cultural heritage is filled with color and passion," Xavier Montes says. "It is in my veins and my heart. And so, like many other artists, I am compelled to creatively express: What I feel, what I see, and what I wish I could see."
************************************
WHERE:
Beatrice Wood Center for the Arts
8560 Ojai-Santa Paula Road in Upper Ojai
WHAT:
Opening Reception for before our very eyes,
Phyla, and The Outsiders
with a musical performance by Xavier Montes
WHEN:
Saturday, January 9th, 2010
2:00 - 5:00 pm
WHY:
Experiencing and supporting the arts makes the world
a better place to live
*************************************
Thanks for your interest and support of the Beatrice Wood Center for the Arts!
Kevin Wallace
Director, Beatrice Wood Center for the Arts
and the Happy Valley Cultural Center