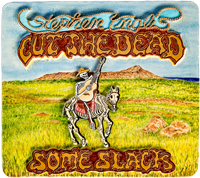 Cut The Dead Some Slack
New Album by
Stephen Inglis
An Intimate Evening of Diverse Solo Acoustic Roots Music
With Grammy Nominated
Na Hoku Hanohano Award Winning
Hawaiian Slack Key Guitarist
Friday, May 11, 2018 / 7:00 PM
Logan House
(Doors open at 6:30 pm)
Tickets: $25
Presented by Cord International Media Group

Stephen Inglis is a wizard of the slack key guitar, a gifted singer-songwriter, and one of Hawaii's greatest musicians of his generation. With a strong respect for tradition, Inglis pushes the slack key guitar into delightful new territory crossing genres and redefining what you would traditionally think of as Hawaiian slack key.
Traditional slack key is the heart of his sound, but the fusion of many other traditions including jazz, blues, country, rock, and old-school Hawaiian make Inglis' sound truly modern folk... with a twist, and a wonderful surprise or two. His music is fresh, clean, and genuine.
Stephen is on tour celebrating the release of his new album, Cut The Dead Some Slack.
An Intimate Evening Performance
with Hawaiian Slack Key & Steel Guitar Legends
Saturday July 7, 2018 / 7:00 PM
Logan House
(Doors open at 6:30 pm)
Tickets: $25
Presented by Cord International Media Group

Ken Emerson & Jim Kimo West are both living legends in the world of Hawaiian slack key and acoustic steel guitar. This is a rare opportunity to see both master players perform together up-close and personal. As recognized masters of Hawaiian slack and steel guitar, Emerson & West will delight the audience with their masterful performances, blazing improvisation, humor and spontaneity.
The performance will feature Hula performed by special guest, Kumu Rona Koe.