Four-Day Workshop with Allison Newsome
ONCE FIRED: THE FIGURE IN THE LANDSCAPE
at the Beatrice Wood Center for the Arts
October 14 - 17, 2010
Cost: $375. includes materials and lunch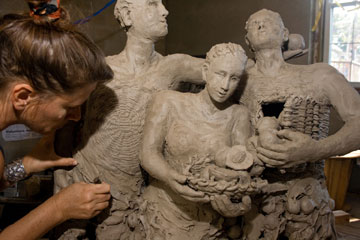 Allison Newsome and "Still Life of Three"
Working from the landscape and the figure: clay sketching outside in the landscape and studying the figure model in the studio, students will create small sculptures and reliefs using hollow-form and slab construction techniques. Learn about creating larger works in several components, combining the figure and your own symbolic imagery, students will learn the art of "Once Fired" with the application of stains, slips, and glazes at all stages of the art making process. Prior experience with clay is helpful but not required.
____________________________________________________________________
"Weird Words"
A poetry reading featuring Polly Bee,
Tree Bernstein, and Robert Peake
____________________________________________________________________
'Gods & Goddesses'
Presented by the Rangoli Dance Company
Saturday, July 31, 2010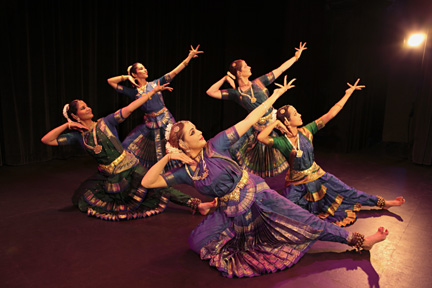 Rangoli Dance Company
The Beatrice Wood Center for the Arts & Happy Valley Foundation will present the Rangoli Dance Company and artists from India, performing 'Gods & Goddesses' at the Zalk Theatre in Ojai on Saturday July 31st, at 7 pm.
Founded by award-winning dancer and choreographer Malathi Iyengar, the Rangoli Dance Company is a celebrated group of artists committed to preserving and promoting India's rich heritage of classical dance & music. On July 31st they will perform in the Bharatanatyam and Folk dance styles, depicting enthralling stories of the gods and goddesses of India. The numerous deities in the Hindu Pantheon are considered manifestations of the Supreme Spirit which can take any form any time. India is a storehouse of myths and legends and these dances reveal stories that depict HIM as the infant and then the lover Krishna, the handsome king Rama, the learned Goddess Saraswati, the loyal but independent Parvati, the majestic Shiva or the benevolent Lakshmi. The presentation of is part of the Happy Valley Cultural Center's mission to support and encourage international and intercultural understanding. The Cultural Center provides a venue for all the arts as well as for dialogues on social and scientific issues of interest to the community at large, while introducing students to diversity in both traditional and non-traditional spheres of human endeavor.
____________________________________________________________________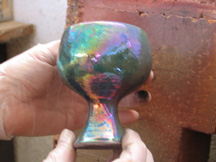 The Lustre Glaze Workshop is limited to ten participants. As the studio is set up for one person, we arrange the glazing area outside under tents. It is so nice to work outside and be surrounded by the incredible view.
____________________________________________________________________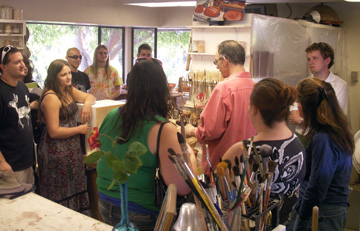 Richard Flores with Students

We recently presented the Dream Box Workshop with Richard Flores at the Center. It was a wonderful event and the Center was alive with creative energy.
To view a video of the event, click below.
http://www.youtube.com/watch?v=mX-uajACRdg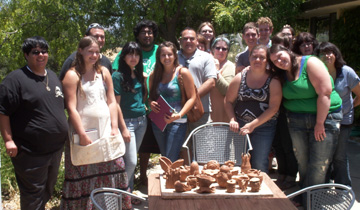 Students with their Unfired Works
If you are interested in participating in a future event at the Center, let us know. I promise that you'll enjoy the experience of creating art and learning new creative processes in Happy Valley.
____________________________________________________________________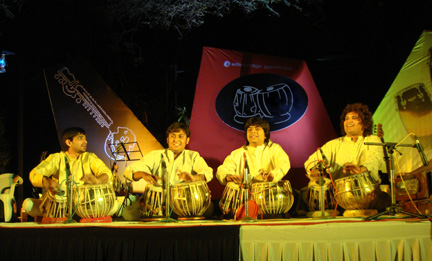 Tabla Ecstasy
On April 2, we are pleased to present Tabla Ecstasy & Won Joung Jin at the Zalk Theater. A soulful and mature ensemble, Tabla Ecstasy is an enthralling display of Indian drumming, created by Tabla Guru Pandit Divyang Vakil. This unique tabla anekbandhi (group) showcases the power of classical tabla in a form that can be appreciated by all listeners. Pleasing to the ear and technically rich, Tabla Ecstasy is highly intricate composition performed by four artists of Pandit Divyang Vakil - Rushi Vakil, Nishant Mehta, Kaumil Shah and Sahil Pael, with accompaniment on harmonium by Loren Oppenheimer. The artists have performed as soloists and members of Pandit Divyang Vakil's tabla ensembles all over India, as well as in Belgium, France, Canada, Singapore and Hong Kong.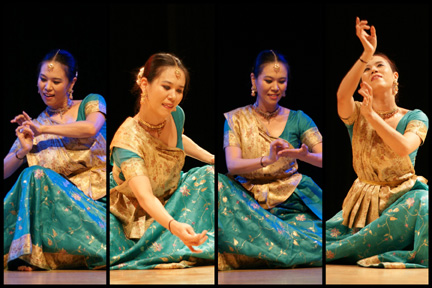 Won Joung Jin
A native of South Korea, Won Joung Jin has spent over 10 years in India undertaking training in not one, but two of India's classical art forms - Kathak as a student of Shreemati Shubha Desai, and tabla as a disciple of Tabla Guru Pandit Divyang Vakil. Working with leading Kathak choreographers, including Shreemati Kumudini Lakhia, Shreemati Saswati Sen and Maulik Shah, Jin has performed all over India in festivals such as the Delhi Shrinagar Dance Festival, the Jaipur Udayshankar Festival and the Kolkata Dance Festival amongst others. As a soloist, she has performed in major cities of Canada, Europe and Korea.
Infusing her own creativity into her performance, Jin is a strong, yet graceful dancer. With her deep understanding of dance and rhythm, she presents the various shades of Kathak and effectively communicates the beauty of the dance form even to those who are new to the art.
_____________________________________________________________________
Laura Meyer in Concert
with Special Guests Gwyneth Moreland & Michael Monko

Saturday, March 27, 2010
7:00 pm at the Center
in the Logan Gallery
| | |
| --- | --- |
| We will be presenting a solo performance by Laura Meyer, a NYC-based folk-rock artist who has performed at hundreds of venues ranging from a tiny spirit store nestled amid medieval ruins north of Dublin to the main stage at the renowned Telluride Bluegrass Festival. Her new CD, Miles From Nowhere, is a collection of twenty songs inspired by 40,000 miles of touring that explores a driving, electric sound in addition to the standout finger-style playing for which she has become known. | |
Watch video of Laura Meyer performing "This Land"
"Delicious, gritty guitars."
– David Byrne, Pop Making Sense
"Elegant singing and playing... a brilliant guitarist... a poetic lyricism that not many new people have."
- Steve Traina, WSCB Cleveland, OH
"…Tough-minded vocals, insightful lyrics and gritty guitar."
- Michael Swanger, Des Moines Cityview
"These songs are country roads, rich with story and movement."
- Dan D'Ippolito, Jezebel Music
| | |
| --- | --- |
| | The amalgam of Gwyneth Moreland's "tangible gentleness" and Michael Monko's old-timey grunge creates a captivating performance that is sure to rouse the weary. Gwyneth Moreland's passionate vocals and lyrics are soulful and steadfast. Michael Monko, having mastered the nuances of "edgy" in his previous career as heavy rock bassist, has seamlessly woven the fervency of grunge-rock into the more folk-based tunes of Gwyneth Moreland. Michael accompanies Gwyneth's voice and rhythm guitar with a variety of instruments including mandolin, acoustic and electric guitar and fiddle. |
WATCH CONCERT VIDEOS
We create videos of the performances and events at the Center, to share with those who are unable to attend, as well as those who want to experience it all again. Please enjoy these excerpts of last weekend's concert, featuring Laura Meyer and Gwyneth Moreland & Michael Monko.
View Laura Meyer performing "The Ocean"
View Gwyneth Moreland & Michael Monko performing "Chess"
Art:21 presents a diverse group of artists working in America today to enlarge the definitions and comprehension of contemporary art. By making contemporary art more accessible, the series affords viewers and students the opportunity to discover their own innate abilities to understand contemporary art and to explore possibilities for creative thinking and self-expression.

Art:21 Educators is a year-long professional development initiative designed to cultivate and support K-12 art educators interested in bringing contemporary art, artists, and themes into their classrooms. This year the Besant Hill School has been selected as one of three schools in the country to be part of this program. Over the summer, Lucia Vinograd traveled to New York City for a 5-day workshop where she worked with Art:21 staff, visiting artists, and guest presenters to develop a familiarity with contemporary art and artists as well as learn strategies for integrating related themes and working processes into the classroom. She has returned with units of study for the subsequent academic year and will be using Art:21 films and educational materials along with museum and studio visits as part of the program. Art:21 documents teacher participation and related classroom teaching in an effort to record and share best practices with other educators.
We hope that you might attend this event and learn more about this exciting program and discover how the Besant Hill School and the Beatrice Wood Center for the Arts are utilizing the arts to further the mission of the Happy Valley Foundation.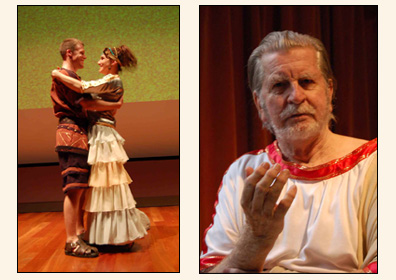 On Saturday, September 19th, we presented The Odyssey, a delightful, family-friendly play, bringing the story of Odysseus and the Trojan War to life. The play is an adaptation of Homer's classic by Dr. Gary Stickel, an archeologist who conducted an excavation at Achilleion, legendary birthplace of Achilles, hero of the Trojan War.
An Intimate Evening of Poetry Under the Stars
with Tree Bernstein, Paul Fericano, and Friday Lubina
Saturday, August 15th, 8:00 pm

Suggested donation for this event (which includes wine & chocolate)
is $7.00. For reservations, please e-mail us at BeatriceWoodCenter@gmail.com or call 805-646-3381.


Tree Bernstein was head Poet Wrangler at the recent Ojai Poetry Fest where nearly 80 poets of all stripes performed their original work. She designs books for her own TreeHouse Press, and has co-written a book of ghazals with Randy Roark, titled Away.

Paul Fericano is the co-founder of the satiric news syndicate, Yossarian Universal News Service, and the editor of The Broadsider. He is the author of several books of poetry including Commercial Break, Cancer Quiz, and Loading the Revolver with Real Bullets, and has recently been rejected by The New Yorker, The Atlantic Monthly, and The Paris Review.

Described as "saucy & provocative", Friday Lubina's poetry is intended to connect with her audience through humor inspired by food, sex, lousy relationships, and even good ones that she sabotages, purely for the inspiration their demise brings. She currently hosts a poetry reading, "Friday on Saturday" at the Bell Arts Factory in Ventura, the last Saturday of every month.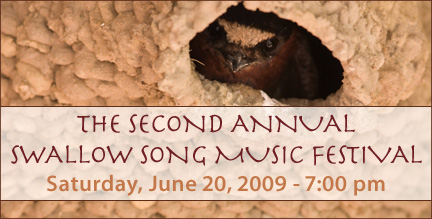 This intimate evening of music under the stars was born of a visit by the composer Hans-Joachim Roedelius, who collaborated with the sound of the swallows chirping in the mud homes they create every year under the Center's eaves.
This year the event will feature three acts who truly embody the art of music: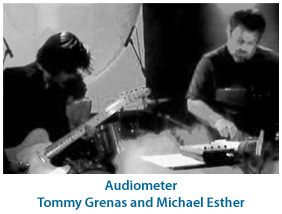 Audiometer, featuring Tommy Grenas and Michael Esther (both just back from a European tour with their band Farflung) will present a marriage of video and analog electronics.
Molly Zenobia, one of our favorite singer/songwriters, will perform "music in the shape of your heart." Molly recently relocated to Boston and we are pleased to welcome her back to the Center for this performance.
For more information e-mail BeatriceWoodCenter@gmail.com or call 805-646-3381.
The Second Annual BeatoFest!
Saturday, November 15, 2008 / 7:00 pm
| | |
| --- | --- |
| Bill Barnhill | |
With Special Guests Bill Barnhill and Emy Reynolds
Along with DJ sets by Daniel Ash
7:00 pm / Zalk Theatre
at the Besant Hill School in Upper Ojai
Click here for more information and to watch videos of the performance!
_____________________________________________________________________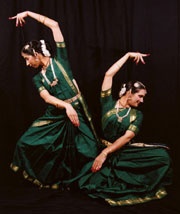 The Rangoli Dance Company
Saturday, July 26th, 2008
7:30 pm in the Zalk Theatre
The Happy Valley Cultural Center and the Beatrice Wood Center for the Arts present The Rangoli Dance Company in 'Love Lyrics' featuring Classical and Folk Dances of India. The performance celebrates the supreme human emotion 'Love'. Dancers using their technical and interpretive skills depict love for a Man / Woman, Child, God, and Nature.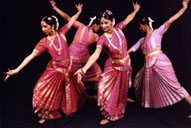 Tickets: $15.00 advance purchase,
$20.00 at the door.
_______________________________________________________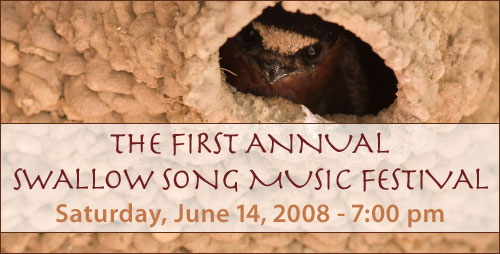 An intimate evening of music under the stars!
| | |
| --- | --- |
| Tickets $8 in advance, $10 at the door | |
| | |
| --- | --- |
| Suburbanoid Fatties (with dog) | Marcel Juin |
_____________________________________________________________________
The New Work exhibition was installed in the Beato and Logan Galleries, with recent outdoor sculpture by Perry Castellano exhibited on the terrace.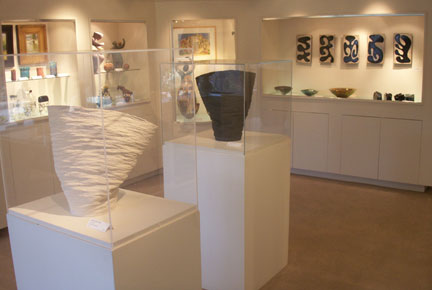 New Work Installation - Beato Gallery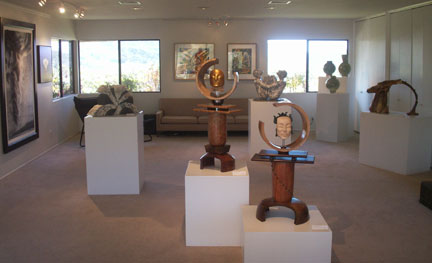 New Work Installation - Logan Gallery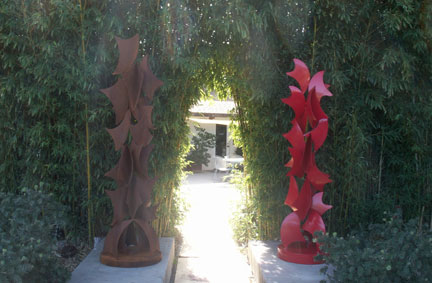 Sculptures by Perry Castellano on the Terrace
It was a beautiful Spring day in Happy Valley and flowers were in bloom.
The Opening Reception lasted four hours and was attended by a steady stream of visitors who had the opportunity to meet the artists in the New Work exhibition.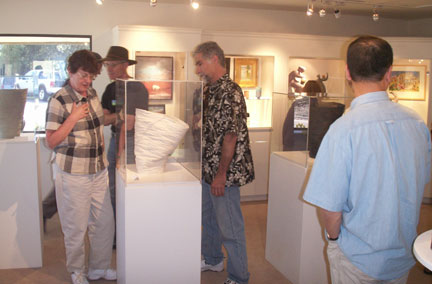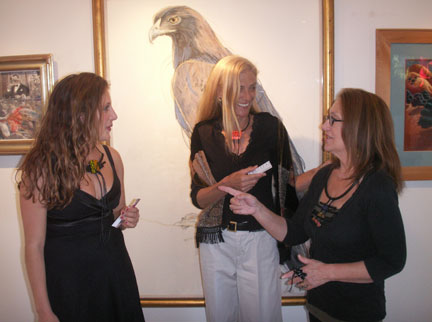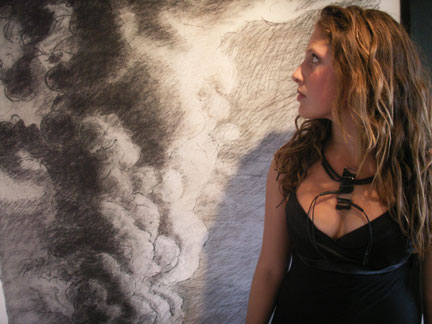 | | |
| --- | --- |
| | Jewelry designer Clare Dune presented a trunk show, with a number of major works and a group of models on hand. The artist refers to her fused glass and rubber as "contemporary embellishments and charms for old souls and brave hearts". The contrast between hard, yet fragile colored glass and soft, yet flexible rubber creates a dramatic look that is both modern and timeless, with Asian and African references. |
| | |
Artist and Chef Beatrix Rohlsen created and served a wide-array of vegan appetizers, as those in attendance sipped wine and viewed works in the exhibition.
Joe Juin, who performs under the name "Felino" sat beneath a tree and entertained those in attendance with classic French and South American folk songs. His girlfriend and daughter often sat by his side and harmonized.