Previous Events
Previous Benefit Concert
Saturday July 11th, 2015 at The ZALK Theater
7:30 PM


Previous Performances in 2014: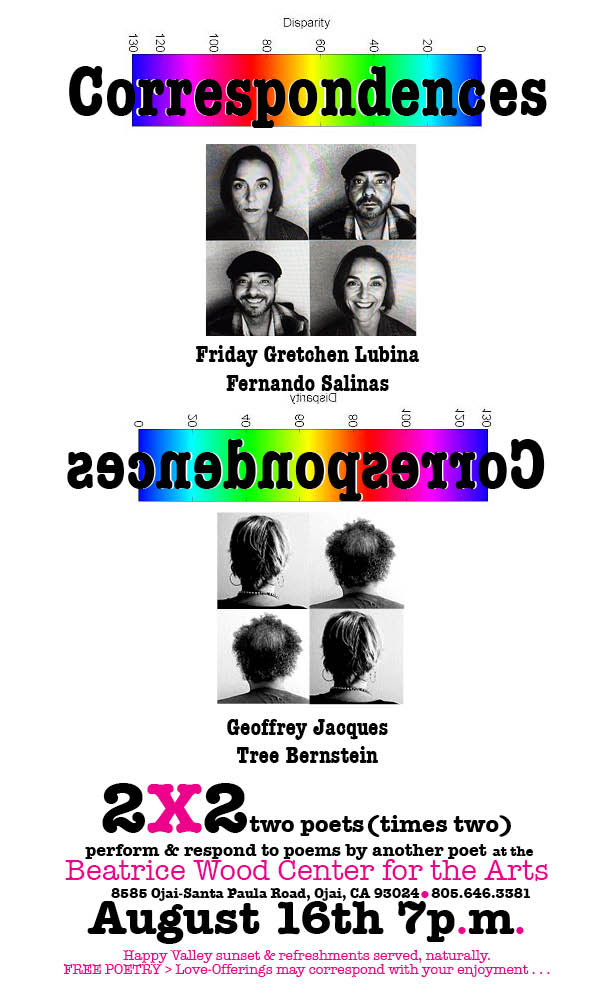 Tree Bernstein is Ventura Area Coordinator for California Poets in the Schools and coaches for Poetry Out Loud. She produces a monthly literary program at the Ojai Art Center. For the past ten years Tree has taught writing and literature at the Brooks Institute. Her poem "Regarding Pigs" was published in Low Down & Coming On, 2010.
Geoffrey Jacques is a poet, essayist, critic, and editor and adjunct instructor of literature and writing. His poetry collection Just for a Thrill was published in 2005. A critical study A Change in the Weather: Modernist Imagination, African American Imaginary came out in 2009.
Friday Gretchen Lubina's poetry has appeared in ARTLIFE, Dance of the Iguana, Caffeine, ASKEW and A Bird Black As The Sun – California Poets on Crows & Ravens. She is assistant editor for ASKEW & Adder's Tongue Press and has hosted Ventura's Annual Erotic Poetry event for over a decade.
Fernando Salinas is a mentor for Artists Without Limits, a poet-teacher for California Poets in the Schools, and a recitation coach for Poetry Out Loud. He has been published widely and will appear in the upcoming edition of Miramar. He is a board member of the Ventura County Arts Council.


George Winston
Photo by Joe del Tufo

Concert goers helped the local food bank, Help of Ojai, by bringing donations of canned food to the concert.

100% of the proceeds from the CD sales at the concert
also benefited Help of Ojai.

Thank you!

We are very pleased to have presented a performance by George Winston at the Zalk Theater in Happy Valley on Monday, May 19th.

Winston was influenced early in life by instrumental rock and instrumental R&B, including Floyd Cramer, the Ventures, Booker T & The MG's, Jimmy Smith, and many more. Inspired by R&B, jazz, Blues and rock (especially the Doors), George began playing organ in 1967. In 1971 he switched to the acoustic piano after hearing recordings from the 1920s and the 1930s by the legendary stride pianists Thomas "Fats" Waller and the late Teddy Wilson. In addition to working on stride piano, he also at this time came up with this own style of melodic instrumental music on solo piano, called folk piano. In 1972, he recorded his first solo piano album, Ballads and Blues 1972, for the late guitarist John Fahey's Takoma label. Since 1980 George has released ten other solo piano albums, as well as soundtracks and albums featuring Hawaiian Slack Key guitar and harmonica.

Previous Performance in 2013:



Live performance by acoustic alt-folk duo based out of Montreal, featuring singer/songwriter Kit Soden and violinist Aliza Thibodeau.
Previous Performances in 2012:




We are pleased to announce that we will be presenting a reading of "8," the new play by Academy-award winning screenwriter Dustin Lance Black (Milk, J. Edgar) at the Zalk Theater November 3rd. The play chronicles the landmark federal trial of California's Prop. 8 using the actual court transcripts and first-hand interviews at the Zalk Theater. It will be followed by a Talk Back Panel with marriage equality advocates to discuss the history and future of equality in California.


Thomas Kivi & Sarah Pray

Photo credit:
Freckle Media & PR

The Beatrice Wood Center for the Arts presents Minneapolis alt-folk duo Kivi & Pray at Bohemia Coffeehouse, Friday, July 27th at 7 pm

Thomas Kivi and Sarah Pray are Wisconsin-raised songwriters who met in the Minneapolis springtime. What began with a Hank Williams song sung on the back porch led to tours across America and Europe where they kicked the lonesome blues together.

While promoting their individual releases, the two are also performing together and there's a beautiful simplicity in two different songwriters travelling, writing, and recording together. After two years and 10,000 miles on the road, they've forged a folk show that blends their influences together into an honest innovation on old folk and country styles. Kivi & Pray blend their harmonies warmly into organic arrangements of mandolin, guitar, and a mellow electric.

Please join us!

Bohemia Coffeehouse is located at 214 W. Ojai Avenue in Ojai. For more information contact the Beatrice Wood Center for the Arts at 805-646-3381 or Bohemia Coffeehouse at 805-640-7210.


| | |
| --- | --- |
| | Infinite Voice Mini-Concert: Join us for an intimate, half-hour concert with Grammy-winning vocalist Darlene Koldenhoven, singing from her Two #1 Best Vocal Albums voted by Broadcasters Worldwide of inspiring original pieces and timeless arrangements blending Classical, Positive Pop, Vocal New Age & World Romantica. Darlene's angelic, soul-stirring voice has mesmerized audiences of over 1.5 Billion worldwide as featured in the 6x platinum DVD Yanni, Live at the Acropolis. Darlene's concert is music to uplift, awaken and transform that touches a universal note in all. Following the concert is Darlene's workshop, Wellness With Sound and Voice. |




Performance Videos

Watch videos of recent performances at the Beatrice Wood Center for the Arts.

Previous Performances in 2011:
Erotica, Exotica, Neurotica
An evening of Prose & Poetry by Women in Exile

Tree Bernstein, Susan Florence, & Alicia Morris Soto

Saturday, September 24, 2011 / 7:00 pm / Reception followed
Beatrice Wood Center for the Arts

Drums and Dance of India
featuring Talavya and Jin (JoungJin) Won

Friday, September 16, 2011
7:30 pm / Zalk Theater in Upper Ojai

Francisco de Leon
Saturday, June 11, 2011

Born in Buenos Aires, Francisco de Leon moved to the Ojai Valley in 2001. Here he crafted a new musical persona taking influences from two main sources: the Argentine tango and the Brazilian bossa nova, giving birth to a unique blend of Latin musical flavors. Francisco sings in quiet whisper and accompanies himself on an acoustic guitar with nylon strings, playing haunting harmonies with unusual accents.

An Evening with Gwyneth + Monko
Friday, March 4, 2011

Last year, we presented Gwyneth + Monko, a duo comprised of Gwyneth Moreland and Michael Monko, as the opening act for Laura Meyer (watch video). This year, we've asked them to come and perform their brand of Indie Folk with a style rooted deep in old-time, blues, and true American country music as part of a special evening of music at the Center.

Watch video of Gwyneth + Monko performing "Western Shores" Friday, March, 4, 2011


An Evening with Laura Meyer
with Special Guest Patrick Dunn
Saturday, Februray 5, 2011

Laura Meyer, the globe-trekking folk-rock poet, has been the songwriter-in-residence at the Center for the month of January. Age 27, she has performed nearly 500 independent shows throughout the United States and Europe, including performances before 12,000 attendees at the Telluride Bluegrass and Rocky Mountain Music Festivals.

Click for more information about Laura Meyer and to view performance videos


View additional archives of our past events
Join Our Email List
Stay informed on upcoming events at the Beatrice Wood Center for the Arts!
To receive news and event accouncements, please email BeatriceWoodCenter@gmail.com
and ask to be added to our email list.
Thank you!