Ongoing Educational Activities
During the summer of 2014, the Beatrice Wood Center for the Arts staged an "ART-IN", inviting visitors and members of the community to collaborate on paintings. Completed works, along with those in process, were included in an exhibition titled All Together Now: Collaborative Paintings, with proceeds from the sale of works supporting the Center's educational programming.
The event and exhibition were inspired by the work of Liam O'Gallagher and designed to promote collaboration, creativity and community as a means of creating constructive change in the human condition and the planet. As Liam had studied painting in Greenwich Village in the 1940s with Hans Hofmann, who taught a number of leading Abstract Expressionists, the processes employed were inspired by these ideas. The project was also influenced by surrealist techniques for utilizing random chance to work free of conscious control, as well as Eastern approaches to non-attachment – both important aspects of Liam's life work. As part of our educational programming, this project served to introduce individuals to artistic processes and was open to everyone, from professional artists to "non-artists".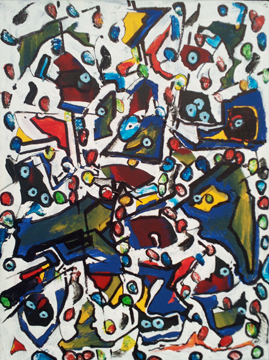 Due to the success of this event, we are making this collaborative painting project an ongoing activity of the Center, open to individuals or groups. Participants will learn more about Liam O'Gallagher's work, while opening up to their own potential as conscious creators through hands on experience.
Please contact the Center for more information.
For workshop registration, please contact:
The Beatrice Wood Center for the Arts
Tel: 805-646-3381 or email us at BeatriceWoodCenter@gmail.com.

Our workshops and classes all take place at the Beatrice Wood Center for the Arts (driving directions).

Learn more about our workshops and view additional photos on Facebook. Click here!
Please call 805-646-3381 or email BeatriceWoodCenter@gmail.com for more information on our exhibitions, workshops, and performances.