Education
Current Workshop
Join award-winning artist Jennifer McChristian in this fun and invigorating 5-day plein-air painting workshop.
WORKSHOP DESCRIPTION:
The aim of this workshop is to teach you to interpret the landscape in terms of paint, using light and color to create form. Color relationships, design/composition, simplifying and the benefits of painting outdoors will be discussed, as well as how to design and build a painting that carries an emotional impact. We will focus on values, shapes, edges and color as well as paint handling and materials. The instructor will offer a brief demonstration each day and advice on a one-on-one basis in the field. Additionally, there will be class discussions and critique of work so that participants will learn from individual instruction as well as each other.
NOTE: In the event of inclement weather students must bring with them several reference photographs of landscapes.
GENERAL WORKSHOP INFO:
Tuition for 5-day workshop is $650.
Students may pay in full or choose the payment-plan option during registration. The payment plan requires a non-refundable $100 deposit with the balance due 30 days before the first day of the workshop.
Note: Workshop is limited to 10 students.
Contact Jennifer at jennifer.mcchristian28@gmail.com to get a registration form and to reserve your space today!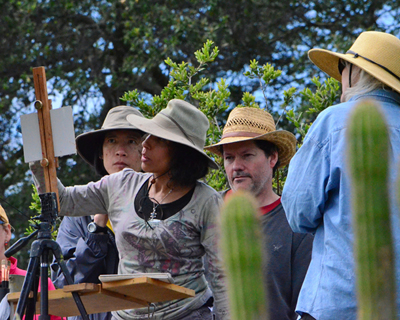 Jennifer McChristian teaching a workshop at the Center


Artist Bio:
Jennifer was born in Montreal, Canada and moved to California in 1986. She earned a BFA from Otis Art Institute in 1990. Jennifer worked full-time as an animation artist at various studios throughout Los Angeles and served in the military service for five years, while continuing to pursue her artistic aspirations. She also studied with Robert Blue, Karl Dempwolf and Steve Huston. Jennifer currently paints full-time and is dedicated to a lifelong pursuit of creative evolution and exploration. For more info on the artist please visit: www.jennifermcchristian.com

The Beatrice Wood Center for the Arts
Tel: 805-646-3381, Email: BeatriceWoodCenter@gmail.com.

Our workshops and classes all take place at the Beatrice Wood Center for the Arts (driving directions).

Learn more about our workshops and view additional photos on Facebook. Click here!
Please call 805-646-3381 or email BeatriceWoodCenter@gmail.com for more information on our exhibitions, workshops, and performances.