Stephen Hogbin
(England, born 1942)
"Investigating fragments has been central to my work for many years. Referred to as 'Fragmentals' the inquiry looks at objects or subjects in isolation and in combination. Only part of the original may be used. For example, a cylindrical form is cut then reconfigured into an unexpected order isolating it from similar objects or having been cut only part of the original form is presented. 'Fragmentals' are not bound by geometry, rather the freedom to think of objects as the raw material for formal and conceptual exploration, reconfiguration and reassembly. We all experience fragmentation to varying degrees in contemporary living. What do we make of it and how does it emerge in the artists work?"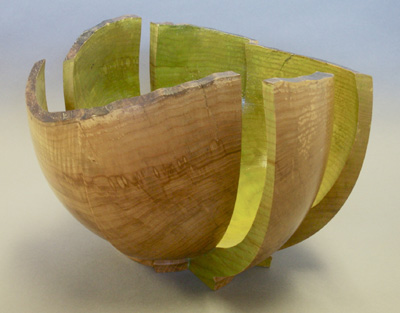 Petal Cut Bowl, 1996
Ash wood, acrylic paint and urethane finish | 7.5" h x 10" w x 10" d
1200.
Provenance: The Lipton Collection
Featured in "The Cutting Edge: Contemporary Wood Art and The Lipton Collection" exhibition, August 13 - September 18, 2011.