Pat Kramer
Patrick Kramer is a wood turner and sculptor. He has a background in pottery, boat building, furniture making, constructed boxes, and engineering.
"Woodturning is an intrinsically pure form of woodworking for me. It is a natural platform to incorporate multiple disciplines into my work and I am aware of a continuous dialogue between myself, the wood, and the pieces I work on. The work is constantly reinventing itself and only remains constant as the context for containing form, mood, color, and texture."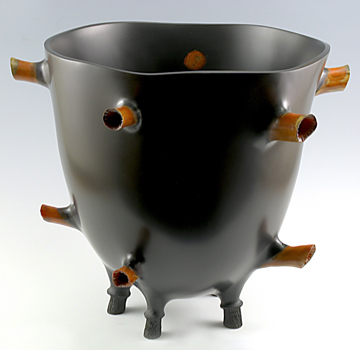 Ten
Norfolk Island Pine | 13.5" h x 16" dia
7500.
Featured in "Alternate Realities" exhibition,
September 6 - October 26, 2008.