Patrish Kuebler
Patrish Kuebler moved to the Ojai Valley in 1999. Ojai, with its varied beauty, is a constant inspiration - one that compels this artist to capture with pastel, oil or encaustic those special "awe" or "ah" moments in life. Life pointed her in an artistic direction after years spent as an R.N. in Maternal-Newborn nursing. She feels that "capturing the beauty of a landscape is much the same as holding a precious infant - each requires care, respect, and in return, each gives her much joy."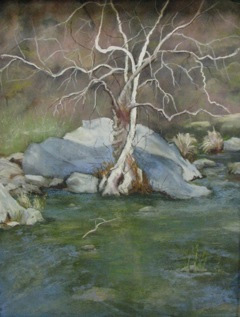 Tahquitz Canyon
Pastel | 22" h x 17" w
2000.
Featured in "Ojai Visions" exhibition, October 7 - November 20, 2011.