Susan Stinsmuehlen-Amend
Susan Stinsmuehlen-Amend, a past board member of the Glass Art Society (1982-86) and an Honorary Life Member, served as the first woman president from 1984-86. She is currently the Chair of the Ojai Arts Commission. Her work in glass and mixed media, architectural glass, hot glass and public art is included in private collections and public institutions including the LA County Museum of Art, Detroit Institute of the Arts, Oakland Museum of California, the Museum of Arts and Design, NY, and the City of Los Angeles.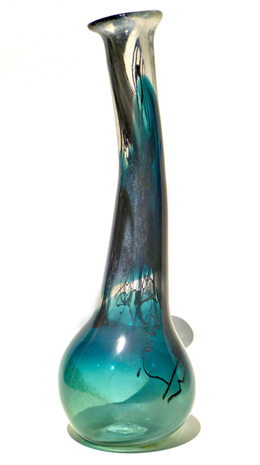 Common Vessels, Unguentarium
Blown glass w/ painted pickups,
blown at Pilchuck Glass School
by gaffers, Jen Elek & Bennett McKnight
19" h x 6" dia
1200.