Beatrice Wood: Career Woman
Drawings, Paintings, Vessels, and Objects
Santa Monica Museum of Art
Opening Reception
Friday, September 9, 2011
7 - 9 pm
It is with great pleasure that I'm writing to invite you to attend the Opening Reception for Beatrice Wood: Career Woman - Drawings, Paintings, Vessels, and Objects at the Santa Monica Museum of Art on Friday, September 9th from 7 - 9 pm. This retrospective, which will be presented through March 3, 2012, offers a scholarly, commemorative evaluation of Wood's extraordinary life and career that traversed and contributed to the cultural and artistic highlights of the 20th century.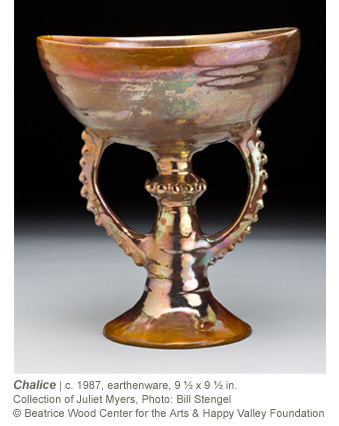 Beatrice Wood: Career Woman is part of Pacific Standard Time: Art in L.A. 1945-1980. This unprecedented collaboration, initiated by the Getty, brings together more than sixty cultural institutions from across Southern California for six months beginning October 2011 to tell the story of the birth of the L.A. art scene. An artist who worked on both the East and West coasts and bridged gaps between areas as disparate as New York Dada and Southern California ceramics, Wood (1893- 1998) was a vital contributor to the art scene of the period and is thus a key player in the Pacific Standard Time project.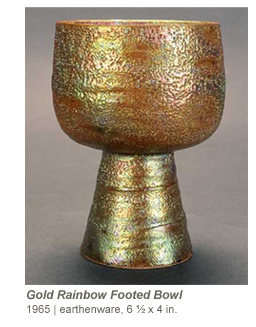 Santa Monica Museum of Art Executive Director Elsa Longhauser and Deputy Director Lisa Melandri, are co-curators of the exhibition, which will feature more than 100 drawings, paintings, and clay objects produced during Wood's prolific, 75-plus-years of art making. Beatrice Wood: Career Woman explores her complex, thoughtful, and inexhaustible career that harmoniously combined narrative and form, as well as poetry, drama, and wit. Her irrepressible sensibility could be bold, audacious, insouciant, sexually charged, and at times biographical. This exhibition will honor Wood's indomitable spirit and dynamic artistic force.
Beatrice Wood: Career Woman will be the first exhibition to investigate her purposeful and systematic construction of an artistic persona alongside a scholarly reassessment and contextualization of her object making. Ultimately, her genius was in the marriage of the various influences in her work - from the spirit of Dadaism, to the impact of Modernism, the embrace of Eastern philosophy, the influences of global folk art, and the inspiration of California ceramics.
The Santa Monica Museum of Art is located at the Bergamot Station, Building G1, 2525 Michigan Avenue, Santa Monica, California. The Museum is open Tuesday through Saturday from 11 AM to 6 PM, closed Sunday, Monday, and all legal holidays. For further information about exhibitions and programs, please call 310.586.6488 or visit www.SMMoA.org.

Additionally, I'd like to invite you to attend a lecture I'll be giving entitled Beatrice Wood: Life & Legacy, in association with the Ventura County Potters' Guild, on Monday, September 26th, at 8 pm. I will be discussing the life of Beatrice Wood and the Center, in the larger context of the art world, philosophical movements, and Ojai history.
The lecture is open to the public. Doors open at 7 pm. For more information contact Cecile Faulconer at 805-985-5038.
The Ventura County Potters' Guild presents
at The Ventura Senior Recreation Center
420 E. Santa Clara St.
Ventura, CA 93001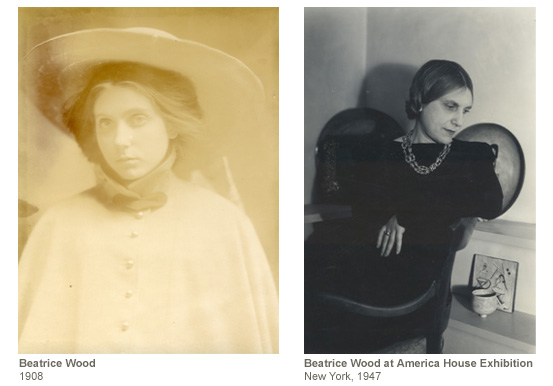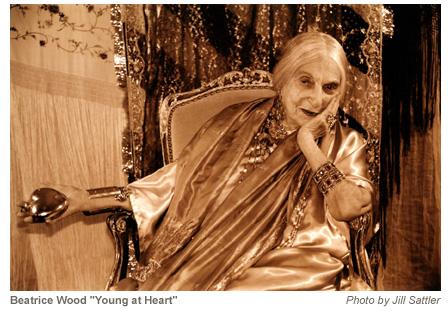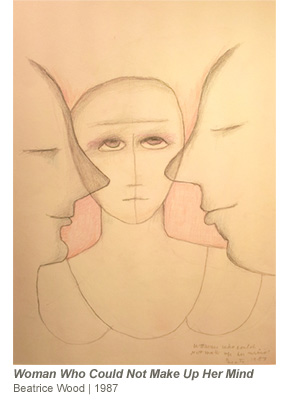 There is also an exhibition of drawings by Beatrice Wood being featured at Fox Fine Jewelry's Art Gallery, 210 E. Main Street, Ventura, California 93001. For more information call 805-652-1800 or visit www.foxfinejewelry.com.
Thanks for your continued interest and support of the Beatrice Wood Center for the Arts & Happy Valley Cultural Center. Every weekend visitors tell me how inspired they are by Beatrice Wood and her example of how to experience life as an art. I believe that the presentation of Beatrice Wood: Career Woman at the Santa Monica Museum of Art, and the publication that is being created in connection with the exhibition, will introduce a new generation to the artist and bring an increasing number of people to Ojai and to the top of the mountain to visit us in Happy Valley.


Kevin Wallace, Director
Beatrice Wood Center for the Arts
& Happy Valley Cultural Center
Join Our Email List
Stay informed on upcoming events at the Beatrice Wood Center for the Arts!
To receive news and event accouncements, please email BeatriceWoodCenter@gmail.com
and ask to be added to our email list.
Thank you!
"There are three things important in life:
Honesty, which means living free of the cunning mind.
Compassion, because if we have no concern for others, we are monsters.
Curiosity, for if the mind is not searching, it is dull and unresponsive."
~ Beatrice Wood