May 3, 2011
Greetings from the Beatrice Wood Center for the Arts
& the Happy Valley Cultural Center!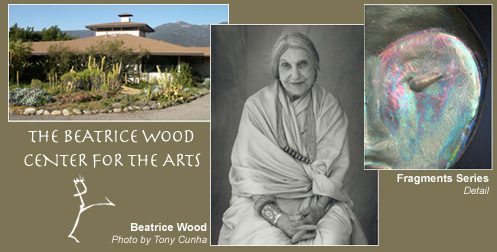 Greetings from Happy Valley!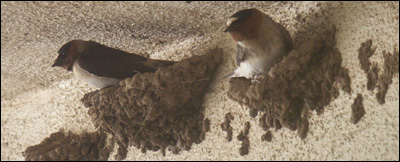 It's Spring, flowers are blooming, and the swallows have returned and are busy building mud nests under the eaves of the Center. We have an area where visitors can observe these beautiful birds as they build their nests, and watch them feed their babies over the next few months, making it a wonderful time to visit the Center.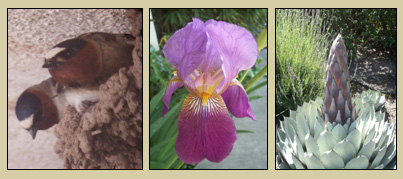 We have a number of news items, upcoming exhibitions, performances, and workshops at the Beatrice Wood Center for the Arts to share with you!

This Saturday! May 7th:
Excavating Earth & Constructing Community
Workshop & Installation
by Otis Bardwell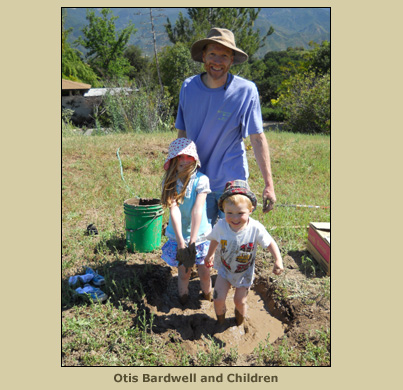 The Center will be presenting Excavating Earth & Constructing Community, an outdoor installation by Otis Bardwell, created in collaboration with workshop participants on Saturday, May 7th. A number of small-scale structures will be created from the earth, and will eventually return back to the soil.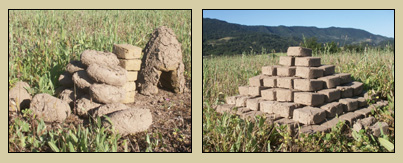 It is fitting that this workshop and installation is taking place on the grounds, as the first building created by the Happy Valley Foundation was an adobe house, created from soil and materials taken from the grounds in 1946, and is still in use today.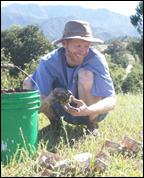 Otis Bardwell was raised in Africa and came to the United States to attend college. In 2007, Bardwell completed an MFA degree in Studio Art focusing on Ceramics and Sculpture at CSULA. He has taught sculpture and 3D Design at Cal Poly Pomona, and has exhibited his sculpture and installations nationally. A large part of Bardwell's work as an artist is inspired by his formative years in rural Africa.
"I juxtapose the natural with the industrial in a way that endeavors to exist in the gray area between manmade systems and organic systems," Otis Bardwell says. "My work emerges from a labor-intensive methodology that acknowledges my adult state in light of a nostalgic urge to connect with nature and the innocence of childhood."
Otis Bardwell will be conducting a workshop in conjunction with the creation of the work on Saturday, May 7, 2011. Participants will learn about the use of adobe as a material for building structures as well as its potential as an art medium by making adobe bricks and assisting in the creation of small-scale structures on the grounds. The workshop will be limited to six participants and is being underwritten by the Center.
If you are interested in participating, please contact the Center by calling 805-646-3381 or e-mailing BeatriceWoodCenter@gmail.com
Current & Upcoming Exhibitions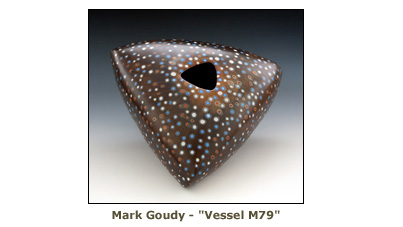 Current Exhibition: New Work
Continues through May 22, 2011
******************************************
Upcoming Exhibitions:
June 11 - July 24, 2011
Opening Reception on Saturday, June 11 / 3-6 pm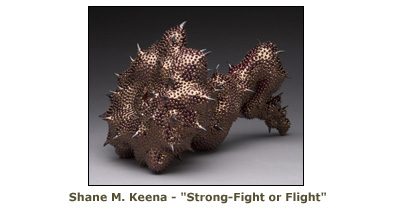 In the Beato Gallery, we will present Shane M. Keena: Biota. The exhibition will consist of ceramics and photographs relating to his current residency at the Center.
"Shane Keena's aggressive abstracted biomorphic sculptures remind us that clay is fluid, hard, and dangerous. Upon closer inspection, Keena's attention to glazing detail gives the viewer a delightful treat, while his at times threatening surfaces place his work in a contemporary art context where nature is revered and threatened." - Joan Takayama-Ogawa, Craft Arts International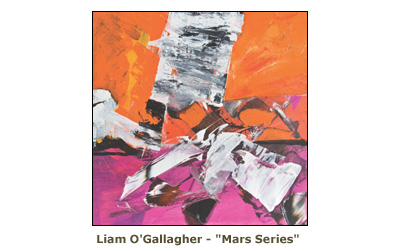 In the Logan Gallery, will be Liam O'Gallagher: A Solitary Mirror. The exhibition will consist of a sound installation, paintings, and prints. Liam O'Gallagher was a creative catalyst in 20th century art and literature. Click here to learn more about the artist and the book, Every Exit Is An Entry: The Life and Work of Liam O'Gallagher.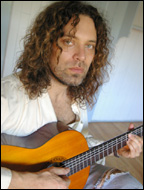 Mark your calendars!
The Opening Reception for these two exhibitions will be on Saturday, June 11th from 3 - 6 pm, and will feature a performance by Francisco de Leon.
Born in Buenos Aires, Francisco de Leon moved to the Ojai Valley in 2001. Here he crafted a new musical persona taking influences from two main sources: the Argentine tango and the Brazilian bossa nova, giving birth to a unique blend of Latin musical flavors. Francisco sings in quiet whisper and accompanies himself on an acoustic guitar with nylon strings, playing haunting harmonies with unusual accents.
Clay Sculpture Classes
with Valerie Freeman
Saturday Afternoon Classes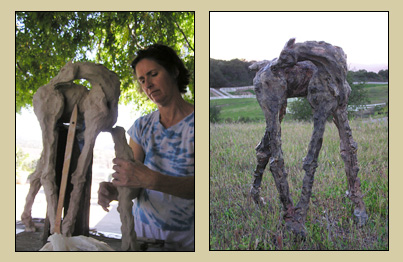 Join Ojai Studio Artist, Valerie Freeman for an inspirational series of clay sculpture classes in Beatrice Wood's studio. Classes are open to beginning and experienced students, and participants will enjoy exploring several techniques for successful clay sculpting to develop their own personal form of expression.
The classes will be presented on Saturday afternoons from 2 - 5 pm. Participants can pre-register for a series of two-day, Saturday classes for $175, or take a one-day class for $100. Materials are included. These classes are on-going. For more information, please contact the Center.
Freeman earned her BFA from Pratt Institute and is a recipient of several prestigious awards and commissions including the Municipal Arts Society of NYC and the Ford Foundation. Her works are collected and exhibited internationally. Freeman's equine sculptures are currently on exhibit at the Ojai Center for the Arts through May 12th, and in the "Know Hope" exhibit at the Ojai Valley Museum of Art through June 12th.
******************************************
8th Annual Luster Glazes Unveiled Workshop
with Myra Toth
June 16-19, 2011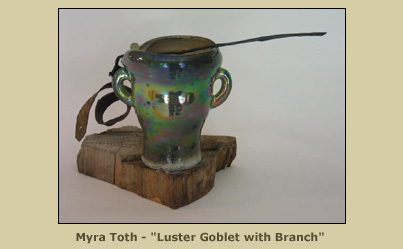 The Center will present the 8th Annual Luster Glazes Unveiled Workshop June 16 - 19, 2011. The workshop consists of four days of study and investigation of the materials and processes that create the signature luster glazes of Beatrice Wood and others. Myra Toth, ceramic artist and teacher of Ceramics and Glaze Theory for 35 years will be leading the workshop in Beatrice Wood's studio at the Center.
Participants will bring their own bisqued pieces to glaze and fire. All materials, continental breakfast, and catered lunch each day will be provided. Space is limited. For more information contact Myra Toth at Radtoth@aol.com.
Recent Additions to the Permanent Collection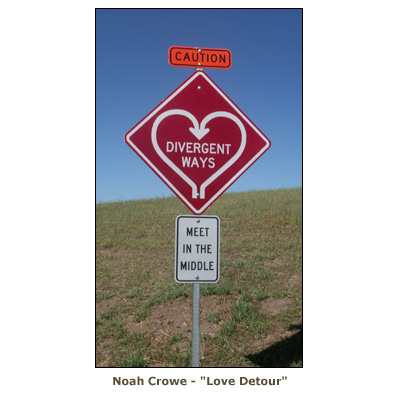 The Beatrice Wood Center for the Arts maintains a permanent collection that includes works by Beatrice Wood, her folk art collection, paintings by Liam O'Gallagher, and works created by artists-in-residence and workshop instructors including Allison Newsome, Richard Flores, and Tom McMillin. We recently acquired and installed Love Detour, a work by Noah Crowe, an alumnus of the Besant Hill School of Happy Valley.
"I wanted to make something that could exist outside, in the elements. I am interested in how we communicate publicly, the limits of gallery work, and Artspeak in relationship to our pedestrian population. I co-opted the language and aesthetic of our urban industrial environment to create something that engages directly with the landscape at hand so the viewer can be brought viscerally into relationship with this very simple emotional, philosophical, spiritual concept, in an authoritative language and form free of dogma and political or religious positioning.
"When I drove up to the Center to install my work, I drove around the circular driveway and found it the perfect place for the sign. It was the landform that I created the sign for, and it's just incredible that it is the road to an art center. Whichever direction you drive, you arrive at the Center. It couldn't have found a better home, as the sign gains meaning in the context of the landscape."
-Noah Crowe
New DVD!
"Special People: Beatrice Wood
& Beato... In Her Own Words"
The Center has just been given the rights to a documentary created by Gail Cottman, a good friend of Beatrice Wood.

The documentary has been unavailable for over a decade, but we now have it on DVD.

The film (and bonus feature Beato... In Her Own Words) contain in-depth interviews with the artist, discussing her life and philosophy.

To order online, click here.

Price: $29.95, plus $2.00 Shipping & Handling
(8.25% sales tax for Calif. residents)
Thanks so much for your continued interest in and support of the Beatrice Wood Center for the Arts. Hope to see you soon!
Kevin Wallace
Director, Beatrice Wood Center for the Arts
& The Happy Valley Cultural Center
Visit the Center!

The Beatrice Wood Center for the Arts is open to the public
Friday, Saturday, & Sunday
11:00 am - 5:00 pm

Please call (805) 646-3381
for information.
Click for driving directions to the Beatrice Wood Center for the Arts
"When the mind is at peace, not full of desire, nor jealousy, nor fear, and just quietly sees and accepts life… that's the great goal."

~ Beatrice Wood