Greetings from Happy Valley, where we are enjoying a beautiful spring!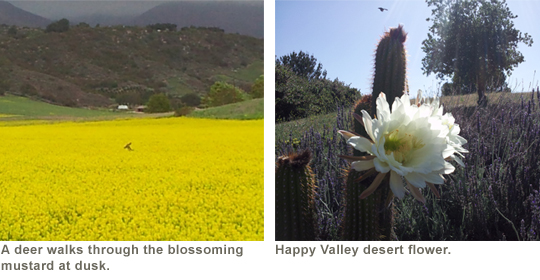 Most visitors to the Center assume that we exist to care for and promote the legacy of Beatrice Wood and this is, of course, a very important aspect of our work. What they usually aren't aware of, is that Beatrice Wood left her home, studio, library, folk art collection and much more to the Happy Valley Foundation so that it might be utilized for education. I'm quite pleased that we have an expansive arts education program, including free children's art workshops, an intern program for college and university students and workshops where individuals, regardless of age or experience, can participate.
I am ever impressed with the work created by our college and university interns. Their education includes creating a series of work, utilizing Beatrice Wood's art book library and studio. They keep their favorite works, with the majority offered for sale by the Center, to support our educational programming. Here is a selection of recent works.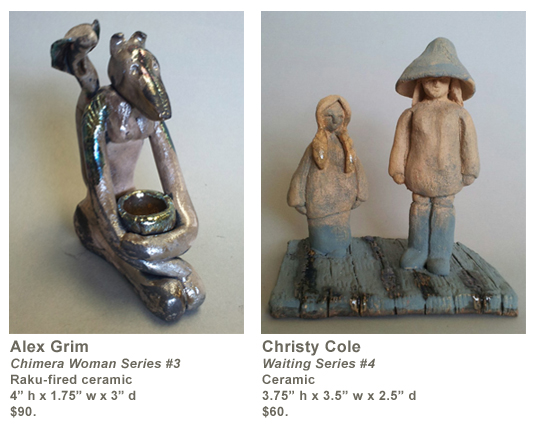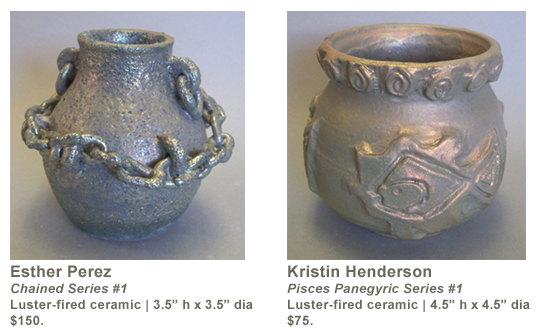 On the first Saturday of every month, we present a free children's art workshop, led by Seda Sevada. In these afternoon workshops, children explore a variety of approaches to the arts.
Saturday, June 7, 1 - 4 pm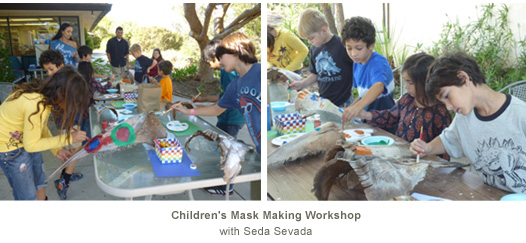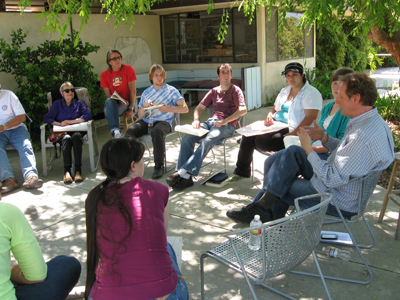 On Saturday, May 24th from 1 - 4 pm, I will be presenting a workshop titled Identity and Exhibition: A Writing Workshop for Artists. This workshop will assist artists in understanding the role that identity and exhibition play in building a career as a professional in the art world.
Topics will include creating an engaging artist statement and biography, writing promotional materials including press releases, utilizing the Internet, and navigating the often-mysterious world of galleries and museums.
Cost $75. Advance registration is suggested, as space is limited.
On Saturday and Sunday, June 7th & 8th, Binh Pho will present a workshop that explores the creative and collaborative processes involved in creating the book and exhibition Shadow of The Turning.
Binh will share his approaches to the arts from the conceptual to the technical and we will discuss the potential of collaboration as a means of expanding the possibilities for creative expression.
Cost $200. Includes all materials.
To learn more about the Shadow of The Turning exhibition, please watch video: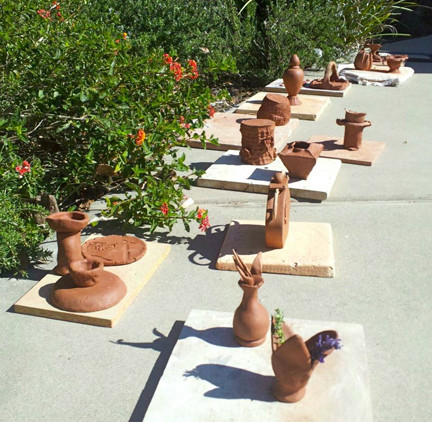 The weekend of June 20 - 22, Professor Richard Flores will present a Sacred Vessel Workshop. This three-day workshop will include discussion, drawing, and the creation of ceramic vessels that will be raku-fired for participants to take home with them on the last day.
Traditions and approaches to sacred vessels from diverse cultures through the centuries will be discussed, inspiring participants to find their own voice in creating their own sacred vessel. Participants will learn to design and fabricate vessel and container forms using a wide-range of construction techniques, the application of glazes and raku processes. All levels are welcome to participate, from beginners through advanced.
Cost $250. Includes lunch and all materials.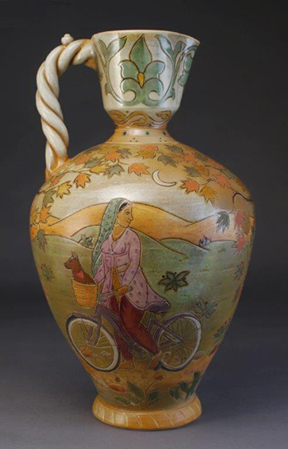 In conjunction with the exhibition, Lauren Hanson: Illustrative Ceramics (see below), the artist will be presenting a hands-on afternoon workshop sharing her techniques for creating imagery with low-relief carving and incising. Lauren Hanson will prepare a series of small cups that will be "leather hard" and ideal for utilizing these processes.
Cost $45. Includes all materials.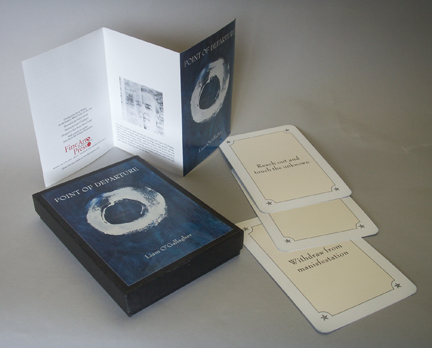 Our current exhibition features paintings by Liam O'Gallagher in connection with the release of Point of Departure, a set of cards designed by the artist. The exhibition continues through June 22nd.
Liam O'Gallagher was an avant-garde artist and teacher who pushed past the known boundaries of contemporary expression. His work included paintings, poetry, graphic work, short stories, performance pieces, and experiments with sound. He was also integral to the creation of foundations and centers for human growth, progressive thought and the arts - including the Beatrice Wood Center for the Arts.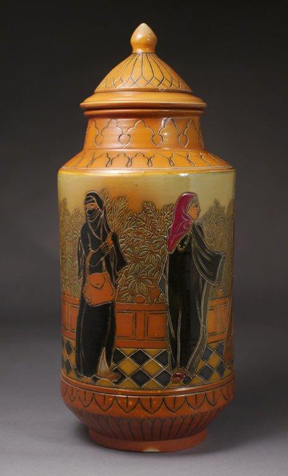 From July 5th - August 17th, we will be presenting Lauren Hanson: Illustrative Ceramics. The artist's works are born of an early grounding in drawing, painting, and art history. While her approach is considerably different than Beatrice Wood, Hanson find that they have many similarities, as she too came to ceramics relatively late in life, and has a passion for nature, art books, the human condition, vegetarianism, and of course, chocolate. In Hanson's work, these interests are etched and painted on traditional ceramic forms, reflecting and celebrating the natural world, with scenes featuring birds, plants, and trees wrapped around vessel forms.
The Opening Reception will be on Saturday, July 5th from 2 - 5 pm and the public is invited to attend.

As many of you know, the Happy Valley Cultural Center has a new activity, Chamber On The Mountain, under the Artistic Direction of renowned harpist Heidi Lehwalder. This activity has it's own website and mailing list, so if you are interested in learning more about the program and signing up for e-mail updates, visit:

Lastly, I would like to thank everyone who participated in our recent fundraising drive, including George Winston who presented a sold out performance at the Zalk Theater to assist in promoting it.
The support of individuals who believe in our work is vital to the Center's survival. We're pleased to announce a second matching funds grant from the Windgate Charitable Foundation that begins on July 1st, with Windgate matching every contribution dollar for dollar up to $25,000. Anything you can give toward supporting our educational programming, exhibitions, and performances will be greatly appreciated.
Thank you so much for your continued interest in and support of the Beatrice Wood Center for the Arts & Happy Valley Cultural Center!
Call 805-646-3381 or email BeatriceWoodCenter@gmail.com for more information on our exhibitions, workshops, performances, and events.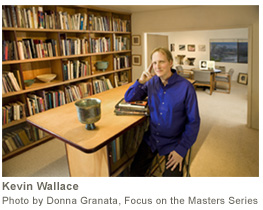 Kevin Wallace
Director, Beatrice Wood Center for the Arts
& the Happy Valley Cultural Center
Life Is An Art
Learn more about the Happy Valley Foundation.
Learn more about the Besant Hill School of Happy Valley.
Join Our Email List
Stay informed on upcoming events at the Beatrice Wood Center for the Arts!
To receive news and event accouncements, please email BeatriceWoodCenter@gmail.com
and ask to be added to our email list.
Thank you!
"When the mind is at peace, not full of desire, nor jealousy, nor fear, and just quietly sees and accepts life... that's the great goal."
~ Beatrice Wood