Greetings from Happy Valley!
I'm writing to share upcoming exhibitions and educational opportunities with you - and to thank you for your ongoing support and interest in the Center.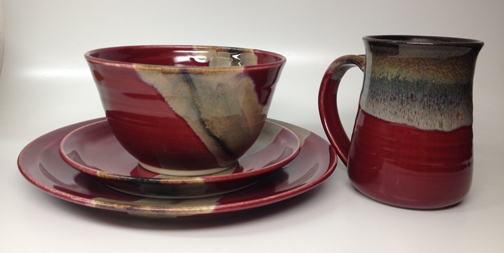 Wanda Ferrin | Color Me Red
We are please to present Tableware Settings, an exhibition that features members of the Ventura County Potters' Guild, a non-profit organization founded in 1957 to promote the art and craft of ceramics in the community and to provide a forum for local potters to share their experiences and knowledge of clay.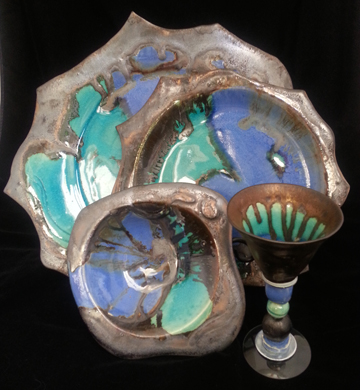 Gayle Swanson | Untitled
The Tableware Settings exhibition will be presented September 6th - October 12th.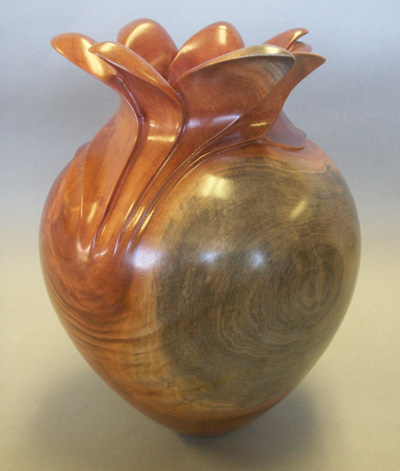 Ron Flemming | Untitled Vessel | Pink Ivory Wood, 10.5" h x 7" dia.
Concurrent with this exhibition will be The Cutting Edge: Selections from the Lipton Collection, featuring works by a number of seminal artists in the field of contemporary wood art. Assembled between the early 1970s and 2000, The Lipton Collection is the largest collection of it's kind internationally.
To learn more about the Lipton Collection, please visit
www.LiptonWoodCollection.com.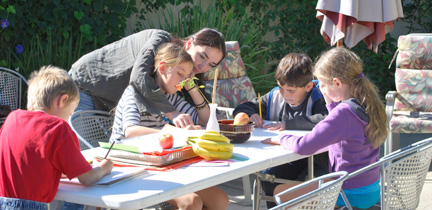 Our next Children's Art Workshop is scheduled for this Saturday from 1 - 3 pm. Our children's art workshops are always free, as we believe that sharing all that the arts have to offer is vital to the future and that children embrace creative expression easily and eagerly, leaving us ever-impressed with their work.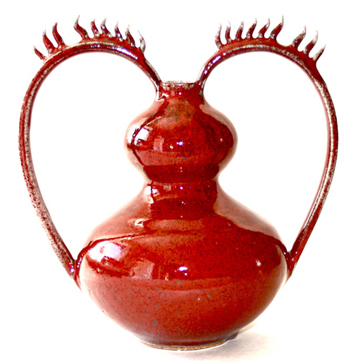 Richard Flores | Flaming Heart Vase
Copper red glazed stoneware | 10" h x 10" w x 6" d
We have also just scheduled a three-day ceramic workshop with Professor Richard Flores, offering an opportunity to participate in our educational programming no matter what your age or experience. The workshop, Harvest of the Heart, will be presented November 7 - 9. Participants will explore the seeds of soul - what we plant and nurture within us - and how they can manifest as art.
The cost of the workshop is $250 and includes all materials and a communal vegetarian lunch.
Reserve your space now!
Living in the Timeless: Drawings by Beatrice Wood (installation view)
Santa Barbara Museum of Art, 2014
Photo credit: Brian Forrest
We were so pleased with Living in the Timeless: Drawings by Beatrice Wood, which just closed at the Santa Barbara Museum of Art.
Ventura County Star, July 11, 2014
If you'd like to assist us in caring for Beatrice Wood's legacy while presenting exhibitions, educational programming and performances, click here to learn more about the challenge grant from the Windgate Charitable Foundation, that will match any donation you make.
We've created a video about the Center to share our mission and programming, which I hope you might share with your friends by e-mail or social media. I hope you will assist us in sharing the life and work of Beatrice Wood, as well as the Center's activities.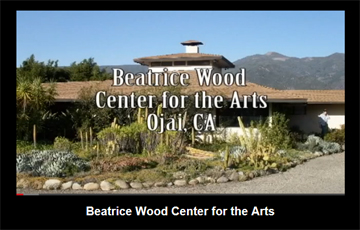 Thank you again for your continued interest and support!
Call 805-646-3381 or email BeatriceWoodCenter@gmail.com for more information on our exhibitions, workshops, performances, and events.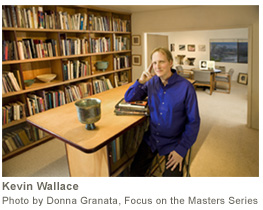 Kevin Wallace
Director, Beatrice Wood Center for the Arts
& the Happy Valley Cultural Center
Life Is An Art
Learn more about...
Join Our Email List
Stay informed on upcoming events at the Beatrice Wood Center for the Arts!
To receive news and event accouncements, please email BeatriceWoodCenter@gmail.com
and ask to be added to our email list.
Thank you!
"It seems to me that everyone has a desire to express, which is the soul crying out in song to reach something. It's wonderful to have the opportunity to make a pot, to paint a picture, to design an airplane, to feel that you can go out in a visible, creative way and contribute to life."
~ Beatrice Wood