Greetings from Happy Valley!
I'm writing to remind you of the number of exciting workshops that will be presented at the Center over the next two months. We encourage individuals to explore the artist within, and, whether you are an experienced artist looking to learn a new medium or new to creating art, we invite you to attend one of our upcoming workshops.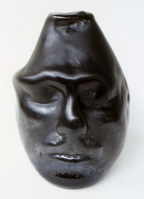 September 28 - 30 we will be presenting our first glass workshop. A World of Glass with Richard Flores will serve as an introduction to the use of glass as an artistic medium throughout diverse cultures and the centuries with hands-on experience exploring this exciting medium.
For more information, click here.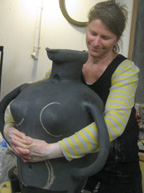 October 4 - 7 we will be presenting Amphorae and the Figure, a ceramic workshop with Allison Newsome. This four-day workshop will share information gleaned from a recent twelve-week workshop presented by Allison Newsome for the Harvard Ceramics Program Office for the Arts. The Harvard workshop was a multi-disciplinary collaboration with University of Rhode Island's Inner Space Center and included Amphorae research from Black Sea Byzantine shipwreck discoveries.
For more information, click here.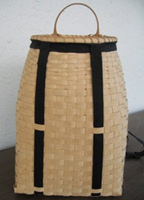 For those more interested in fiber and basketry, we're presenting a two-day Basketry Workshop on the same weekend. Learn to use basketry techniques to make your own traditional Adirondack backpack. This extremely functional and beautiful alternative to the modern backpack resembles what the Woodland and Appalachian Native Americans used to gather their food or carry their belongings. You will use different reeds to create this backpack - which can be used to gather materials for future basketry workshops.
For more information, click here.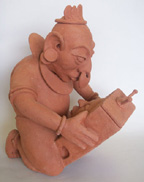 This ceramic workshop with Richard Flores offers a fresh and personal exploration of traditions relating to El Dia de la Muerte and Halloween. Create and celebrate your ancestors in this unusual, fun, and educational workshop.
For more information, click here.
The Beatrice Wood Center for the Arts recently received a grant that allows us to present these wonderful workshops in other communities in Southern California.
If you are interested in learning more about Children's Art Workshops with Seda Sevada, please e-mail the Center: BeatriceWoodCenter@gmail.com.

Brilliance: Recent Work by Gerri, Russ, and Tom McMillin continues the artistic tradition of grappling with the technical and aesthetic challenges presented by light. Fusing craft traditions handed down from pre-history with contemporary technological innovations, the three artists challenge the boundaries of what is already known about their fields, primarily through an expanded usage of the element of light. Whether through optic fibers, or reflective luster surfaces, these artists bring new material techniques into the visual arts conversation.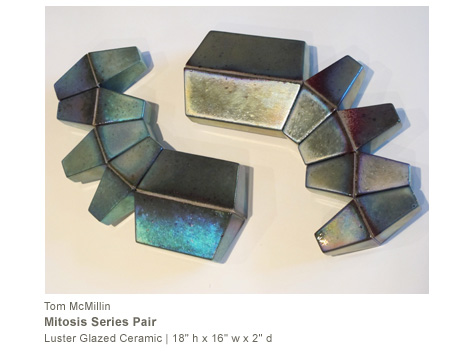 Vessels That Dance: Recent Work by Derek Bencomo expresses his life in Hawaii, with the movement and visual rhythm he finds in the wind, water, and mountains. The work balances mass and abstract lines, capturing a sense of motion while the sculptural aspects mirror the figure of the wood. Originally from Southern California, Bencomo travelled to Hawaii as an avid surfer and was soon seduced by the traditions of creating wood bowls that he found there. Within a few years, he began producing the distinctive body of sculptural bowl forms that are today collected by museums.
To view a video featuring works in this exhibition, click here.


Visitors to the Beatrice Wood Center for the Arts & Happy Valley Cultural Center also experience a permanent installation sharing Beatrice Wood's life story with memorabilia, her collection of folk art, and wonderful examples of her ceramic art. The Center is an activity of the Happy Valley Foundation and utilizes the arts as a means of fulfilling the Foundation's mission to create and sustain an environment of compassion where all forms of life are nurtured, with the understanding that constructive change in the human condition and the planet begins with the individual.
The Center is open Friday, Saturday and Sunday, 11 - 5 pm.
Please call 805-646-3381 or email BeatriceWoodCenter@gmail.com for more information on our exhibitions, workshops, and performances.
Thank you for your continued interest in and support of the Beatrice Wood Center for the Arts and Happy Valley Cultural Center.
Hope to see you soon!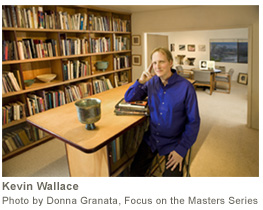 Kevin Wallace
Director, Beatrice Wood Center for the Arts
& the Happy Valley Cultural Center
Join Our Email List
Stay informed on upcoming events at the Beatrice Wood Center for the Arts!
To receive news and event accouncements, please email BeatriceWoodCenter@gmail.com
and ask to be added to our email list.
Thank you!
"Everyone makes mistakes; we learn by them. If we were perfect, there would be no reason to live."
~ Beatrice Wood