Education
Previous Workshop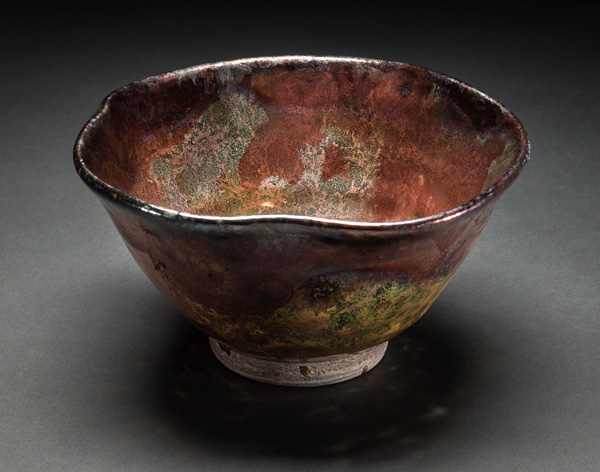 Jon Keenan

This 2-day workshop will explore traditional hand-building approaches in clay and 'raku' firing. In the studio, instruction on a range of hands-on techniques will allow participants to make their own unique forms in clay; experimentation and play being encouraged. Pieces made during the workshop will be fired and made available for pick up at a later date during the exhibition.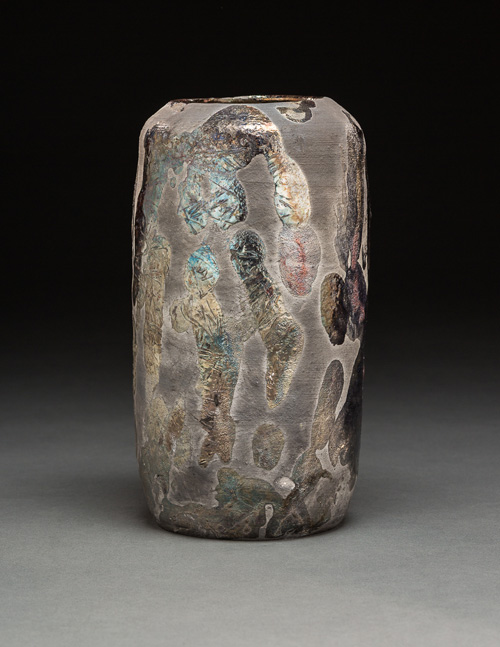 Jon Keenan
The workshop will include demonstrations, participants creating/working in clay, glazing/designing pre-bisqued forms (which we will provide) with imagery in colored glazes, oxides, and lusters, followed by exploring the firing the works in a series of 'raku' firings. Raku firing (in the west) is considered a rapid earthenware technique, a typical firing takes 30-45 minutes to reach proper temperature and glaze maturation. Molten pieces are removed from the kiln with tongs immediately following the firing and placed into containers with organic combustible material for cooling and post-firing reduction. Beauty and magic await. We will go beyond technique to examine inspiration, and how and why we create meaning and energy in our work.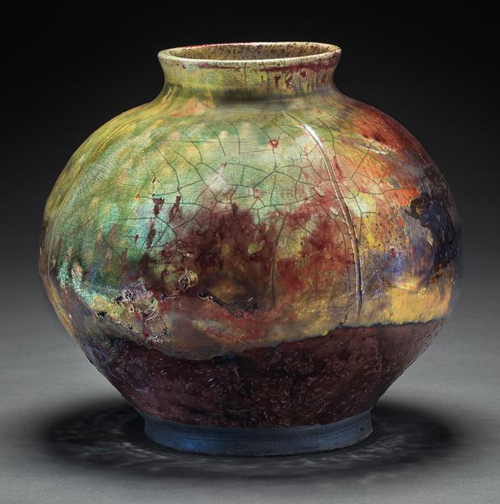 Jon Keenan | Raku Pot
This workshop will include idea generation, collaboration, discussions, and a presentation on traditional and modern ceramics and kilns in Japan, India and Nepal.
Workshop participants may also make a piece to be wood-flred in Jon's anagama kiln, as part of this workshop offering. Details to be provided at the workshop.
Cost $200. per person – Includes all materials and a light vegetarian lunch.
Reserve your space now!
About Jon Keenan
My first exposure to pottery occurred as a young boy living in New Delhi when local potters visited my school to demonstrate their throwing techniques using hand powered wooden wheels that rested on the ground. Seemingly effortless, they made kalshi, globular water jars, out of an iron red earthen clay. The technical virtuosity and creative spirit of these potters stayed with me and had a profound impression on my future path. In high school, I enrolled in my first ceramics class and never stopped working in clay. My current work represents my involvement in raku and wood-fired ceramics that began as a student in Kyoto, Japan. Both functional and sculptural, my work's primary focus is on anagama wood-fired natural ash glazed ceramics made and fired at my studio and kiln in Elkins, New Hampshire. I prepare my own clays and glazes with (sometimes local) materials containing the subtle hues of nature itself. My firings often take several days to achieve desired effects. The firing process directly influences the patina and character of the work, creating an earthy organic surface quality with the varied ash deposits and coloration. Exploring the expressive possibilities in porcelain and stoneware provides for unlimited opportunities to communicate subtle and nuanced ideas.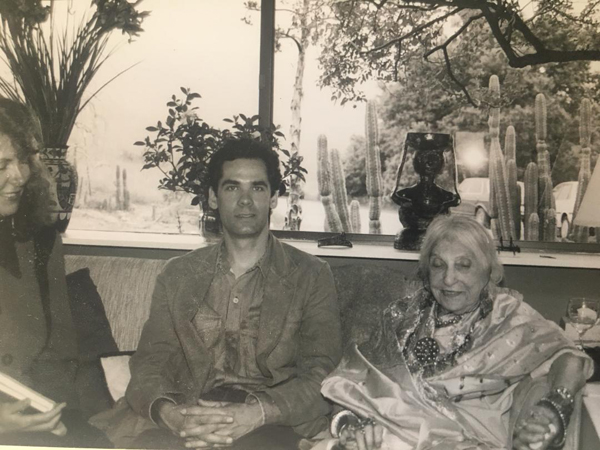 Jon Keenan and Beatrice Wood in 1995
I met Beatrice Wood at home in Ojai in 1995 around the time of her 102nd birthday. I had long been an admirer of Beatrice's life and work and the opportunity to meet her was unforgettable. I am most thankful for the opportunity to be back in Ojai to exhibit my work for the first time at the Beatrice Wood Center for the Arts and to be part of Beato's enduring legacy.
The Beatrice Wood Center for the Arts
Tel: 805-646-3381 / Email us at BeatriceWoodCenter@gmail.com.

Our workshops and classes all take place at the Beatrice Wood Center for the Arts (driving directions).

Learn more about our workshops and view additional photos on Facebook. Click here!
Please call 805-646-3381 or email BeatriceWoodCenter@gmail.com for more information on our exhibitions, workshops, and performances.