Education
Previous Workshop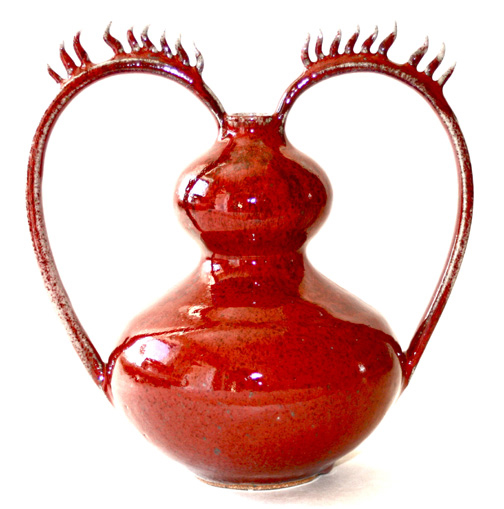 Richard Flores | Flaming Heart Vase
Copper red glazed stoneware | 10" h x 10" w x 6" d
This three-day workshop with Professor Richard Flores will offer an opportunity to participate in our educational programming no matter what your age or experience. Participants will explore the seeds of soul – what we plant and nurture within us – and how they can manifest as art.
Day One: Creating small works from clay utilizing hand-building techniques.
Day Two: Bisque-firing of works. Painting and drawing exercises based upon the 1901 book Thought Forms by Annie Besant and C.W. Leadbeater, and studies for future ceramic works.
Day Three: Glazing and raku-firing of ceramic works.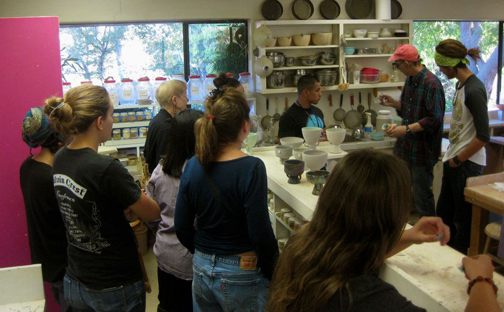 Professor Richard Flores Teaching a Workshop in the Studio.
Cost: $250, includes all materials and a communal vegetarian lunch.
Reserve your space now!

Richard Flores is three-dimensional studio arts professor at College of the Sequoias in Visalia, California, instructing courses in all levels of ceramics, sculpture, glass and 3-D design. Skilled in both two and three-dimensional fine art, Richard has worked with ceramist Beatrice Wood, and performed numerous Hot Glass workshops with Richard Marquis and William Davis.
For workshop registration, please contact:
The Beatrice Wood Center for the Arts
Tel: 805-646-3381 or email us at BeatriceWoodCenter@gmail.com.

Our workshops and classes all take place at the Beatrice Wood Center for the Arts (driving directions).

Learn more about our workshops and view additional photos on Facebook. Click here!
Please call 805-646-3381 or email BeatriceWoodCenter@gmail.com for more information on our exhibitions, workshops, and performances.