Education
Upcoming Workshop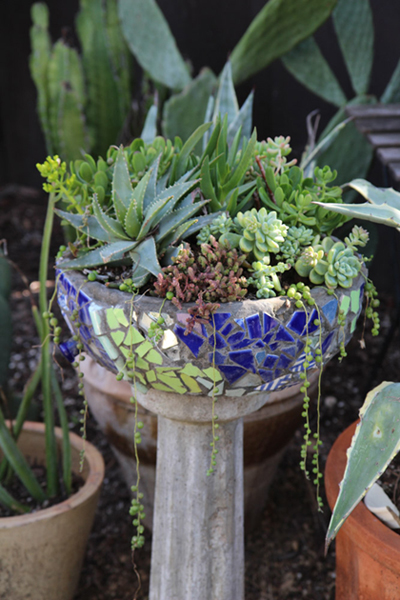 Mosaic Work by Gail Hercher

California has the perfect climate for mosaic work and there are many examples in Ojai - and the Beatrice Wood Center for the Arts - from which we can gain inspiration.
This workshop will focus on creating mosaics for gardens (planters, fountains, paths, etc) and the home (backsplash area, furniture,fountain, etc.). Wild or subdued, indoors or out, large or small, mosaics are always spectacular and relatively easy to create. Happily, once you know the materials & tools, modern mosaics are an inexpensive, environmentally responsible, and spectacular medium!
Mosaic Works by Gail Hercher
During the first session, after seeing a segment of a movie about the American mosaic artist Isaiah Zagar, and looking at the mosaic work on the Center's grounds, as well as examples from the instructor, participants will begin their own work using recycled materials such as broken tile, plates, found objects, jewelry, rocks, marbles, beads, hardware, etc. as tesserae (tiles).
Participants will learn the details of working on indoor vs outdoor surfaces, 2D vs 3D surfaces, and the different materials and tools required for each situation.
During the second session, participants will grout, seal and polish their work and discuss ways to display it.
Materials provided include: broken tiles, a ceramic base, a wood base, tile adhesive, grout, sealer, tools. Participants should bring old plates, tiles, jewelry, stones, beads, etc... goggles and a hammer.
About the Instructor
Gail Hercher, M.F.A., began her career as a printmaker/painter but switched to mosaic work when she lived in Hawaii for environmental reasons (it is non-toxic and she uses recycled materials, thus reducing her contribution to the landfill). Her work is in many homes and gardens and is featured in the book 'Mosaic Art Today' (Schiffer). She has taught in many museums, schools and art centers.
Cost $250. per person ($200. for members)
Includes a light vegetarian lunch
Reserve your space now!
Workshop Registration - $250.00:

Member Workshop Registration - $200.00:
The Beatrice Wood Center for the Arts
Tel: 805-646-3381 / Email us at BeatriceWoodCenter@gmail.com.

Our workshops and classes all take place at the Beatrice Wood Center for the Arts (driving directions).

Learn more about our workshops and view additional photos on Facebook. Click here!
Please call 805-646-3381 or email BeatriceWoodCenter@gmail.com for more information on our exhibitions, workshops, and performances.