Education
Upcoming Workshop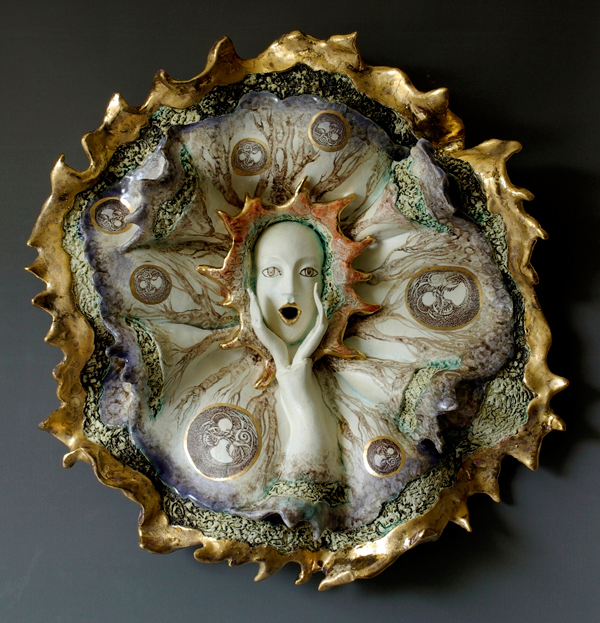 Bubble Birth
Natasha Dikareva

In this two-day hands-on workshop, Natasha Dikareva will share her process of forming otherworldy creatures, blending mythology, contemporary elements and imagination into a sculptural ceramic object.
Once Upon a Time in Mykonos


Natasha Dikareva

Fishwife's Birthday Teapot


Natasha Dikareva
During the first day she will demonstrate different clay hand-building techniques. On the second day, the main focus will be on surface treatments. The ceramic surface will be approached as a canvas, using slips, underglazes and the sgraffito technique to create vibrant, dynamic surfaces of visual storytelling. Participants will also have the ability to practice post-glaze techniques such as china painting. For this purpose, students are encouraged to bring bisque-ware to experiment on.
Dikareva will work with students to help them develop personal iconography, symbols and forms that are significant and meaningful. Participants will come away with work that reflects their own unique experience and a deeper understanding of the clay process.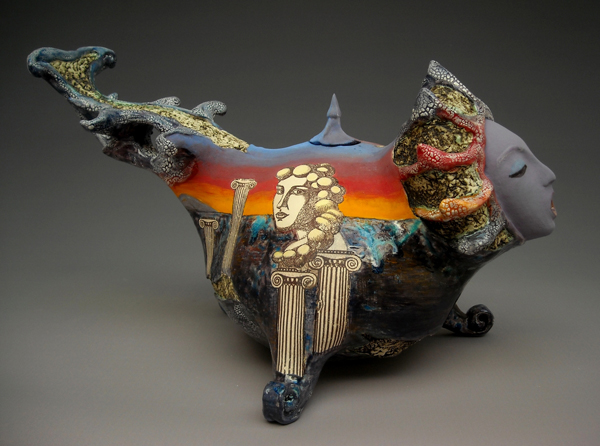 Between East and West
Natasha Dikareva
About the Artist
Natasha Dikareva was born and raised in Kiev, Ukraine and studied art in St. Petersburg, Russia during the hey-day of Soviet power. The genre of Soviet realism permeated Dikareva's young creative life. The narrow standard of approved art inadvertently pushed Dikareva to develop her own symbolic language. Dikareva immigrated to Minneapolis, USA in 1995 and received her MFA from the University of Minnesota. She now lives and works in San Francisco, California. She won the Grand Prize at the American Museum of Ceramic Art in 2012. She exhibited at the Shanghai Art Expo, as well as at numerous galleries across Europe and the USA. Her work is featured in various publications, including 500 Prints on Clay and New Ceramics European magazine, and is held in public and private collections. She exhibits locally and internationally.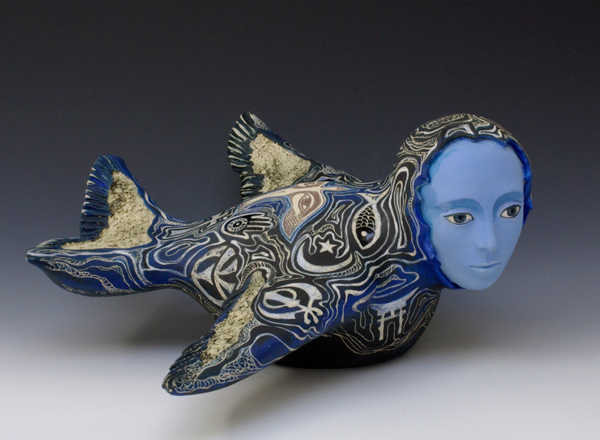 One with the Source
Natasha Dikareva
Dikareva's clay sculptures bring to life surreal, exquisitely formed human figures which often morph into other biological forms such as birds, fish and trees. Humans and other living creatures are united in the experience of life. Dikareva's latest work develops during an intensively introspective process, confronting the uncertainty of physical security. The recent body of work reflects a concern with current events and an imagined biological response to a world that has been decimated by industrialization, war and pandemic. New life springs from shells which have survived the collapse, offering a sense of optimism and and possibility, providing a sanctuary from the adverse effects of an over-industrialized world.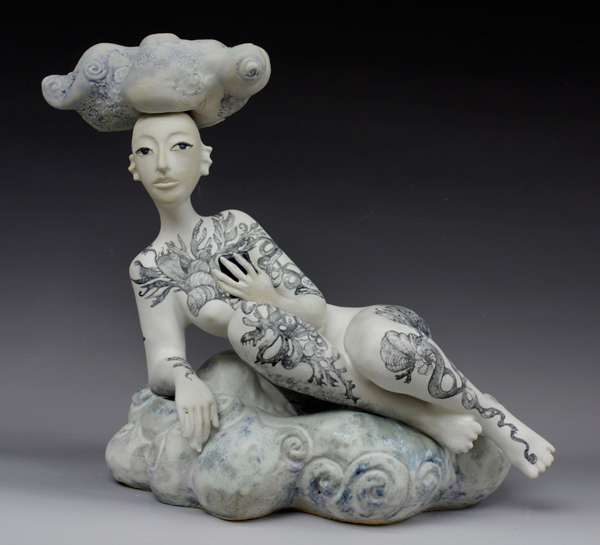 Message from the Cloud
Natasha Dikareva
"In the realm of ceramics, anything is possible. The medium of clay, a divine material out of which the first human was said to be shaped, allows any sort of form or figure to come to life. My work pushes the boundary between reality and imagination, bringing to life previously unknown creatures. I offer a moment of contemplation, a glimpse of an unseen world, and a playful recombination of the familiar and the foreign." - Natasha Dikareva
Cost $275. per person ($250. for members)
Includes a light vegetarian lunch
Reserve your space now!
Workshop Registration - $275.00:

Member Workshop Registration - $250.00:
The Beatrice Wood Center for the Arts
Tel: 805-646-3381 / Email us at BeatriceWoodCenter@gmail.com.

Our workshops and classes all take place at the Beatrice Wood Center for the Arts (driving directions).

Learn more about our workshops and view additional photos on Facebook. Click here!
Please call 805-646-3381 or email BeatriceWoodCenter@gmail.com for more information on our exhibitions, workshops, and performances.