July 15, 2009
I'm writing to invite you to a special event at the Beatrice Wood Center for the Arts. On Saturday, July 25th, our New Work exhibition will open, with an Opening Reception beginning at 6 pm and a performance by singer-songwriter Suzanne Paris at 8:30. The event is free to the public, so please invite your friends to join you for this evening of art and music.
In the Beato and Logan Galleries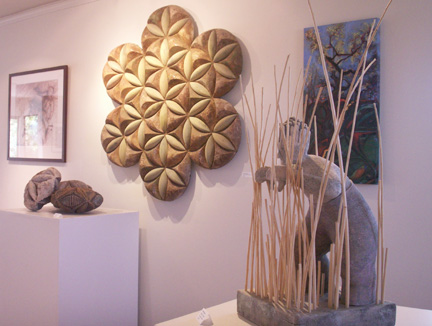 New Work Exhibition - Installation
New Work features Bobbi Bennett, Lynda Brothers, Christina Carroll, Robbie Conal, John Diehl, Sharon Doughtie, Mike Jackofsky, Shane M. Keena, Susan Lasch Krevitt, Pat Kramer, Lucy Madeline, Jennifer McChristian , Gerri Johnson-McMillin, Dena Palser, Robert Rheem, Michael F. Rohde, Lucia Vinograd, Nina deCreeft Ward, Molly Zenobia, and others.
Opening Reception:
Saturday, July 25th, 6:00 pm
Live performance by singer-songwriter Suzanne Paris at 8:30 pm
Public invited, please join us!
| | |
| --- | --- |
| | "....A voice that touches the inner soul", Suzanne Paris has been a vital force in many genres of music, writing, recording and performing with some of the finest, including Bo Diddley, Richie Havens, John Denver and Dave Mason, who produced her new EP Off Like a Prom Dress. Suzanne will perform songs from this collection and will offer the new CD, each a hand silk-screened, one-of-a-kind limited edition created by Camarillo artist Derek Franz and signed by the singer. Joining Suzanne on guitar and vocals will be Teddy Jack, a singer/ songwriter who started producing albums in the record industry as a teenager. |
| | |
| --- | --- |
| As many of you are not able to attend our exhibitions, we always present them online with photographs and videos. Recently Molly Zenobia performed at the Center as part of our Swallow Song Music Festival. | |

Mark your calendar!
WHERE: Beatrice Wood Center for the Arts, 8560 Ojai-Santa Paula Road in Upper Ojai.
WHAT: Opening Reception for New Work exhibition and performance by Suzanne Paris and friends.
WHEN: New Work Exhibition, Opening Reception Saturday, July 25th at 6:00 PM, Performance by Suzanne Paris and friends, 8:30 PM.
The exhibition continues through August 22nd.
Please put the following event on your calendar as well :
An Intimate Evening of Poetry Under the Stars
with Tree Bernstein, Paul Fericano, and Friday Lubina
Saturday, August 15th, 8:00 pm


Tree Bernstein was head Poet Wrangler at the recent Ojai Poetry Fest where nearly 80 poets of all stripes performed their original work. She designs books for her own TreeHouse Press, and has co-written a book of ghazals with Randy Roark, titled Away.

Paul Fericano is the co-founder of the satiric news syndicate, Yossarian Universal News Service, and the editor of The Broadsider. He is the author of several books of poetry including Commercial Break, Cancer Quiz, and Loading the Revolver with Real Bullets, and has recently been rejected by The New Yorker, The Atlantic Monthly, and The Paris Review.

Described as "saucy & provocative", Friday Lubina's poetry is intended to connect with her audience through humor inspired by food, sex, lousy relationships, and even good ones that she sabotages, purely for the inspiration their demise brings. She currently hosts a poetry reading, "Friday on Saturday" at the Bell Arts Factory in Ventura, the last Saturday of every month.
Thanks for your interest and support of the Beatrice Wood Center for the Arts.

Kevin Wallace
Director
Visit the Center!

The Beatrice Wood Center for the Arts is open to the public
Saturday & Sunday
11:00 am - 5:00 pm

Please call (805) 646-3381
for information.
Click for driving directions to the Beatrice Wood Center for the Arts
"We develop through experience. Therefore, hardships and misfortunes challenge us. It is in overcoming mistakes that we touch the song of life. "

~ Beatrice Wood