Greetings from Happy Valley, where we're exhibiting exceptional art, workshop participants are creating wonderful work, student-interns are expanding their knowledge of the art world, children are creating ceramics and paintings, and visitors are painting on canvases in connection with our collaborative art project.... All while caring for the legacy of Beatrice Wood and the remarkable individuals who created and shaped the Happy Valley Foundation!
I'm writing to invite you to attend opening receptions for upcoming exhibitions, participate in workshops, or just stop in to see what's new.
| | |
| --- | --- |
| Kim Clarke | Maryann Cord |
Nina de Creeft Ward
Chariot Horse #3

Nina de Creeft Ward
Horse Monoprint
View article written about Nina de Creeft Ward in CASA Magazine
August 14, 2015 by Jeannette Casillas
Click on any of the workshop titles below to learn more.
Creative Clay: A Ceramic Workshop for Absolute Beginners
Saturday, August 22nd, 1 – 4 pm
Glazing and Staining Techniques for Ceramics
Saturday, August 29th, 1 - 4 pm
Transcending Function: Boxes & Bowls
Saturday, September 5th, 1 - 4 pm
The Art of Clay: Sculptural Ceramics
Saturday, September 12th, 1 - 4 pm
Workshop will be held two consecutive Saturdays: September 19th & September 26th
10:00 am - 4:00 pm
In conjunction with a Retrospective Exhibition, featuring sculpture and prints (August 22 to October 3) at Beatrice Wood Center for the Arts in Upper Ojai, artist Nina de Creeft Ward will be giving an Animal Drawing and Clay Workshop on consecutive Saturdays, September 19th and September 26th from
10 am to 4 pm. No experience is necessary.
October 17 & 18, 2015
Allison Newsome is a sculptor known for her exploration of the figure and landscape. In this workshop, participants will utilize Newsome's approach to working with clay and Mason stains utilizing the once-fired approach. Participants will study Beatrice Wood's approach to the figure, the impact of Dadaism and Folk Art from diverse cultures, in combination with the Ojai landscape.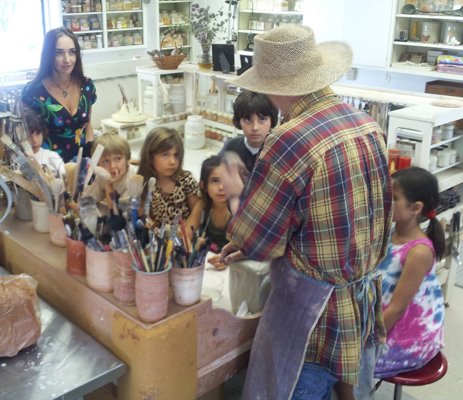 On the first Saturday of every month we present a free
We have already begun scheduling workshops for 2016...
March 5 - 6, 2016
In this workshop, we will build a figure using coil construction with the consideration of the body being a holding place. Assembled parts and attachments and found objects will embellish the form. Students should be prepared with ideas of the position of the figure: standing, sitting...etc. Bring a collection of images as a reference for the figurative form. Surface treatment will be explored by using a painterly approach to the wet clay with engobes and underglazes.
Monday - Friday, April 4 - 8, 2016
Join award-winning artist Jennifer McChristian in this fun and invigorating 5-day plein-air painting workshop. Learn how to interpret the landscape in terms of paint, using light and color to create form. The aim of this workshop is to teach you to think, see and express light and form. Color relationships, design/composition, simplifying and the benefits of painting outdoors will be discussed, as well as how to design and build a painting that carries an emotional impact. We will focus on values, shapes, edges and color as well as paint handling and materials.
If you have any questions or would like to register for a workshop, just call us at 805-646-3381,
e-mail beatricewoodcenter@gmail.com, or come and visit us.
The address for GPS is:
8585 Ojai-Santa Paula Road, Ojai, California 93023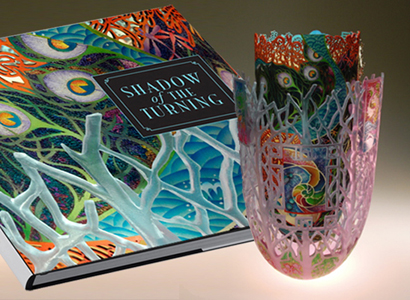 & Don't Miss...
Craft & Folk Art Museum
Los Angeles
September 27, 2015 - January 3, 2016
For the last few years, this exhibition has been traveling the country. The Craft & Folk Art Museum, Los Angeles will be the last stop before the works are returned to the collectors who loaned them.
Thanks so much for your continued interest in and support of The Beatrice Wood Center for the Arts & Happy Valley Cultural Center!
Kevin Wallace
Director
Beatrice Wood Center for the Arts
& Happy Valley Cultural Center
Beatrice Wood Center for the Arts
8585 Ojai-Santa Paula Rd. | Ojai, CA 93023 | Tel (805) 646-3381
www.beatricewood.com
Open to the Public Fri, Sat, & Sun 11:00 am - 5:00 pm
Join Our Email List
Stay informed on upcoming events at the Beatrice Wood Center for the Arts!
To receive news and event accouncements, please email BeatriceWoodCenter@gmail.com
and ask to be added to our email list.
Thank you!